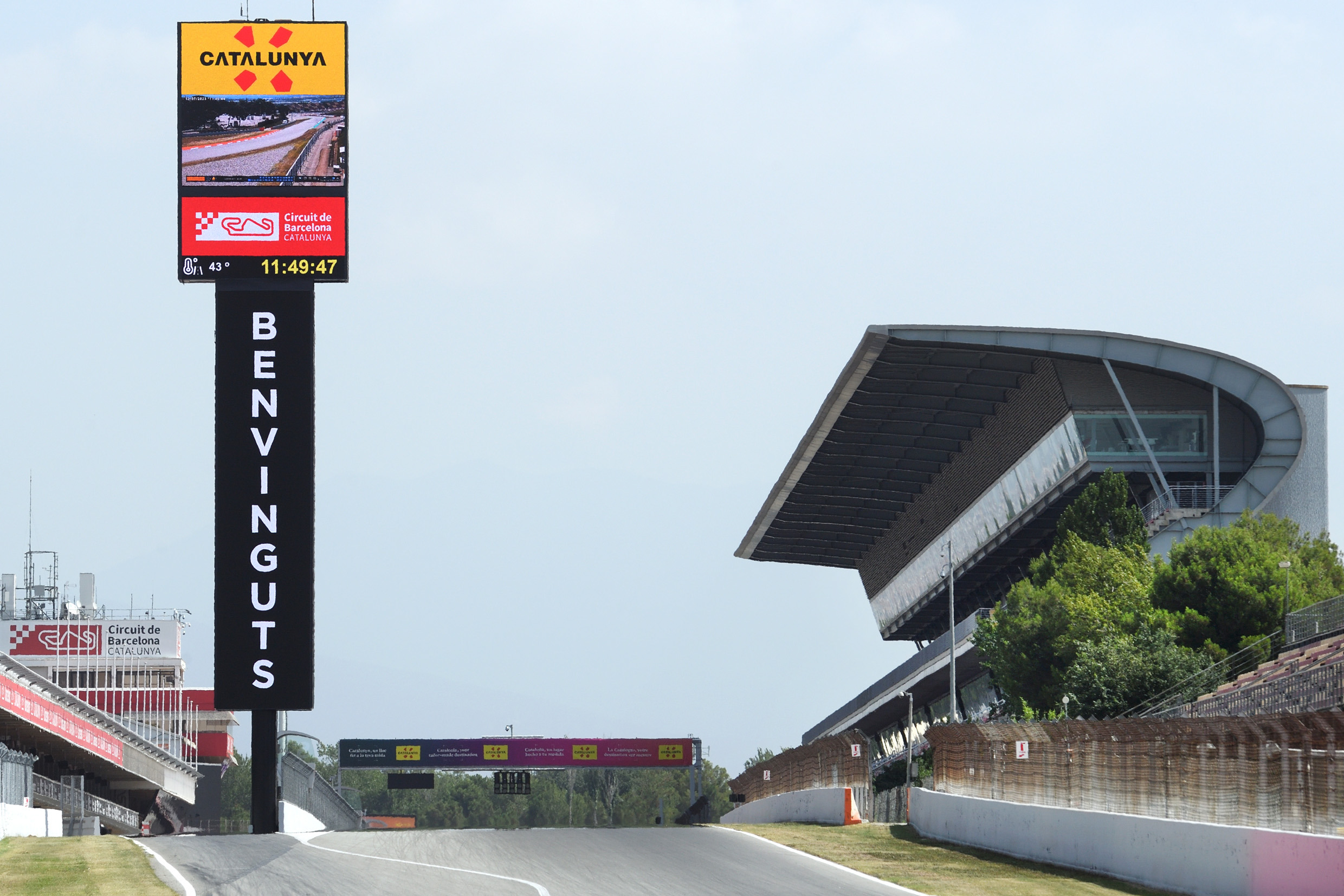 History beckons for some whilst it's a final roll of the dice for others as the Circuit de Barcelona-Catalunya readies for exhilarating action.
A spectacular shoot-out for supremacy awaits the 2023 Finetwork FIM JuniorGP™ World Championship paddock as the next chapter awaits at the Circuit de Barcelona-Catalunya in Spain. Many magical memories have been made this famed venue and 2023 will be no different, with an excellent billing of two JuniorGP™ races, two Moto2™ European Championship clashes and one encounter each for the European Talent Cup and the Stock™ European Championship. A busy schedule with plenty of headlines, who'll reign supreme in Catalonia?
JuniorGP
With the 100th winner in JuniorGP™ since the Championship first began now ticked off as being Xabi Zurutuza (MTA Junior Team), the unpredictability continues to Montmelo, with Championship leader Angel Piqueras (Team Estrella Galicia 0,0) sporting a 54-point lead, although he's without a win in the last three races. Piqueras can mathematically wrap up the title in Barcelona, by leaving the round with a gap of more than 75 points over his rivals – although it can only be after Race 2. He's already bagged the Red Bull Rookies Cup for this year, can he take the JuniorGP™ crown too? Alvaro Carpe (STV Laglisse Racing) really has had a stellar season and with nothing but top five finishes in his last five races – including three podiums and a best of two second places – he's now ready to mount the top step. He's taken advantage in a dip in form for Luca Lunetta (AC Racing Team), but the Italian nonetheless holds third in the standings, ten points adrift of Carpe ahead of him.
Three points behind Lunetta in the standings is Jacob Roulstone (Aspar Junior Team), who struggled last time at Portimao and couldn't break into the top six. In Barcelona, he'll hope to turn it around and get back to podium ways like he was in Valencia. He's ahead of teammate Joel Esteban, with the Spaniard a race winner at long last in Race 2 at Portimao last time out. Now, he aims for back-to-back wins, the first rookie to do so since Izan Guevara in 2020. Zurutuza's Portimao triumph takes him to sixth overall in the standings, ahead of David Almansa (Finetwork Mir Racing Team) and early Championship leader Nico Carraro (Aspar Junior Team).
Moto2™ ECh
Moving the attention to the Moto2™ ECh and all eyes are on Championship leader Senna Agius (Liqui Moly Husqvarna Intact GP Junior Team), who, like Piqueras in JuniorGP™, can wrap up the title in Barcelona. He has a 61-point lead and the same rule applies; he has to leave the round with a 75-point advantage. Never off the podium and with five wins from six races, the Australian is on the brink of history. Andorran veteran Xavier Cardelus (Promoracing) is second and after matching a career-best result of second last time out at Portimao, can the #18 finally go one step further? Italian Mattia Rato (AGR Team) only has one podium to his name in 2023 but has been very consistent, and he's only five points adrift of Cardelus ahead of him. As always, keep an eye on the like of Yeraz Ruiz (FAU55 Tey Racing), Alberto Surra (Team Ciatti-Boscoscuro) and Roberto Garci (Cardoso-Fantic Racing), of which the latter two took maiden podiums last time out at Portimao.
ETC
The ETC is always unpredictable and with the longest straight on the calendar waiting for them, slipstreaming will be key, so large groups will be guaranteed. It's not just close on-track either, but also in the Championship standings. One point splits Maximo Quiles (Aspar Junior Team) from Brian Uriarte (Team Estrella Galicia 0,0): 124 vs 123. Both have been winners and of the seven races so far, they've shared the podium four times. Last time out, Quiles was about to extend his lead in the standings to 26 points, but he crashed on the last lap of the race, not taking advantage of an absent Uriarte who was injured. In Barcelona last year, Uriarte won with Quiles third, whilst the latter was second in 2021. Third in 2023's standings so far and closing in after a first win of the season, Dodo Boggio (Aspar Junior Team).
Stock™ ECh
Closing off the schedule on Sunday will be the Stock™ ECh, with Daniel Muñoz (SP57 Racing Team) leading the way. The Yamaha rider has three wins from four and a 30-point lead over his nearest rival, Eric Fernandez (FAU55 Tey Racing). That means that if he leaves Barcelona with at least a 50-point advantage, he will be untouchable going to the final two rounds. After returning to the rostrum at Portimao, keep an eye on Marco Garcia (Easyrace Team), with the Spaniard only seven points shy of Fernandez in second. Second to seventh in the standings are covered by just 28 points, so it can all change in the blink of an eye behind Muñoz out front.
The Sunday race schedule for the fifth round of the Finetwork FIM JuniorGP™ World Championship is as follows:
11:00 – JuniorGP™ Race 1: 15 laps
12:00 – Moto2™ ECh Race 1: 16 laps
13:00 – ETC Race: 14 laps
14:00 – JuniorGP™ Race 2: 15 laps
15:00 – Moto2™ ECh Race 2: 16 laps
16:00 – Stock™: 16 laps
Television networks and media platforms, in Europe and across the world, are showing ever-more interest in live broadcasts of JuniorGP™ events. You can enjoy the live races via: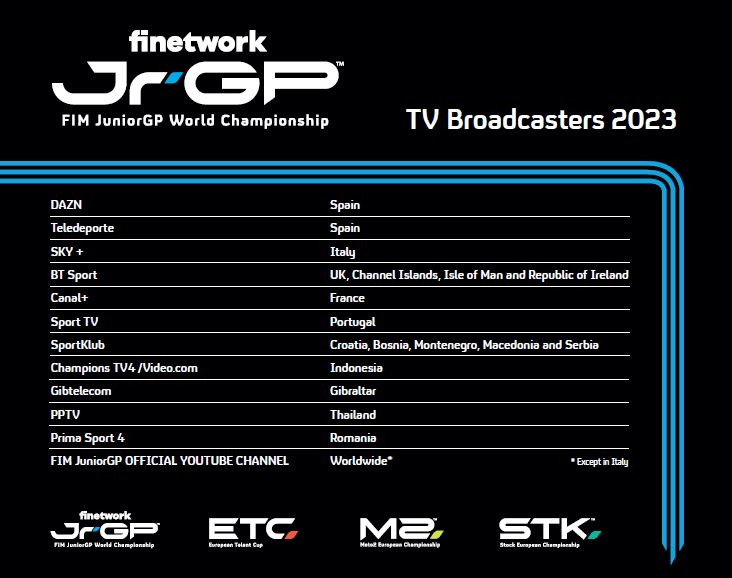 For more info checkout our dedicated FIM JuniorGP™ news page superbike-news.co.uk/cev-repsol/
You can also find all the results, videos, photos and information regarding the championship on the official website: www.fimjuniorgp.com/en