The FIM Motocross World Championship arrives in Trentino this weekend for the fourth round of the 2023 season in Pietramurata on the 15th and 16th April.
The MXGP of Trentino is a special one as it always attracts a large and electric public who can admire the beautiful track of Pietramurata surrounded by the stunning Dolomite Mountain Range while making themselves know with loud cheering throughout the whole racing weekend.
MXGP and MX2 will be joined this year by the supporting classes from the FIM Motocross European Championship EMX250 and the EMX125 presented by FMF. It will be the second round of the season for these categories. In EMX250, Hutten Metaal Yamaha Racing Team's Andrea Bonacorsi who won in great fashion in Sardinia with a 1-1 will come to Trentino full of confidence while in EMX125 Presented by FMF, 737 Performers GASGAS's Mathis Valin will arrive this weekend for a back-to-back round after winning in Switzerland and leading the Championship.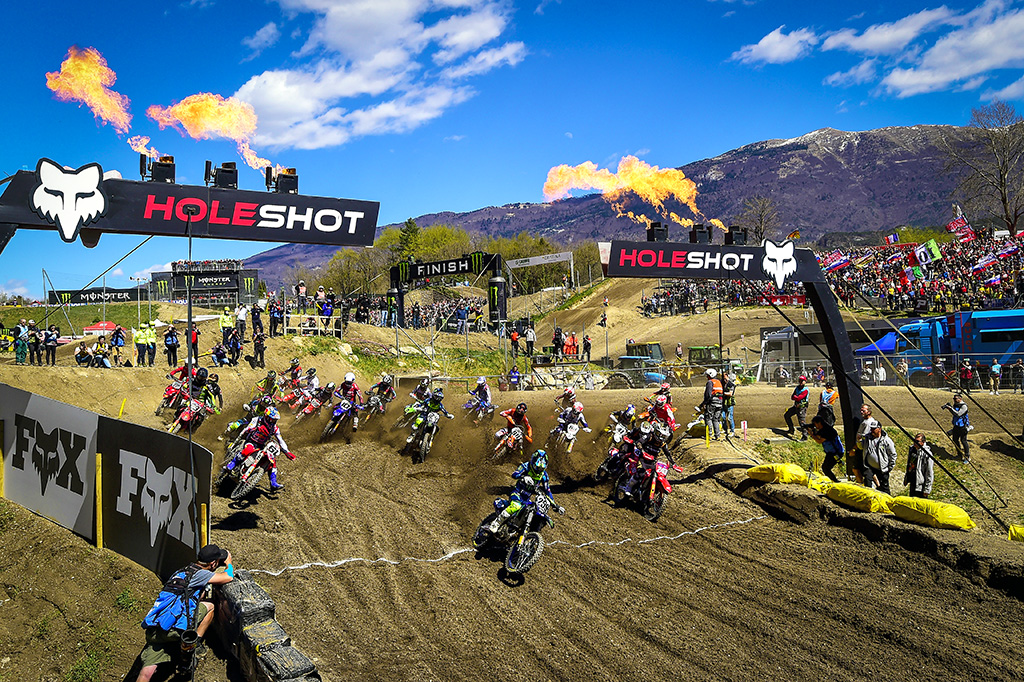 In 2022, the MXGP of Trentino hosted the 5th round of the season and it would mark the 5th win of the season for Team HRC's Tim Gajser with a perfect 1-1 in front of Monster Energy Yamaha Factory MXGP Team's Maxime Renaux and Red Bul GASGAS Faticry Racing's Jorge Prado.
This year, Trentino marks the 4th round of the season and is going to already be a very important back-to-back GP for riders like Red Bull KTM Factory Racing's Jeffrey Herlings, Maxime Renaux and Kawasaki Racing Team's Romain Febvre, 2nd, 3rd and 4th in the Championship respectively to not let the leader Jorge Prado increasing his lead.
Prado, leader by 19 points on Herlings has not won a GP yet but has won 3 races out of 6, clinched all RAM Qualifying race and was on every podium so far. He shows great consistency and maturity. However, as the only rider who has led laps in all GPs this campaign, the Spaniard will want to concretised his dominance with a MXGP win in Trentino.
Renaux freshly winner in Switzerland and 3rd in the Championship showed very good composure to win his first GP. He now comes to one of favorite tracks in Trentino where he won his MX2 Motocross World Championship in 2021 and got to the second step of the podium last year in MXGP. The other rider who shows that he is in the mix since the beginning of the season is Romain Febvre. He clinched his first podium of the season in Switzerland with a 3-2, to get to the third step of the podium. The Frenchman looks more comfortable every week and is desperate to get his first win.
Herlings 2nd in the Championship who displayed some magic in Sardinia to win his 100th GP win of his career was quieter in Switzerland with a 6-4 to get 4th overall.
Jeremy Seewer is one rider who didn't start the season in the best way. The swiss has been unfortunate with crashes since the beginning of the season but showed really good speed in every GPs. If he stays on his bike, the Monster Energy Yamaha rider can definitely be a threat in Trentino. His Teammate Glenn Coldenhoff won his first race in Sardinia and feels very comfortable on his new bike. While the results in Switzerland were below his expectations, Coldenhoff sits at the 7th place in the Championship and will be one to watch in Trentino.
Team Gebben Van Venroy Yamaha Racing's Calvin Vlaanderen and Team HRC's Ruben Fernandez are 5th and 6th in Championship and showed that they can compete for the top spots. Fernandez with the first win of the season in Argentina and Vlaanderen as he often competed with riders at the top of the leader board throughout the first 3 GPs.
SM Action Racing Team Yuasa Bettery MXGP's Alberto Forato  is coming to his home GP on the back of a very strong GP in Switzerland as he went 12-9 for 8th overall. He also showed that he has speed in the RAM Qualifying Race as he finished 4th in Frauenfeld. The Italian 9th in the Championship along with his countryman Red Bull GASGAS Factory Racing's Mattia Guadagnini 10th will definitely ride with an added support from the home fans.
The other riders coming back home are MRT Racing Team Beta's Alessandro Lupino who went 15-11 for 13th overall in Switzerland and is getting closer to the top 10 and SDM Corse MX Team's Nicolas Lapucci will definitely be using the home support to properly kickstart his season.
Standing Construct Honda MXGP's Pauls Jonass will unfortunately not be lining up this weekend due to an injury picked up in the second race in Switzerland. The 11th rider in the Championship will hopefully be back in the next GP.
Championship Standings
1. Jorge Prado (ESP, GAS), 155 points;
2. Jeffrey Herlings (NED, KTM), 134 p.;
3. Maxime Renaux (FRA, YAM), 131 p.;
4. Romain Febvre (FRA, KAW), 129 p.;
5. Calvin Vlaanderen (NED, YAM), 101 p.;
6. Ruben Fernandez (ESP, HON), 94 p.;
7. Glenn Coldenhoff (NED, YAM), 90 p.;
8. Jeremy Seewer (SUI, YAM), 79 p.;
9. Alberto Forato (ITA, KTM), 76 p.;
10. Mattia Guadagnini (ITA, GAS), 76 p.;
2022 MXGP of Trentino MXGP Top 3:
Tim Gajser
Maxime Renaux
Jorge Prado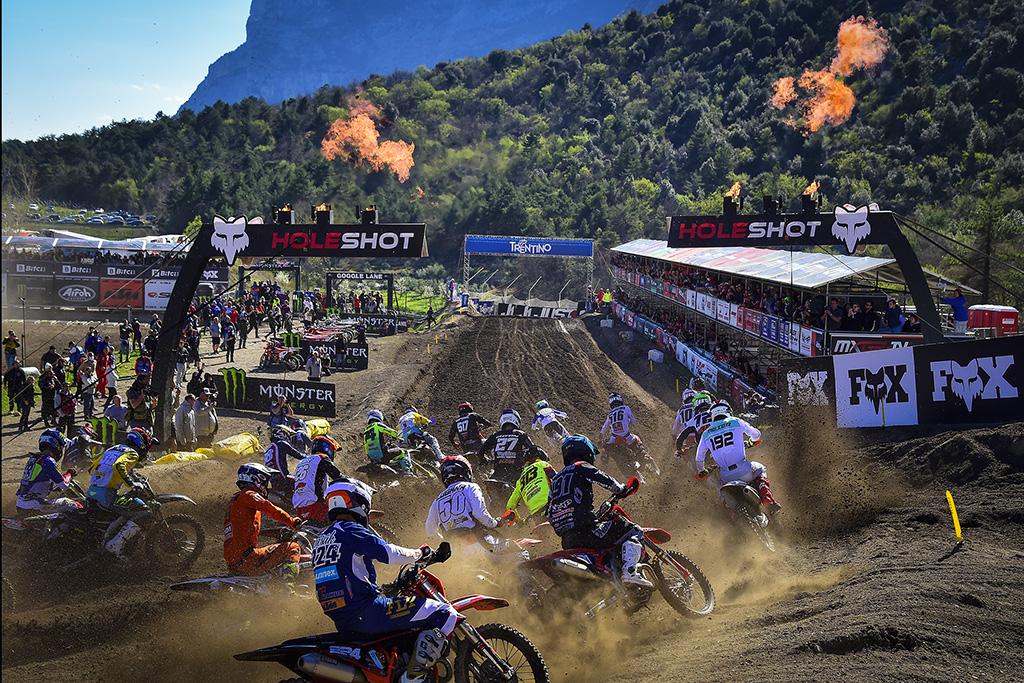 In MX2 last year, it was Tom Vialle who clinched the win for his 3rd in a row at that time ahead of Kay de Wolf and Mikkel Haarup.
Following the MXGP of Switzerland presented by iXS, Monster Energy Yamaha Factory MX2 Team's Jago Geerts is still the red plate holder although the Belgian went 7-3 for a 5th overall as he crashed few times throughout the GP although his speed was still there as he set the fastest lap in MX2.
In Switzerland it was all about his teammate Monster Energy Yamaha Factory MX2 Team's Thibault Benistant who won his first GP of the season with a 4-1, keeping his 100% podium finish record so far in the season. He also got closer to the leader Geerts in the championship, 20 points behind in 2nd place. He is one of the most important threat for Geerts.
Nestaan Husqvarna Factory Racing's Kay de Wolf  is another rider on form with a back to back podium finish. 2nd in Sardinia and 3rd in Switzerland and 3rd in the Championship. He also showed that he can beat everyone with his race win in Sardinia. His teammate Nestaan Husqvarna Factory Racing's Roan Van de Moosdijk won race 1 in Switzerland and 4th overall. He shows he is getting better and better while getting more comfortable on the bike.
Red Bull KTM Factory Racing Andrea Adamo, 4th in the Championship continues his solid start of the season with a second podium finish, 2nd overall. The Italian is coming home and can expect to be supported by the Italian fans to help him get his first win of the season.
Still in the top 10 of the Championship standings  there is a group of riders such as Red Bull KTM Factory Racing's Liam Everts, Red Bull GASGAS Fatcory Racing's Simon Laengenfelder, F&H Kawasaki Racing Team's Kevin Horgmo and Nestaan Husqvarna Factory Racing's Lucas Coenen who are fighting with the top ranking riders and look like they only need a little bit more consistency in their ride to really get to the big points.
The American MX2 rider Jack Chambers showed on his first outing in the series that he will be one to watch as he went 14-12 for 13th overall, given he arrived in a brand-new setting, with a new bike, a new team and new championship overall. He will try to improve as he gets more experience along the way. Finally, there is TEM JP253 KTM Racing Team's Jan Pancar who shows that he keeps hovering around the 9/10th place and could create the surprise as he already showed he can lead a race like in Switzerland.
Mikkel Haarup is a rider that has changed his team to WZ RACING TEAM and will be now focus on performing on the track.
Championship Standings
1. Jago Geerts (BEL, YAM), 159 points;
2. Thibault Benistant (FRA, YAM), 139 p.;
3. Kay de Wolf (NED, HUS), 136 p.;
4. Andrea Adamo (ITA, KTM), 131 p.;
5. Roan Van De Moosdijk (NED, HUS), 112 p.;
6. Simon Laengenfelder (GER, GAS), 111 p.;
7. Kevin Horgmo (NOR, KAW), 94 p.;
8. Liam Everts (BEL, KTM), 94 p.;
9. Lucas Coenen (BEL, HUS), 72 p.;
10. Jan Pancar (SLO, KTM), 66 p.;
2022 MXGP of Trentino MX2 Top 3:
Tom Vialle
Kay de Wolf
Mikkel Haarup
SATURDAY: 07:05 EMX125 Free Practice Group 1, 07:30 EMX125 Free Practice Group 2, 07:55 EMX250 Free Practice Group 1, 08:20 EMX250 Free practice Group 2, 08:45 EMX125 Qualifying practice Group 1, 09:20 EMX125 Qualifying practice Group 2, 09:55 EMX250 Qualifying practice Group 1, 10:30 MX2 Time Practice, 11:00 MXGP OAT Free Practice, 12:10 EMX250 Qualifying practice Group 2, 12:45 MXGP Wildcard Free/Qualifying practice, 13:45 MX2 Time Practice, 14:20 MXGP OAT Time Practice, 15:05 EMX125 Race 1, 15:50 EMX250 Race 1, 16:35 MX2 RAM Qualifying Race, 17:20 MXGP RAM Qualifying Race.
SUNDAY: 09:45 EMX125 Race 2, 10:25 MX2 Warm-up, 10:45 MXGP Warm-up, 11:30 EMX350 Race 2, 13:15 MX2 Race 1, 14:15 MXGP Race 1, 16:10 MX2 Race 2, 17:10 MXGP Race 2.
For more news check out our dedicated MXGP/MX2 News page
Or visit the official MXGP website mxgp.com