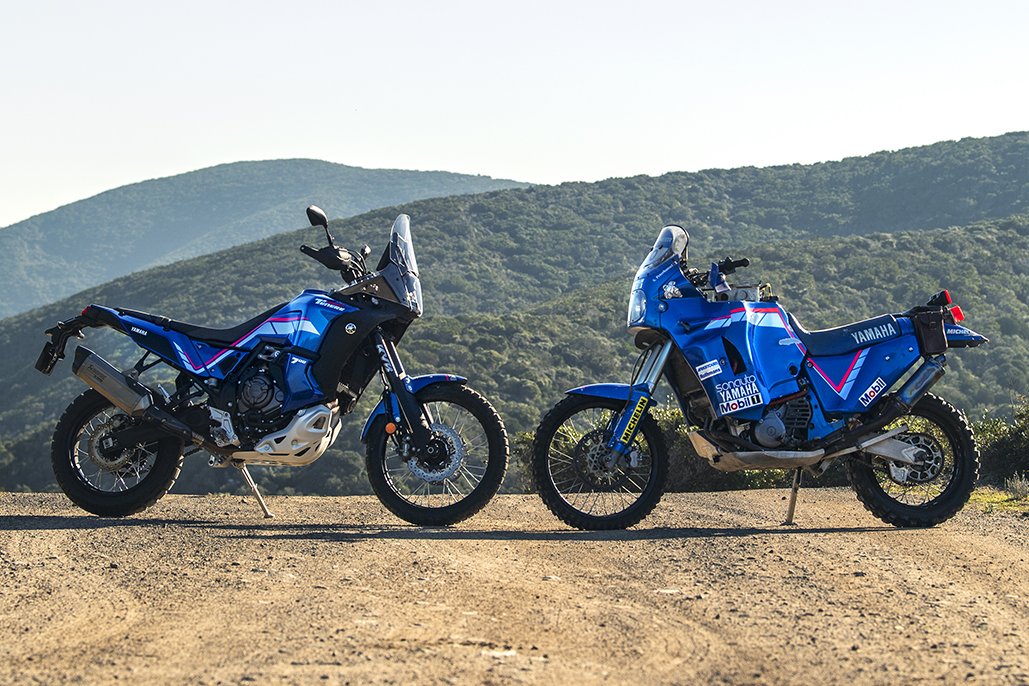 Yamaha's ultimate high specification long distance adventure bike.
The new Ténéré 700 World Rally represents the ultimate version of Yamaha's long distance adventure bike and can trace its heritage back to the very beginning of the world's toughest race.
The story began back in 1979 when Yamaha won the first ever Dakar Rally. Inspired by this success and encouraged by the growing interest in long distance rally events, the company embarked upon the development of a machine that would forever change the motorcycle world.
Introduced in 1983, the original Ténéré is recognised as one of the most influential and iconic motorcycles of the 20th century. Equipped with a large capacity fuel tank, rugged chassis and high torque engine, Yamaha's first ever Adventure bike gave thousands of riders the opportunity to go to faraway places and discover new horizons.
No other Adventure bike comes close to matching the pure racing heritage of the legendary Yamaha Ténéré. Not only did it enable a whole new breed of moto adventurers to live their dreams – it also inspired many riders to compete in the world's toughest Rally events that have tested the rider and machine to the limit.
Team Yamaha's annual Dakar campaigns witnessed some incredible performances by desert specialists including Yamaha Motor France CEO Jean Claude Olivier – and of course desert legend Stéphane Peterhansel who took six victories with Yamaha and ensured his name will live forever in the record books. To pay tribute to these riders and the machines they rode, Yamaha is launching a special version of the Ténéré that blends true racing heritage with modern day performance.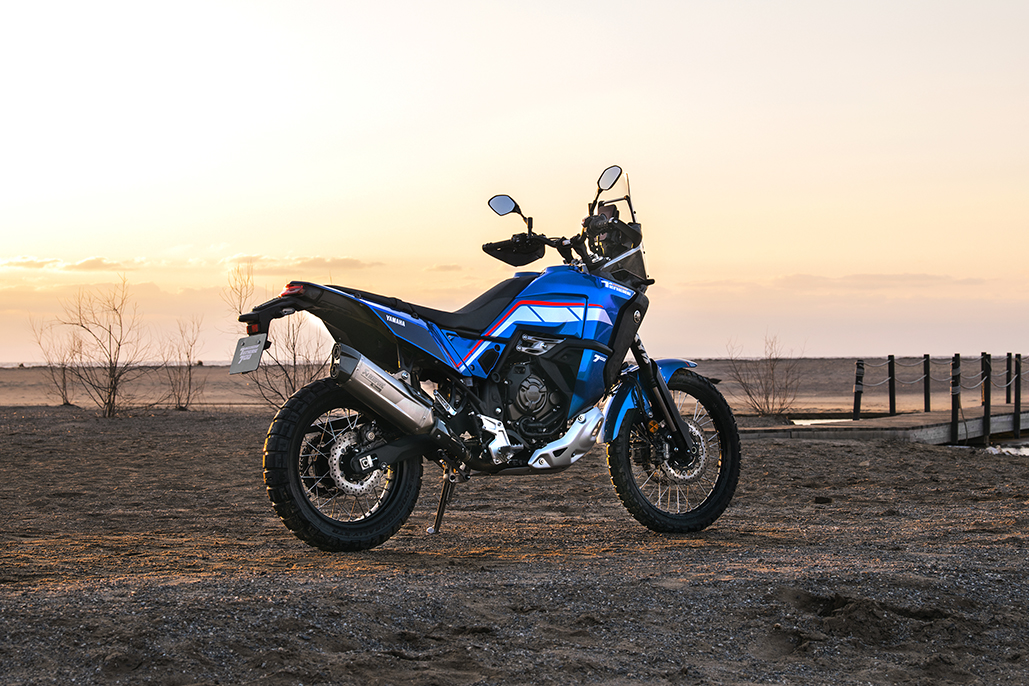 Ténéré 700 World Rally – the premium desert stormer
Featuring iconic factory racing colours inspired by Stéphane Peterhansel's 1993 Dakar race bike, the new Ténéré 700 World Rally is the most exclusive model in the 2023 Yamaha Adventure range, celebrating Yamaha's remarkable Rally performances with a range of different Ténéré models over the past 40 years.
Its rally-ready specification includes premium long travel KYB suspension systems, as well as 23-litre dual side-mounted fuel tanks, an exclusive Akrapovič titanium muffler and a dedicated flat 2-piece seat – and there's also a 5-inch colour TFT meter with smartphone connectivity, 3-mode switchable ABS and an Öhlins adjustable steering damper.
Historic Yamaha Rally Racing colours
With its bold new blue, pink fluo and silver historic rally racing colours based on the design used on Stéphane Peterhansel's 1993 factory bike, the Ténéré 700 World Rally celebrates Yamaha's winning Dakar history and pays homage to all of the heroic factory riders who have ridden in the world's toughest event. The same colours will be used by Yamaha riders Alessandro Botturi and Pol Tarrés in their 2023 race programme where they will test their Ténéré factory bikes to the limit.
Lightweight Akrapovič slip-on muffler
Premium components feature throughout this new flagship Adventure bike. The exclusive slip-on Akrapovič muffler accentuates the high torque feeling and distinctive roar coming from the 270-degree crank CP2 engine and highlights this exclusive machine's best-in-class specification.
23-litre dual side-mounted fuel tanks
Yamaha's winning Dakar bikes pioneered the company's use of long range fuel tanks, so the Ténéré 700 World Rally is equipped with the latest race developed 23-litre fuel tanks that give great autonomy for long distance rides.
The bulk of the fuel is carried as low as possible in order to achieve mass centralisation for agile handling and the top of the tanks is positioned lower than the standard Ténéré for easy rider mobility.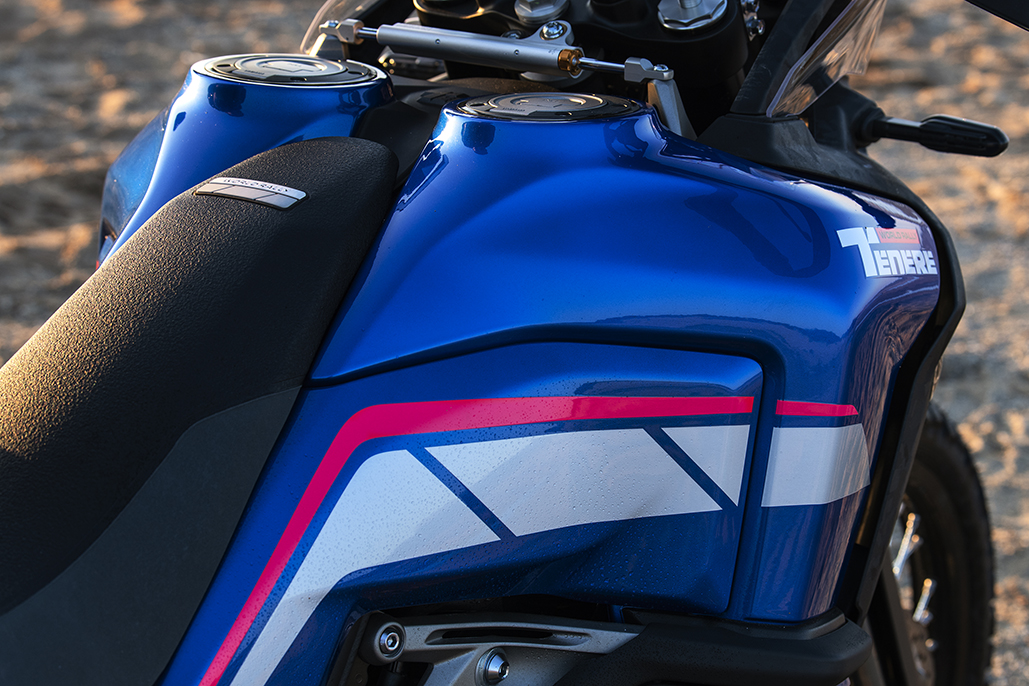 High specification 43 mm KYB front forks, 230 mm travel
The premium suspension systems on the Ténéré 700 World Rally are designed to offer excellent handling performance when riding off road for long periods of time. The black coloured 43mm KYB front forks are fully adjustable for spring preload, as well as compression and rebound damping – enabling the rider to dial them in to match different loads, terrain and speeds. And with 230 mm of travel, the World Rally is equipped to take on the toughest off road terrain.
Aluminium piggyback rear shock, 220 mm travel
The adjustable rear suspension system is matched to the high specification front end and features a competition quality aluminium body with a piggyback reservoir that ensures consistent damping performance. Featuring a special linkage and large bump stop, the World Rally's shock gives 220 mm rear wheel travel.
Öhlins adjustable steering damper
With 18 different settings, the lightweight Öhlins adjustable steering damper provides added confidence and controllability when the going gets tough and enables the rider to get the most from the premium suspension systems.
Flat rally inspired 2-piece seat
With its 2-piece design, the flat rally inspired seat can accommodate the fitment of a rack or luggage by removing the rear section. The flat profile ensures easy rider mobility and effortless front/rear weight shifting, while its dual black-grey material construction gives a firm yet comfortable ride. For added exclusivity, the seat also features the World Rally logo.
5-inch colour TFT with mobile connectivity and 3 themes
Ténéré 700 World Rally riders have a choice of three switchable screen styles – digital, analogue or roadbook style – and the connected 5-inch colour TFT display can also be linked to a smartphone with the free MyRide app, enabling the display of text messages and incoming call notifications on the screen.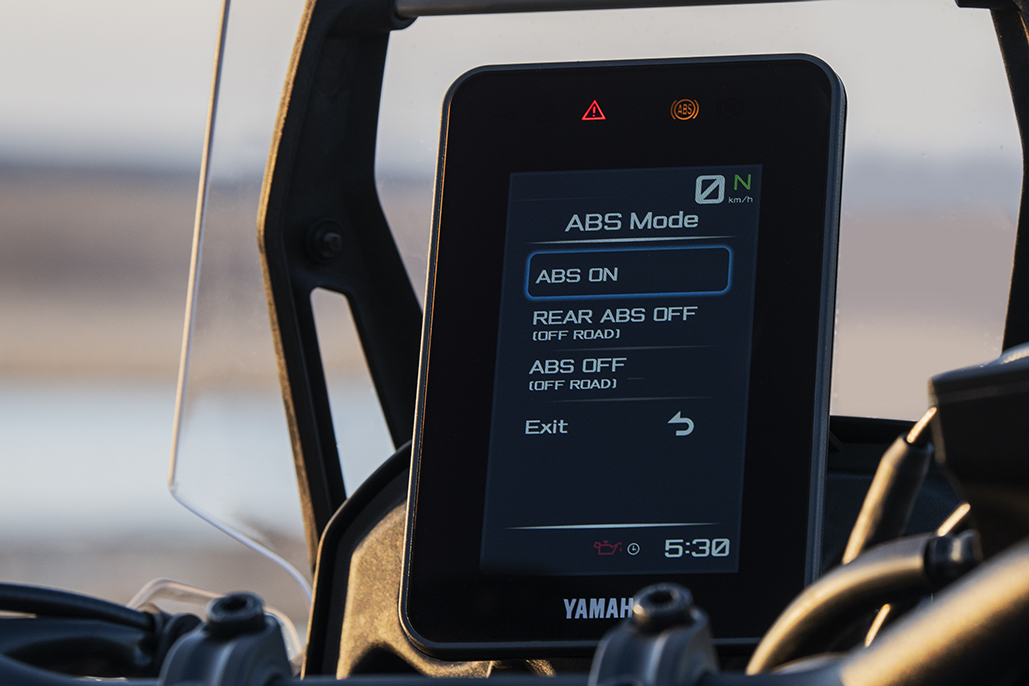 3-mode switchable ABS
The World Rally's 3-mode switchable ABS gives the rider total flexibility in choosing how they want the bike to behave on a variety of surfaces. Mode 1 is fully on, with ABS working on both wheels – a legal requirement on public roads. Mode 2 is front wheel on and rear wheel off, giving added confidence on loose gravel tracks – and Mode 3 is fully off, giving the rider ultimate controllability when riding in the dirt.
Ténéré 700 World Rally Highlights
Heritage Yamaha Rally Racing colours
Lightweight Akrapovič slip-on muffler
23-litre capacity dual side-mounted fuel tanks
High specification 43 mm KYB front forks, 230 mm travel
Öhlins adjustable steering damper
Aluminium piggyback rear shock, long 220mm travel
Dedicated 2-piece flat rally seat
5-inch colour TFT meter with smartphone connectivity and 3 themes
3-mode switchable ABS
Dedicated World Rally side grip pads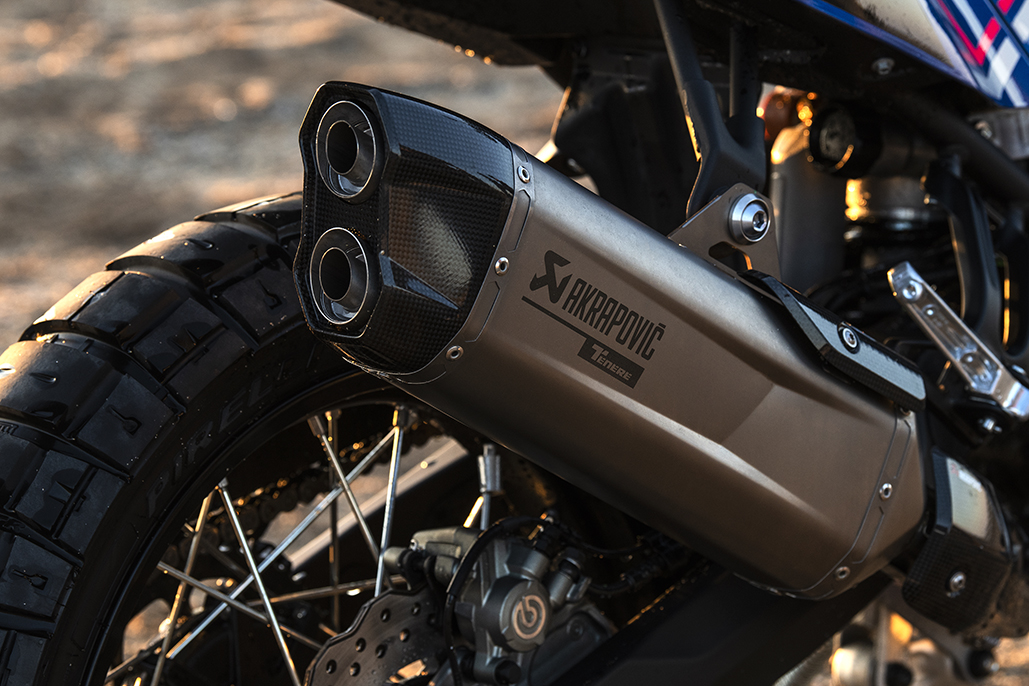 Ténéré 700 World Rally colour, availability and price
The exclusive new Ténéré 700 World Rally is available in Trophy Blue, with black coloured front forks, black-grey seat and black wheel rims.
Deliveries to European Yamaha dealers and prices vary per region, so please contact the national Yamaha distributor for full information.
Yamaha Genuine Accessories and Adventure Clothing
Yamaha Genuine Accessories enable Ténéré 700 World Rally owners to easily personalise their motorcycle to suit their next adventure. Customers can order the accessories before collecting their new motorcycle and have them fitted by their Yamaha dealer.
Yamaha's Adventure clothing line includes riding jackets and trousers, as well as a selection of hoodies, T-shirts, caps and more. The range is constantly evolving and new products are added throughout the year.
MyGarage app
Yamaha's MyGarage app is the quick and easy way for customers to build a virtual version of the Ténéré 700 World Rally with a range of Genuine Accessories while sitting at home with their smartphone or laptop. The free app allows users to add and remove accessories to create their ideal machine and the finished result can be viewed in 3D from every angle.
MyGarage takes the guesswork out of choosing which accessories to fit, and to make things even easier the customer's final selection can be emailed to their chosen Yamaha dealer who will fit the selected Genuine Accessories to the new Ténéré 700 World Rally.
For full information on Yamaha Genuine Accessories and Apparel or MyGarage please visit www.yamaha-motor.eu/uk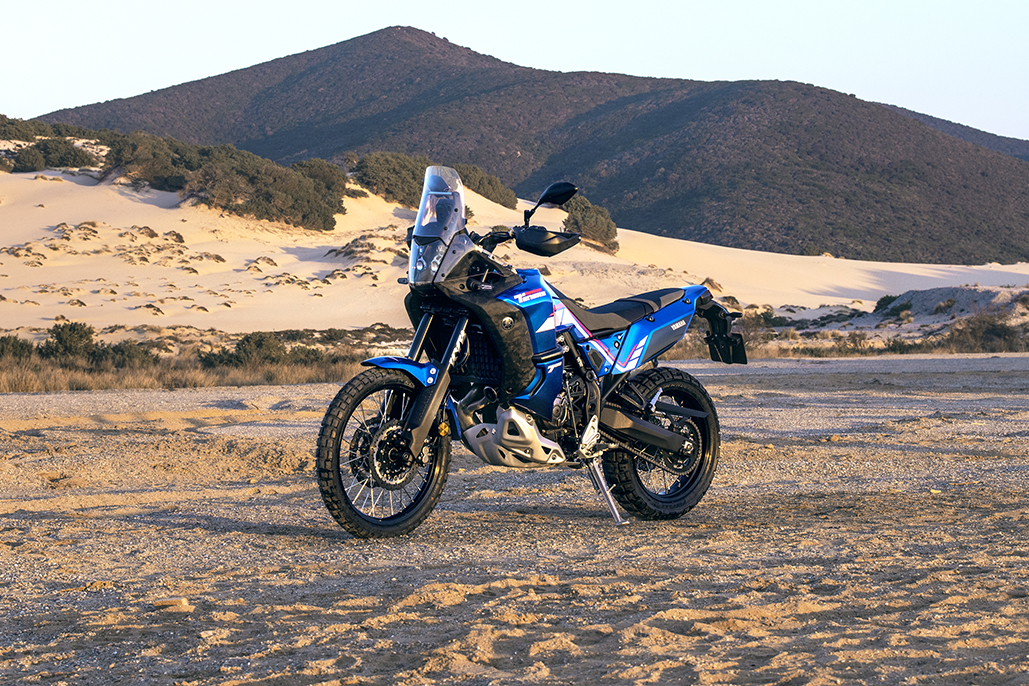 MyRide app
Yamaha's free MyRide app gives all Ténéré 700 World Rally riders the chance to get more enjoyment and information out of every ride, whether it's a day out or a round-the-world adventure. Available for iOS and Android devices, it tracks and stores every route covered and enables users to create their own story and add pictures which can be shared on social media.
On the Ténéré 700 World Rally the bike's CCU works with MyRide to enable connectivity and displays texts and incoming call notifications on the 5-inch TFT colour display, as well as showing mobile battery status.
MyRide allows Ténéré 700 World Rally riders to review riding statistics including total distance, elevation, top speed, average speed, acceleration and lean angle, and then compare their data with fellow riders. The system can also alert the rider of any technical issues and even report them to a Yamaha dealer or designated contact.
For more Yamaha Motorcycles UK news check out our dedicated page Yamaha Motorcycles UK
or head to the official Yamaha Motorcycles UK website yamaha-motor.eu/gb/en/