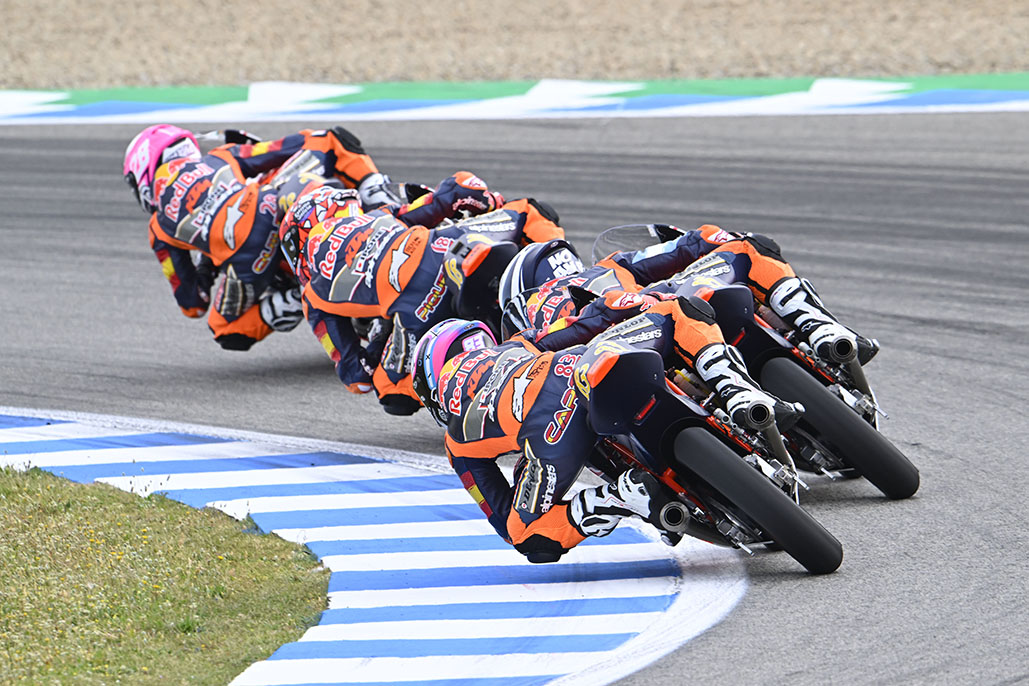 Maximo Quiles robbed Angel Piqueras of his 4th Rookies Cup victory on the run in to the line chased by Álvaro Carpe for an all-Spanish Jerez podium.
The 200th Red Bull MotoGP Rookies Cup race was another stunner with Argentinian 15-year-old Marco Morelli also featuring in the lead battle for much of the race and finally taking 4th when Finnish 15-year-old Rico Salmela was dropped a place for exceeding track limits on the final lap of his brilliant late race charge.
15-year-old Quiles did most of the leading after a superb start from pole but 16-year-old Piqueras was quickly into a close second. 15-year-old Carpe had a lot of work to do from 10th on the grid but wasted no time and soon made it a KTM trio that the rest of the pack struggled to match.
Saturday's podium man Jacob Roulstone and Ruche Moodley along with Salmela all played a part in towing the chasing pack back into contention but it never quite stuck.
Màximo Quiles did what he needed to
"Not so bad, a very good race, I had very good rhythm. When I saw that we had quite a lot of gap over the main group I slowed down a bit to give the tyres a rest but increased the pace again when the gap closed."
"I had quite a lot of confidence. In the last lap, I knew that he was going to try it so I prepared for the better exit. The only problem was that I was on the left side and I am not used to brake there so I didn't have my usual reference I braked very badly and he could overtake me."
"Then I got a better exit and I could finish first."
"I know I have to keep finishing in front of him, I have very good rhythm and I think I can do it."
Angel Piqueras tried for win 4
"I'm happy because P2 is a very good thing for the championship. I have to be happy because winning 3 of the 4 races this year so far is a good situation."
"It was a hard race, we were battling all the way. I had the strategy for the last corner, I thought I did it, I was in front but finally, Maximo passed me on the straight."
"The bike was good, the bracket for the dash broke, but it didn't really slow me. I knew I had a track limits warning but I was pushing a lot, that will happen."
Álvaro Carpe right on the pace
"What can I say, it was a very hard race and very quick. In the two first laps, the three first riders made a gap. I closed the gap quickly and we had a great battle all the race."
"Finally I am on the podium. In the last laps, I was not really looking for a way to win the race. For me getting good points is very important and I knew that I would have to take a big risk if I was going to try and win."
"For me 3rd at the Spanish Grand Prix is very good, I want to say thanks to all the staff for their support."
Marco Morelli showed his potential
"Yes, this race was better than yesterday, I did some things differently and I could stay in the front group, that's very positive. I am happy with that and happy that I could run in the front group, it's been a few years since I raced at the front like that."
"In the last laps I was pushing the limit but the front group was just too fast. I wanted to take a podium but today it is not possible, maybe in Le Mans… I don't know."
Rico Salmela missed gear and opportunity
"The race was pretty good, the start of the race was again a bit difficult, it was better than yesterday. I made a comeback, I came from P10 and caught the first group. Then at about 3 laps to go, I made one mistake, I hit neutral going into Turn 1, and I made a bit of a stoppie, then I went wide."
"But after this, I passed the rider in P4 and gain I managed to catch the first group but again in the last lap in Turn 1 I hit neutral. So it was a bit difficult but it was an OK race. I am not so happy but at the same time, I am really happy. I made some good overtakes…. But still, in Le Mans I want to make the podium or a victory," he grinned.
Ruche Moodley gaining speed and experience in 8th
"I wasn't as fast as I wanted to be but there were some good things from this weekend for experience and I need to find out where to get faster to stay with the guys at the front."
"I think that yesterday, in the first few laps I was better but today more consistent. We did change the bike a little after yesterday to make the rear stop sliding so much and it felt a bit better."
"The big thing now is that I need to change my style a little bit and ride the corners more stop and go, the line more like a V. At the moment I brake very deep into the corner and I am not getting the drive out."
Edoardo Boggio finally got to race but in pain and 13th
"At the start, my hand was in a lot of pain after the fall yesterday. I was 4th but the other guys passed me because I was slower than them. Then I was in a group with Danish, Ruda and Luciano but in the last 6 laps I didn't have the strength in my right hand and I couldn't brake hard so I finished P13."
For more info checkout our dedicated Red Bull MotoGP Rookies Cup News page Rookies Cup News
Or visit the official Red Bull MotoGP Rookies Cup website rookiescup.redbull.com/