Keep 'em coming! Sunday stages another stunner as Bagnaia vs Binder goes to the wire.
Ducati and KTM test the limits of awesomeness in Jerez, with some sideways poetry, pitch perfect defence and a dash of chaos for some big names.
Two KTMS, one Ducati, and one hell of a race. Reigning Champion Francesco Bagnaia (Ducati Lenovo Team) pounced in style to deny Brad Binder (Red Bull KTM Factory Racing) the spoils at the Gran Premio Gran Premio MotoGP™ Guru by Gryfyn de España, but it went right to the wire – and was far from a two-man show. Jack Miller (Red Bull KTM Factory Racing) was right up in the mix as the podium battle tested out the adage rubbing is racing, but the Australian said it himself: "I love this so much." And so do we!
It wasn't without a dash of chaos, drama and, for some, bad luck, however, with former points leader Marco Bezzecchi (Mooney VR46 Racing Team) losing that moniker as he slid out. And before the race – that counts – even got going, the first start was Red Flagged after a crash for Fabio Quartararo (Monster Energy Yamaha MotoGP™) and Miguel Oliveira (CryptoDATA RNF MotoGP™ Team), with Bezzecchi also "involved", or rather the rider just to the inside of both. The Portuguese rider was a completely innocent party as he got caught up on the outside, and suffered a dislocated shoulder since treated at the Medical Centre. Quartararo? For the team he was certainly innocent of anything more than racing and running out of space. For the FIM MotoGP™ Stewards the Frenchman deserved a Long Lap…
He was fine to restart though, and as it had been on take one, take two was another KTM show from lights out as they slotted into a 1-2, with Binder leading Miller as Jorge Martin (Prima Pramac Racing) slotting into third. Polesitter Aleix Espargaro (Aprilia Racing) lost out once again, with Bagnaia also past and into fourth, and he didn't waste time attacking Martin either. A stylish swoop around Martin at Pedrosa corner and he was through.
It didn't take long for Miller to decide he was heading through either, sliding down the inside of teammate Binder at the final corner on his mission for Sunday glory. The KTMs then got the hammer down in tandem too, starting to pull away, before Binder returned the favour and Bagnaia set the fastest lap so far to start reeling them in.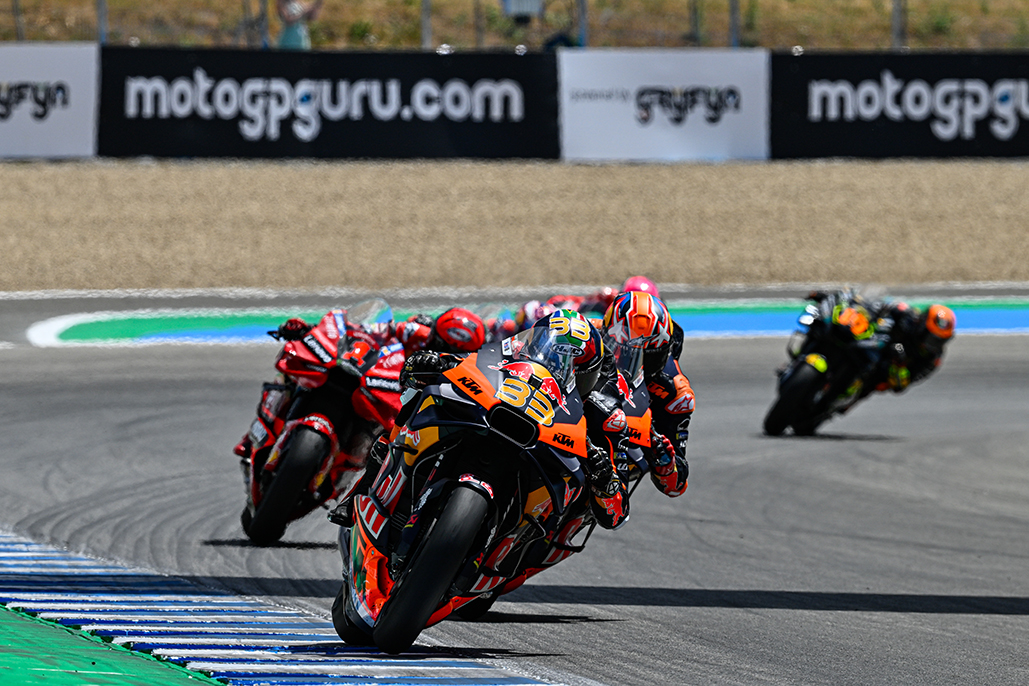 Once on the scene, Bagnaia wasted no time in getting past the Aussie, putting his factory Ducati in the tiniest of gaps at Pedrosa corner to sit up the KTM and making a little contact in the process. He raised his had to apologise, Miller raised his to say pfff. The number 43 was then under attack from Martin as well, but snapped straight back at the final corner. That pushed the Pramac well well wide, but no contact there as he slotted back in just behind Aleix Espargaro into fifth…
One lap later, and more penalty drama. Bagnaia was forced to drop one position after that earlier contact though, and the Italian dropped anchor to let Miller back past. It was a KTM one-two once again, but Martin soon got back past Aleix Espargaro to start bothering Miller again.
Johann Zarco (Prima Pramac Racing) then crashed out from behind Martin, joining earlier faller Alex Rins (LCR Honda Castrol) as a DNF. And Bezzecchi was just about to join them, the Italian sliding out at Pedrosa, rider ok but ceding that points lead.
Back at the front, Binder was now six tenths ahead of Bagnaia, but as the final few laps dawned the Ducati was gaining, gaining and gaining. At the final corner with four to go, Pecco pounced to perfection and headed over the line with three to go in the lead. Could Binder respond?
At first it seemed like a no, but the number 33 dragged the speed from somewhere. He closed back in, and by the final lap it looked plausible if not likely that Binder would get close enough. By the final sector it looked like one motorcycle in the lead, and the last Lorenzo corner was coming.
The stage was set for a lunge, but Bagnaia was having none of it. The reigning Champion was incredibly strong on the brakes and shut the door to perfection, leaving Binder to have a brief look but find no way through. Split by just two tenths over the line, it was fitting it went to the wire after a stunning race.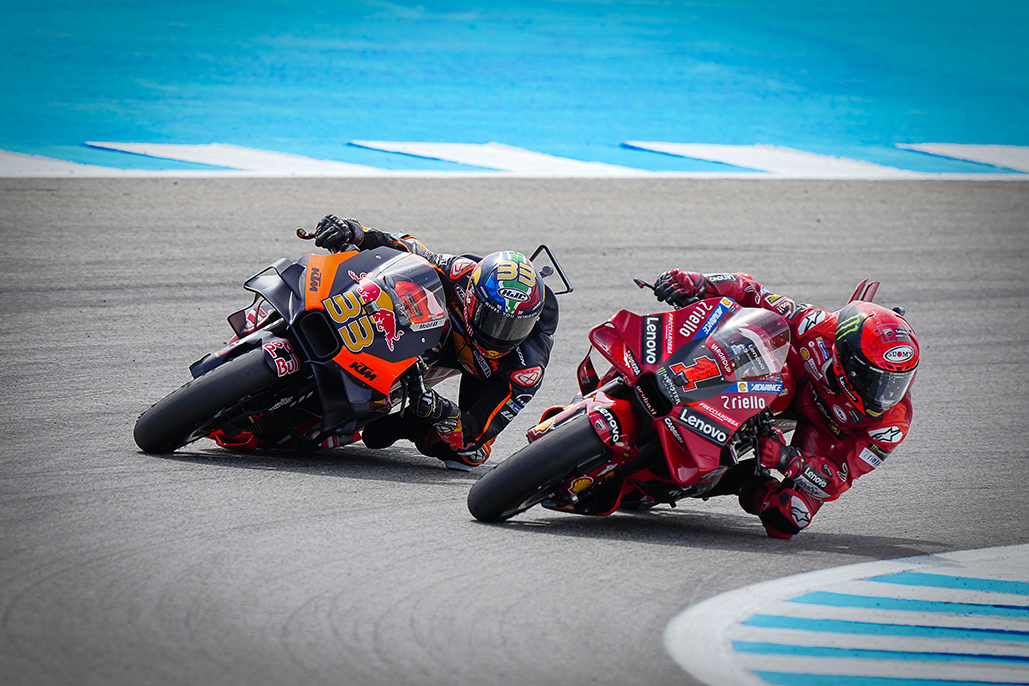 Miller took third place and that's now premier class podiums with three different bikes, as well as his first GP rostrum visit with KTM. Martin takes fourth place and was fuming at the Australian for his move, and Aleix Espargaro completed the top five.
Luca Marini (Mooney VR46 Racing Team) took sixth in a close, close finish with KTM wildcard and MotoGP™ Legend Dani Pedrosa (Red Bull KTM Factory Racing). The number 26 was thousandths off but took another top ten after an incredible weekend on his return to competition. Behind them, Alex Marquez (Gresini Racing MotoGP™) took eighth ahead of Takaaki Nakagami (LCR Honda Idemitsu). One bit of late drama saw Maverick Viñales (Aprilia Racing) lose out on that as a technical problem caused him a last lap DNF.
On Quartararo watch, the Frenchman was classified tenth after even more drama. He made progress, did the Long Lap but actually didn't quite stay in the lines, and then had to do another Long Lap. So the comeback into the top ten was something to write home about. Will we see Yamaha make a statement about the penalty as they did after Assen last season? It seems a story likely to roll on.
With the Championship plot ever-changing in MotoGP™, there's no telling what the next chapter holds as the paddock moves to the SHARK Grand Prix de France on the 12th – 14th of May. It's no ordinary race weekend either: it's the 1000th Grand Prix in history. Home heroes Quartararo and Zarco may have had different ideas of how they'd want to arrive into the weekend, but anything can happen – we've already had 10 riders on the GP podium this season and they're both among them. It's a date with destiny and history, and you don't want to miss it!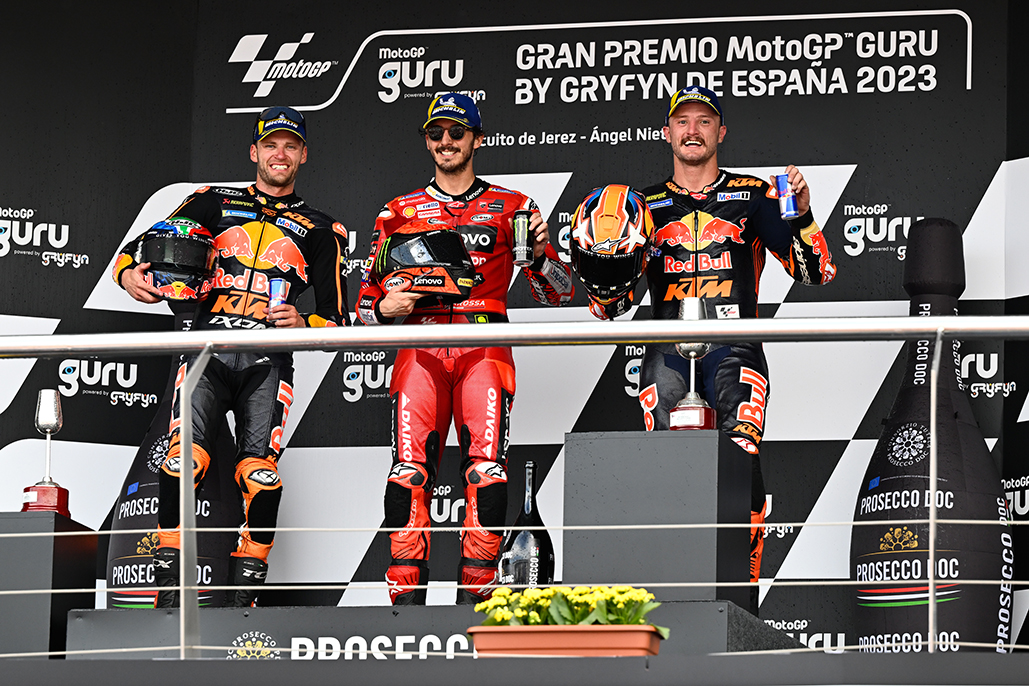 MotoGP Top 4 – Main Race Result – Spanish GP
1. Francesco BAGNAIA – ITA – Ducati Lenovo Team – 39'29.085
2. Brad BINDER – RSA – Red Bull KTM Factory – +0.221
3. Jack MILLER – AUS – Red Bull KTM Factory – +1.119
4. Jorge MARTIN – SPA – Prima Pramac Racing – +1.942
MotoGP Top 4 Championship Points after Main Race – Spanish GP
1. Francesco BAGNAIA – ITA – Ducati Lenovo Team – 87pts
2. Marco BEZZECCHI – ITA – Mooney VR46 Team – 65pts
3. Brad BINDER – RSA – Red Bull KTM Factory – 62pts
4. Jack MILLER – AUS – Red Bull KTM Factory – 49pts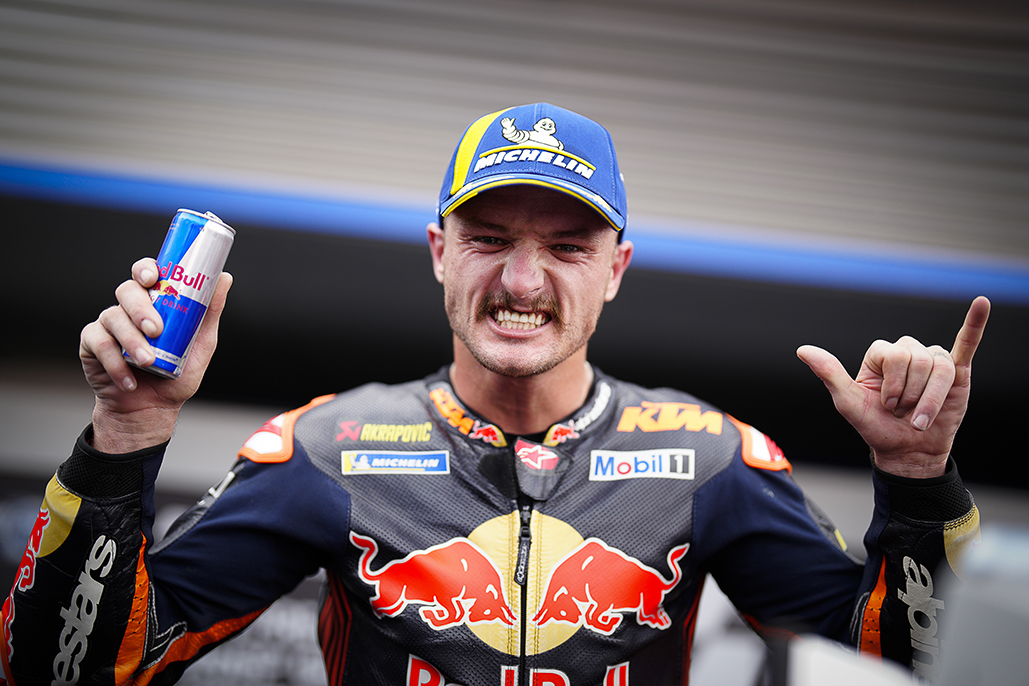 PECCO BAGNAIA: "I'm really happy, sincerely. The progress we made this weekend is the best we've ever had. Friday I was in quite a bit of trouble with the front feeling, yesterday was better but today was unbelievable, my team did another step. I was looking at the bike yesterday and I saw something, we tried it, and everything was perfect today. We managed the tyres perfectly and finally we won in difficult conditions after two 0s. I was trying to understand if it was possible or not, and then to finish first… just want to say thanks to my team because they did an incredible job."
BRAD BINDER: "It's fantastic to finish a main race again! The last two I messed up! So happy to have got a solid podium, it was nice to be out front and lead the race. I kept seeing a little gap and thought I got the job done and said I had better make sure I don't mess up the edge of my tyre, but I think I cooked it with three or four to go. It is what it is, last lap I managed my quickest lap of the race trying to get past Pecco. Hats off to him, he did a fantastic job today and he got me in the end. Huge thanks to my team and to everybody for all the support and we try again next time."
JACK MILLER: "I had to work for that one! It was a long race and again today with the red flag I had to come back and regroup and do the same again but we got away to a good start. I was suffering a little bit there, as I assume most of the boys were with the right hand edge on the front, especially in the faster corners. I don't know what happened, but I started putting in really fast laps near the end of the race. I was thinking that was a good lap but I wasn't closing them down so I knew they were doing the same! Brad rode awesome, Pecco rode awesome. Some nice clean fun racing. Super happy to be a part of it and of course stoked to be up here on the podium with KTM for the first time. It's an amazing feeling. A lot of us people doubted us at the beginning of this one but we are here already and hopefully we can stay."
A little more on silencing those critics:
"I'm having a ball. I love this stuff, I love it so much. A lot of guys in this championship sit there and complain about the bike they're on, how other bikes are better, and so on. If you really want it, go out and do it. It's not hard. I wasn't going to stick around where I was, I wasn't feeling comfortable there and I wanted a new challenge. It's called taking a risk on yourself, people in business do it all the time. If you trust in yourself enough, yeah it can come back to bite you on the arse, but I trust myself enough, and my ability and the people around me I have working with me. We took a risk and it feels mega when it comes off. I can't thank first and foremost KTM for giving me this opportunity enough, and thank you to the people who doubt us. I love it. To be back on the podium, not just me but both bikes on the podium after so many riders last year were sitting there complaining how bad this bike was… Ha. Where is it now?"
For more MotoGP info checkout our dedicated MotoGP News page
Or visit the official MotoGP website www.motogp.com