The Dunes of Riola Sardo benefit to Jorge Prado and Jago Geerts during the RAM Qualifying Races.
Day one at the MXGP of Sardegna has ended with some memorable RAM Qualifying Races in both MXGP and MX2 categories which were dominated by RedBull GasGas Factory Racing's Jorge Prado and Monster Energy Yamaha Factory Racing MX2 Team's Jago Geerts.
A sunny day coupled with the now well-known sandy track of Riola Sardo made for some challenging conditions for the riders who cannot lose one moment of focus as we witnessed during this first day.
Alongside the FIM Motocross World Championship races, we also saw the first races of the WMX and EMX250 categories which were won by and Lotte Van Drunen and Andrea Bonacorsi respectively.
The day was completed by the brand-new Paddock Show in front of number of fans who were able to be in close proximity with the stars. The guests were the winners of the RAM Qualifying Races' Jago Geerts and Jorge Prado, invited along with Andrea Adamo, Kiara Fontanesi and Calvin Vlaanderen.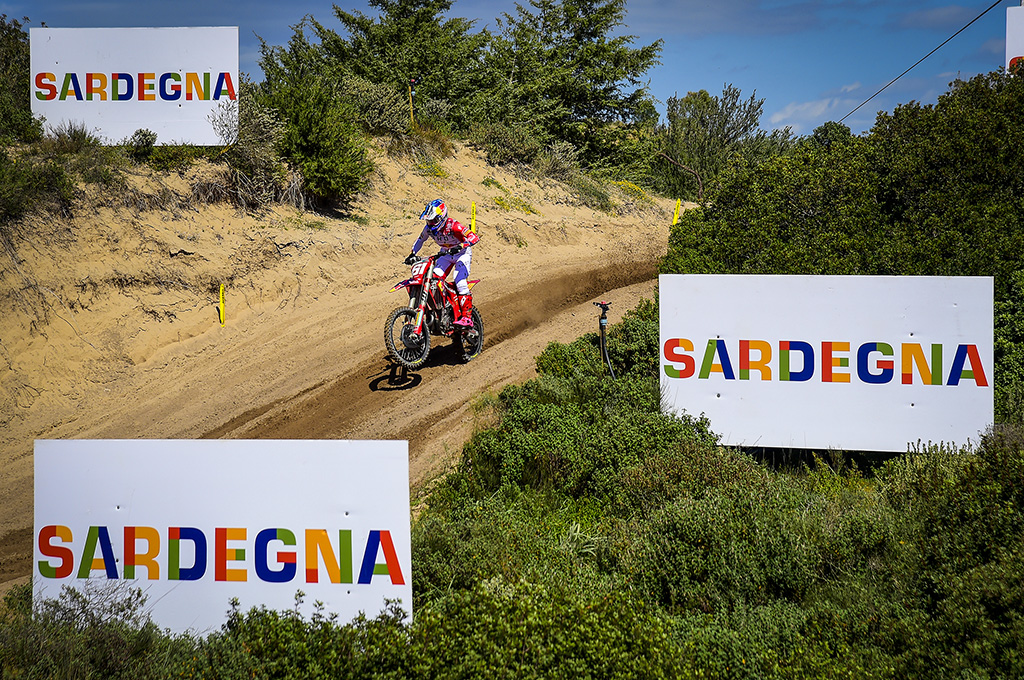 In a remake of the first round in Argentina, it was Jorge Prado who dominated the race through and led from start to finish again. The second place was also devoted to Monster Energy Yamaha Factory MXGP Team's Glenn Coldenhoff who delivered a strong performance over the whole race keeping at bay in turn RedBull KTM Factory Racing's Jeffrey Herlings, Gebben Van Venrooy Yamaha's Calvin Vlaanderen and Team HRC's Ruben Fernandez. Coldenhoff eventually held his ground to finished second and grabbed 9 points.
The third place was very disputed but while Herlings found himself third early on, he had to be patient as went down the order to 5th on lap 7 although the Bullet capitalised on mistakes from Vlaanderen and Fernandez to get back up to third in the last 2 laps.
Brent van doninck from JM Honda Racing was one rider who displayed strong racing as he methodically went up the leaderboard from 6th to 4th while never get overtaken. Kawasaki Racing Team's Romain Febvreraced similarly to van doninck as he followed him throughout race to finish 5th.
Vlaanderen finished 8th in the end although he showed some great speed and was fighting for the second spot as he closed on Coldenhoff when he suddenly crashed on lap 9, losing along the way precious points. Fernandez followed the same path as he was battling with Coldenhoff to end up crashing as well and finishing 6th.  In between them was Monster Energy Yamaha Factory Racing MXGP Team's Jeremy Seewer who stayed pretty consistent to navigate his to the 7th place.
RedBull GasGas Factory Racing's Mattia Guadagnini ended at the 9th place while Benoit Paturel from De Baets Yamaha MX-Team made a very good race to end up in with one point and the 10th place and staying the whole race within the top 10.
Jorge Prado: "It was a very good day, another RAM Qualifying win and more points gained. I felt already good in the morning and I knew I had to get a good start to ride in front. I managed to put a gap between the second and keep it so I am very happy with this racing today"
MXGP – RAM Qualifying Race – Top 10 Classification: 1. Jorge Prado (ESP, GASGAS), 25:00.149; 2. Glenn Coldenhoff (NED, Yamaha), +0:01.450; 3. Jeffrey Herlings (NED, KTM), +0:03.253; 4. Brent Van doninck (BEL, Honda), +0:10.328; 5. Romain Febvre (FRA, Kawasaki), +0:12.660; 6. Ruben Fernandez (ESP, Honda), +0:15.017; 7. Jeremy Seewer (SUI, Yamaha), +0:16.135; 8. Calvin Vlaanderen (NED, Yamaha), +0:18.798; 9. Mattia Guadagnini (ITA, GASGAS), +0:33.688; 10. Benoit Paturel (FRA, Yamaha), +0:41.399.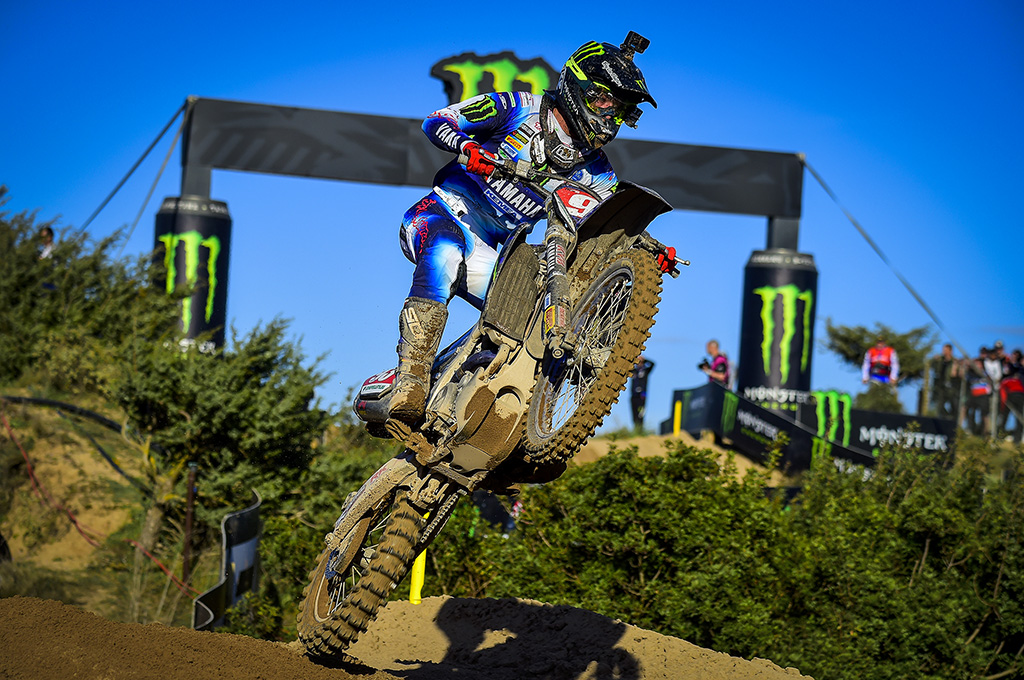 In RAM MX2 Qualifying Race, it was a similar fate than MXGP for the top place as Jago Geerts led from lap 1 to win his second RAM Qualifying Race in a row. Nestaan Husqvarna Factory Racing's Kay De Wolf who is known as a sand specialist was one rider who showed great determination as he passed Monster Energy Yamaha Factory MX2 Team's Thibault Benistant on the first lap to then set his eyes on Simon Laengenfelder from RedBull GasGas Factory Racing over the next few laps. De Wolf eventually made great overtake on the German to chase after Geerts for the lead. Although he settled for second in the end.
Laengenfelder did keep his third position after that even if Benistant got close to him towards the end. Benistant raced in 4th position after lap 1 until the end as he was not able to pass Laengenfelder and had to defend his place in the end to F&H Kawasaki MX2 Racing Team's Kevin Horgmo.
The 5th position hold the whole way by Kevin Horgmo who kept RedBull Factory Racing's Liam Everts at bay while making a charge on Benistant at the end while Evert comfortably kept the 6th place.
While Nestaan Husqvarna Factory Racing's Lucas Coenen had a similar racing story keeping his 7th place after the first lap until the end, Andrea Adamo from RedBull KTM Factory Racing was eying a move on Coenen but had to settle for 8th.
Finally, Nestaan Husqvarna Factory Racing's Roan Van de Moosdijk got into the points as he moved up to 9th on lap 3 while Rick Elzinga from Monster Energy Yamaha Factory MX2 Team moved down from 8th to 10th to fight this position with SM Action Racing Team Yuasa Battery's Cornelius Toendel during few laps to hold his ground in the end in 10th.
Jago Geerts: "Again a good race for me, Kay de Wolf was also pushing but I felt good on the track and I had a good pace. Today, riding felt very good. Even though this sand track is rough, I really like it" 
MX2 – RAM Qualifying Race – Top 10 Classification: 1. Jago Geerts (BEL, Yamaha), 24:44.614; 2. Kay de Wolf (NED, Husqvarna), +0:05.879; 3. Simon Laengenfelder (GER, GASGAS), +0:11.037; 4. Thibault Benistant (FRA, Yamaha), +0:22.812; 5. Kevin Horgmo (NOR, Kawasaki), +0:25.140; 6. Liam Everts (BEL, KTM), +0:33.796; 7. Lucas Coenen (BEL, Husqvarna), +0:40.644; 8. Andrea Adamo (ITA, KTM), +0:49.158; 9. Roan Van De Moosdijk (NED, Husqvarna), +1:06.718; 10. Rick Elzinga (NED, Yamaha).
TIMETABLE (CEST)
SUNDAY: 9:45 WMX Race 2, 10:25 MX2 Warm-up, 10:45 MXGP Warm-up , 11:30 EMX250 Race 2, 13:15 MX2 Race 1, 14:15 MXGP Race 1, 16:10 MX2 Race 2, 17:10 MXGP Race 2.
For more news check out our dedicated MXGP/MX2 News page
Or visit the official MXGP website mxgp.com