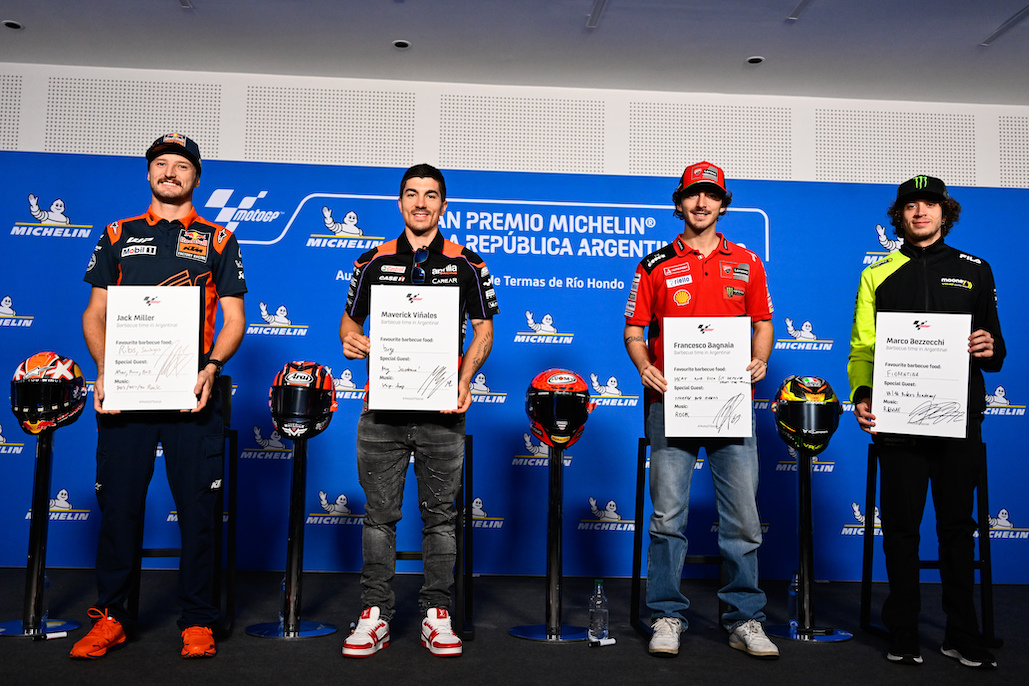 Quotes and talking points from Bagnaia, Viñales, Bezzecchi, Miller, Viñales, Zarco, Alex Marquez and Quartararo.
Here we go! We're back in action as the second race weekend of the season comes back-to-back with the first, and this time it's Termas de Rio Hondo in Argentina playing host. Two Press Conferences covered some key talking points on Thursday, the first comprising Francesco Bagnaia (Ducati Lenovo Team), Maverick Viñales (Aprilia Racing), Marco Bezzecchi (Mooney VR46 Racing Team) and Jack Miller (Red Bull KTM Factory Racing), and the second Johann Zarco (Prima Pramac Racing), Alex Marquez (Gresini Racing MotoGP™) and Fabio Quartararo (Monster Energy Yamaha MotoGP™).
LINE UP 1: BAGNAIA – VIÑALES – BEZZECCHI – MILLER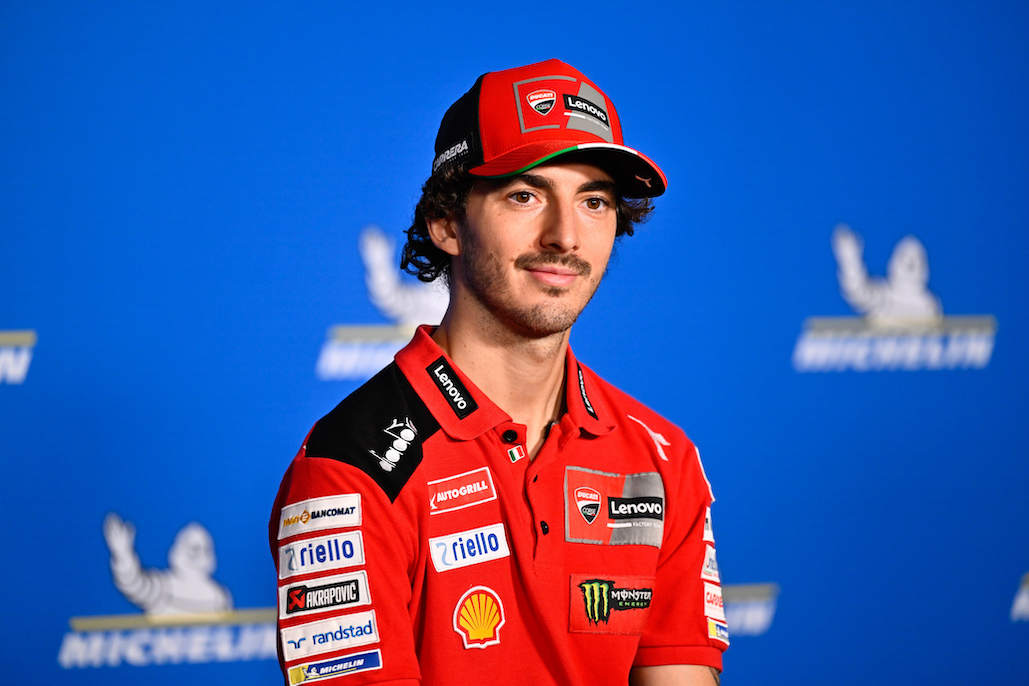 You and Ducati have never been strong here, any particular reason?
FRANCESCO BAGNAIA: "I am very curious to start the weekend here because it's a track where last year we were only competitive in the race, we were closing the gap, and it was finally a good result on the last day. But for sure, Ducati has never won here, Jack was always competitive in the past years, but every year we were missing something and I think this year we can demonstrate if our potential is good enough to be at the front. It will be a different weekend because haven't done a test here. It looks like it will rain. The forecast says there will be rain tomorrow, so the first day will be totally wet. Yesterday during a track walk, the track was very very dirty so let's see. You have to be prepared for everything and we will try to be competitive from the start, also in the wet."
Do you see this as already a great opportunity to build up points against the missing riders?
"First of all, I want to wish them a speedy recovery. I hope to see them again soon. I think in this moment of the championship we don't have to consider the men at home, but we have to consider the riders that are here because in the championship Maverick and Marco are close to me. At this moment I have to be focussed on them and not do stupid things and no crazy things because the championship is very long and it's very easy to lose points, so it's important to be consistent."
What were you saying to Bezz whilst celebrating on cool-down lap?
"I think we were just screaming. As everybody knows, we are great friends and we work together so a good result from each of us is a good result for the academy, and we are always happy. We are there working and training together every day. Everything is a challenge for us, every day. Also when we go to train with the Panigale or at the ranch every time we are joking. Like in NBA, we are trash-talking every day. We enjoy doing it so when we are there fighting for a victory or fighting for a podium, and we see each other's results it's good for the academy."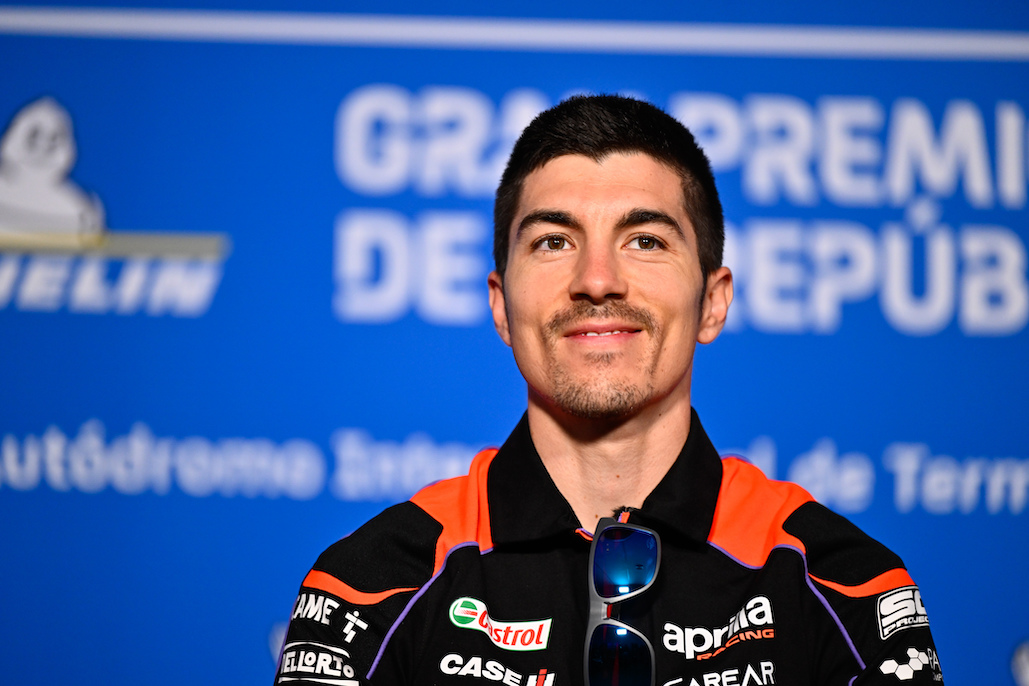 It was a good weekend in Portimao, and the Aprilia goes well in Argentina…
MAVERICK VIÑALES: "Yeah pretty curious to see how we will work at this track, last year was fantastic but it was another moment. I think we arrive much more prepared in this carse, in Portimao we showed great potential and speed, of course things will be different at this track because we didn't test, as Pecco mentioned the weather will be very inconsistent. So we must be ready for any situation, our target is to take the maximum from every session and I think if we take the maximum out of the Aprilia, I'm pretty sure we can fight for victories."
What's improved from 2022 to 2023?
"I think the biggest change is the group, we are working in a good way and I feel very competitive. The way we set up the bike feels much more suitable for my style, especially in the corners, I can brake late which is very important in this moment to overtake and defend. So basically I've found more flow on the bike, it's great because it's something I miss last year and on a few occasions I had the chance to win. This year has to be a year where we give the maximum every day."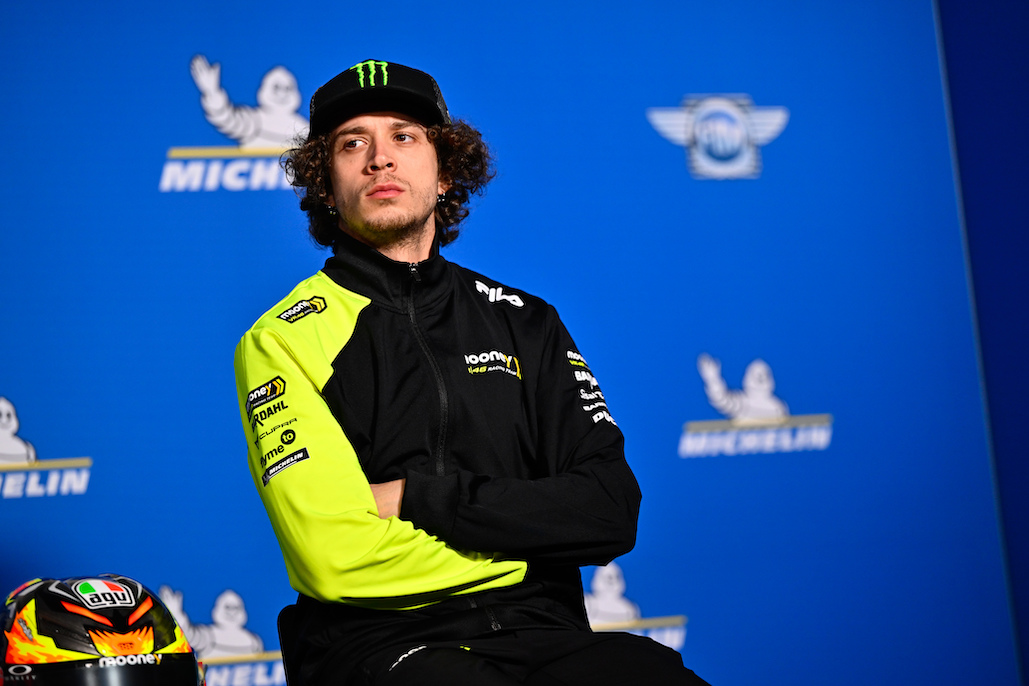 Can you keep momentum going?
MARCO BEZZECCHI: "It was fantastic in Portugal for me. A good weekend overall, even if on Saturday in the Sprint it wasn't a good race, I made a mistake, but I recovered well on Sunday. We need to continue like this. I don't expect myself to fight for the podium because I'm still in the learning process, which will hopefully end soon, but not yet! We will try to be competitive; we are working well with my crew and all the Ducati goes. So yeah, we will try to keep rolling and continue to enjoy."
What are your 2023 targets?
"My first and only target is to try and fight for the first victory, which is my biggest dream at the moment. I don't want to put extra pressure on me but it is something I think I can achieve. I don't know when, but I hope soon. I think working as we are already is the key to going well. We will try hard to be competitive."
On Portimao celebrations and… "trash talk"?
"I talk big trash, but Pecco does too! It was a fantastic moment. He is already used to being on the podium in MotoGP so yeah, I was more excited as you can see in the video. Yeah, to share the podium with Pecco or someone from the Academy is a special one."
Watching Off the Racing Line…
"Yeah, it's a fantastic video. It's also very funny to make this video together. The crew followed me for two days and it was fantastic. When you see the result, it is incredible. Also, I never asked my family to explain to me what they said in their interviews, so it was cool to see this."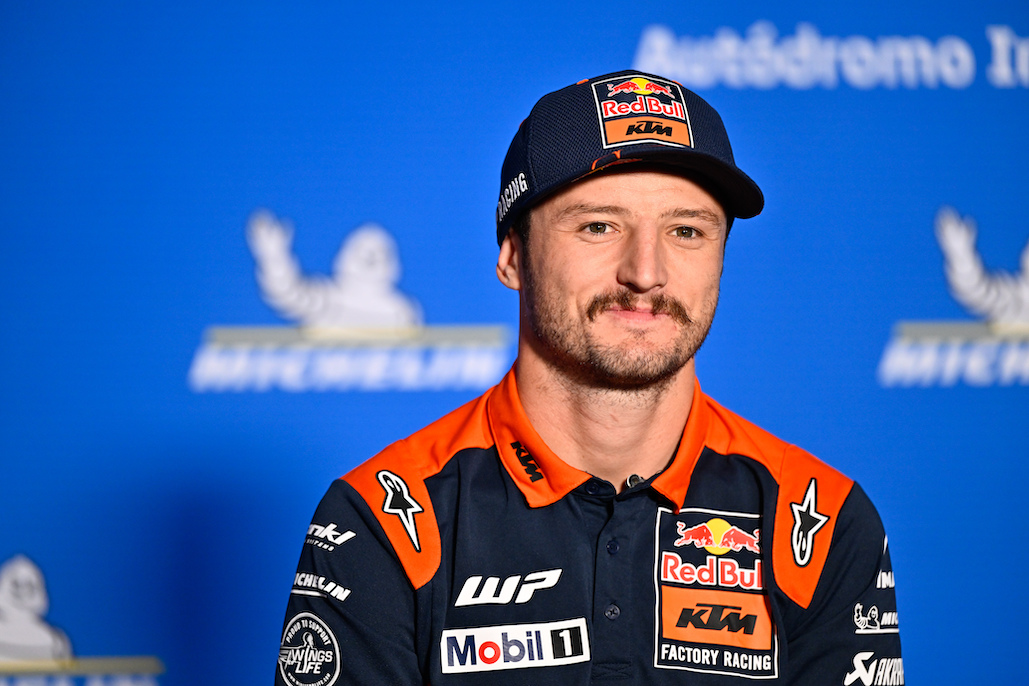 On reflection, did that first round surprise you and surpass expectations?
JACK MILLER: "It was a positive weekend all around. From the first roll out Friday we made a big step from the test. As you said, to show our speed on Friday and then back it up in the Sprint. The Sprint was the first time I did more than… It was the most laps I'd done on the KTM up until that point so, it was the first time I did 12 laps, and then the race on Sunday was the first time I did over 20. It was definitely an unknown weekend, I didn't really know what to expect, especially with how busy we've been through the off-season. But the team put together an amazing package, a really competitive package for me come race time and we were able to do what we do best and go racing. It was a lot of fun, watching the race back, it gives me a big sense of nostalgia. Thinking back to the year 2014, wearing the Alpinestars and riding the KTM, it made me feel young again even though I'm getting quite old now. It was awesome, an amazing fight.
"Like I said, to be with Pecco and the boys, and to be able to at least dice with them for a lap or two in the Sprint. The pace in the race was pretty decent, ran out of steam sort of thing towards the end due to a little costly mistake but sort of got to understand what the Ducati power is all about when you're on the opposite end of it. It can get a little bit frustrating. Alex rode and had a fantastic race, Brad and I were throwing what we could at him. To start off the year like that, with all the changes that we've made, it's been a busy busy off-season. Changing to WP suspension, steel chassis, new engine, new chassis, I mean we've been busy. The team's been flat-out, I've been at home like an ant on a farm getting ready for the season. They've done a fantastic job, and to be there so early on is awesome. Looking back at it it's probably one of my most competitive starts to the year ever in MotoGP, and I've had all these different changes so hopefully, it's a sign of things to come."
In those 25 laps on Sunday, what did you learn were the real strengths of the KTM?
"The race was really interesting on Sunday, just starting to understand how the bike reacts. You do the laps in practice but it's constantly in and out and doing a slow lap here and there. So to put consistent laps on the tire and understand how the bike actually works with the tyre, and what area the tyre starts to drop off first. I was really surprised at the rear tyre, and the life that it gave me because coming into half-race distance I was giving it a bit of stick to try to hang with Marco. I was thinking 'is this thing going to drop off the edge of a cliff?' But it stayed pretty solid, and to be honest, I had a little bit more to give there at the end, but like I say I couldn't find my way past Alex for long enough. But it was just a massive boost in my confidence, to understand you've got that life there and you can actually stretch a little bit more when you need."
Watching the Sprint top three talk about him…
"I like the confidence from Pecco that we knew he'd overtake us both! It was funny to hear the comments of the guys. The soft front I think surprised everybody. I think being able to translate what I did on the Ducati to them KTM, after I think it's been renowned that all that can run is the hardest thing in the allocation, and to be able to put it in and do 12 laps like that was nice. I think everybody all around the world, I don't know what it is, I think people still think that I got here and lucked my way into this job somehow. I get doubted more than anybody on this grid, and to be able to prove countless people wrong again has been amazing and kind of gives me an extra power. I think the guys, like everybody else, were surprised to see me there and you know, it gives me an awesome sense of accomplishment to be there already and to be able to challenge with these guys and to prove so many people wrong already has been awesome."
LINE UP 2: ZARCO – ALEX MARQUEZ – QUARTARARO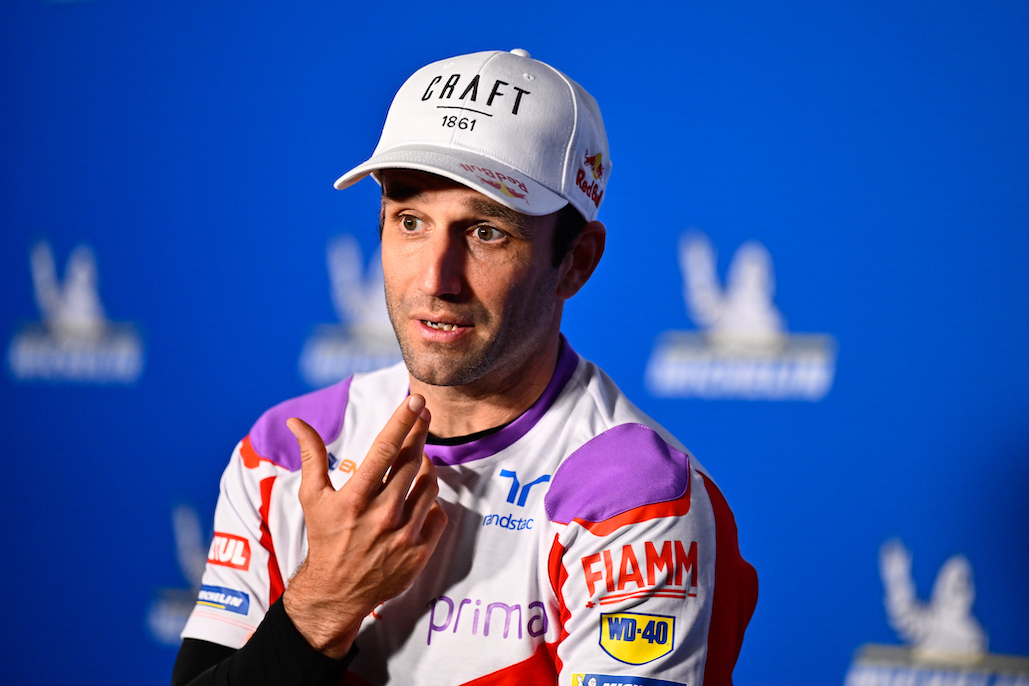 Portimao was quite a finish:
JOHANN ZARCO: "It gave a lot of pleasure to finish the race in this way. It was a long race and with 11 to go, I thought it was going to be tough. But then with 5 to go, I got a better feeling, maybe the others rear grip began to drop, and this gave me the advantage. It wasn't easy to gain positions lap by lap, and then on the last lap I said, 'It's now, otherwise it's too late!' And I knew this Turn 11 where I overtook Aleix, I could get Brad, but then with Alex I was thinking how could I pass him? Because at T13 I wasn't close enough and I didn't expect to go inside like this at 14 but then I saw him go wide and this feeling to turn tight, I need to do it, and it had been working well so pretty pleased. To start the season this way with a good finish gives you a lot of motivation."
Fourth on the grid, podium pace.. the importance of QP?
"Clearly. Straight to Q2 is the target to save energy on Saturday. But qualifying is always a special exercise and some riders are specialists for it, and it means at least the first row, almost immediately, is booked. I miss this qualifying. With the soft rear, I was missing the feeling to go very fast and that's why for the Sprint, I could have got a good result, but not very good pace for the podium. In the long race, with the medium rear, I had a better feeling for the consistency, I knew I could stay close to the top. That will be the target for this weekend, straight to Q2 and see if I can be on the first two roes. Clearly it helps in both races and gives you a chance of the podium.
"Here in Argentina, I would to have the pace for the podium. Last year I expected a lot because it is a track I like but I didn't get any feeling because all the practice was on Saturday and then the race on Sunday. I expected to be ready, but I was not. New challenge this year and if I can get the pace, it will be very good."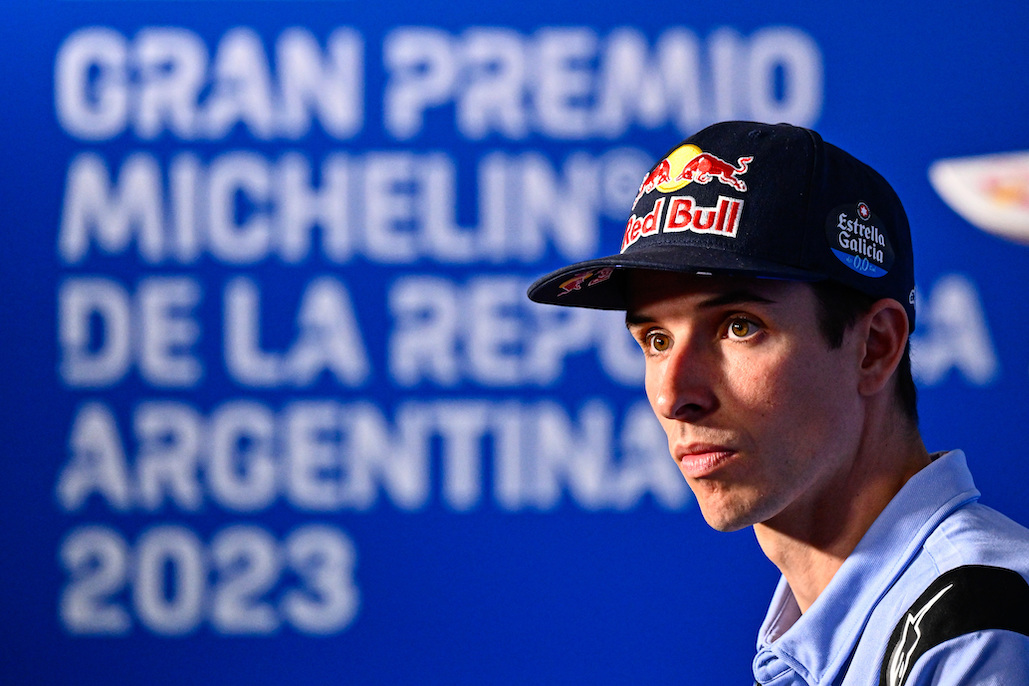 It was a great race on Sunday…
ALEX MARQUEZ: "Yeah I enjoyed it. The important thing that since the first day on the Ducati, we are making improvements. Ok it was my first weekend on a Ducati with Gresini, we did a few mistakes, we weren't in Q2, we were in Q1 and missed Q2 by a couple of tenths, we know the things we need to improve. It was the first time on Sunday we made a complete race distance, so we had problems in the last 10/11 laps, we managed the pace to be there but I defended the position quite good and I was at least able to make some good lap times. We know clearly what we need to improve, and to not repeat the mistakes again will be the key here. The track is completely different, low grip, and for that reason I think the first four races will be important to see how we can be, if we can be good on tracks that have completely different conditions. We will try to give our best and enjoy on the bike."
What are the areas of improvement?
"It's not just trying to adapt the bike to me, I'm still riding like I'm on the Honda too much. Trying to strike the potential on passes that I don't need to take, or I don't need to push like that. I used too much the H in the race and that's where we need to improve, some things on riding style. As I said we have some ideas, we have a clear direction where we need to be and the first races will be a progress, to adapt and to be more complete when we arrive to Europe."
On Marc:
"When he'll come back I'm not the one to say, he will take it day by day but he has a team manager and a team to say it. He's calm, he's good, he had the injury on Sunday and he is feeling quite good. He missed Argentina GP for two years and he's not happy, but it's what it is, he did the mistake, he accepts it, that's it. In races and in this part of the job, we'll see it more times in different ways this year."
And going to the match, how was it?
"Really nice experience. It wasn't just a football match – it was a party. This is what I need to say, the people here, everything, they're passionate and they are world champions so it was a great party and to see Messi again, the last time I saw him playing was in Camp Nou, I hope to see that again, but it was really nice to see Messi and all the fans, how they are, because they're really passionate."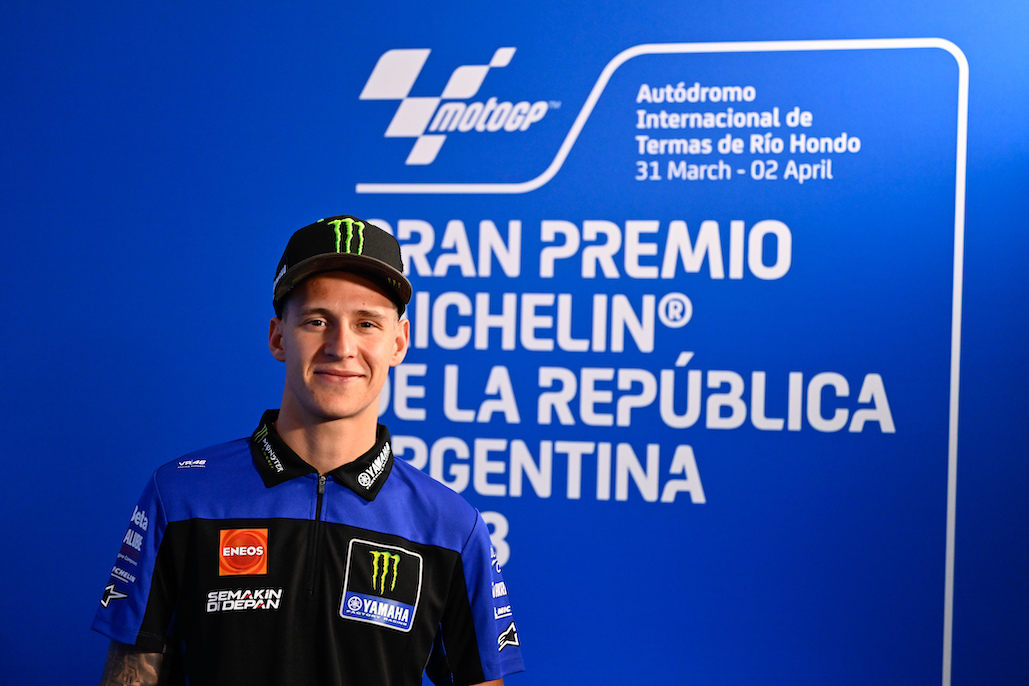 Are you more optimistic about perhaps being a bit stronger here in Argentina?
FABIO QUARTARARO: "Hopefully, I mean the pace wasn't too bad but starting from so far back, with not-great first laps, it was tough to come back but the pace was good. It was just, to try to make an overtake we have to figure out what we can improve to have similar ready to the others."
Are you a bit concerned about the potential of the Yamaha in time attack mode?
"We have to improve. We have more or less the same problem in the race, and in time attack so we have to use these races to make improvements basically for the qualifying. Because right now, especially with our bike, it's a big part of our weekend."
What have you discussed with Yamaha about how you can fight more with this package?
"We have great potential to ride fast, but then when it's about fighting with the others, we are struggling a little bit more. That's what we are trying to work on with Yamaha, to try to figure out how we can come out of the corners to stay close with them to at least prepare an overtake because we have to overtake in areas where it's really tough. So hopefully we'll find a solution soon, but we have to stay calm because there are still many races to go."
For more MotoGP info checkout our dedicated MotoGP News page
Or visit the official MotoGP website www.motogp.com