Vmoto Soco UK Rides High from EICMA Success to Electrify Motorcycle Live 2023.
Riding high from their successful showcase at EICMA in Milan, Vmoto Soco UK is set to electrify this year's Motorcycle Live with a blend of excitement and ground-breaking achievement.
Cementing their reputation for innovation, their CPx PRO model recently set a new Guinness World Record for the 'Greatest distance on an electric scooter in 24 hours by a team in relay' by achieving an extraordinary 1931 kilometres at the Circuito Tazio Nuvolari in Italy.
Marking a new chapter as a distributor-owned brand in the UK, Vmoto's presence is underscored by an expansive and impressive stand over in Hall 2 where the team are set to unveil an impressive line-up of their latest electric models, including the highly anticipated 'Vmoto Stash' which is now available for much awaited pre-order.
The Stash is an innovative electric machine with unique design features, including a large storage compartment integrated into the 'tank' area, capable of accommodating a full-face helmet, coupled with a robust 100Ah, 72V battery, establishing the Stash as a practical yet powerful urban transport solution, offering both standard and boosted power modes to cater to varying riding needs.
Further adding to the excitement, Vmoto Soco UK will be demonstrating a fully customised version of their best-selling model the TC Max equipped with premium Öhlins suspension and top-tier components.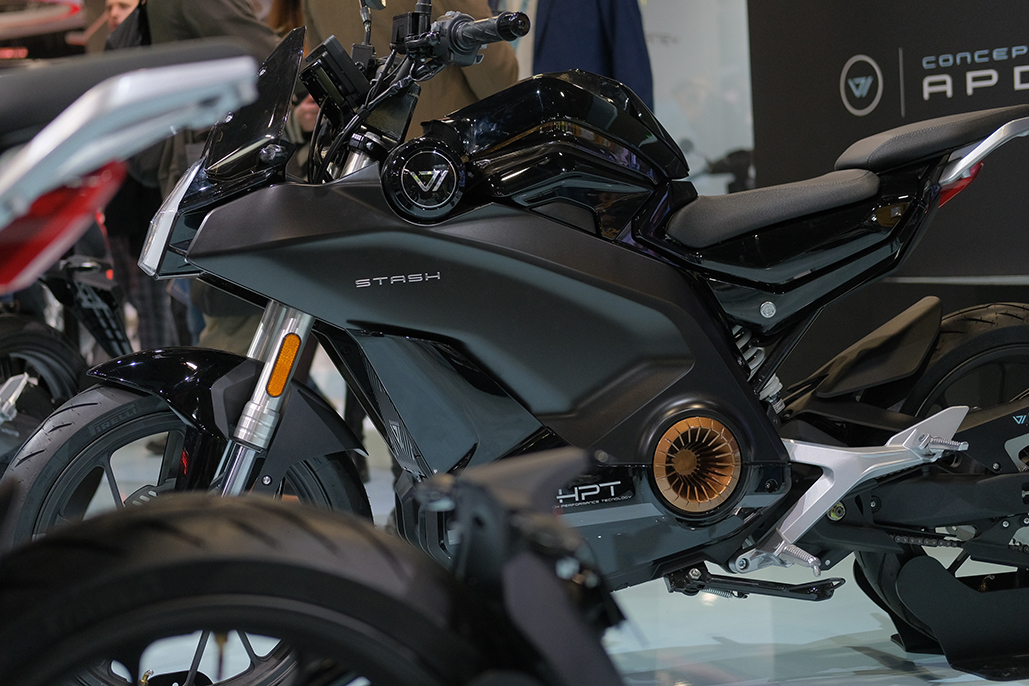 In addition, visitors to the stand will have the opportunity to explore the rest of Vmoto Soco UK's comprehensive range, as well as being able take advantage of purchasing the CPx dual battery model at an exceptional price of just £3199.00, presenting a golden opportunity for customers and dealers alike to promote the switch to electric commuting.
Also on display:
-TC Max: £4599
-Stash: Available in Black and Blue – £6299 (Pre-order launch price)
– CPX Dual: On sale for £3199
– Cu Mini: £1499
– CuX PRO: £2699
– Wanderer: £2999, Dual model – £3599
– Wanderer PRO: £4299
– Hunter: £2999, Dual model – £3599
– Hunter PRO: £4299
– ON-R: (72V 48AH)
– OFF-R: (72V 48Ah)
– TC Single: £2799, Dual model – £3299
– TSX Single: £2799, Dual model – £3299
The VS1, VS2, VS3 will complete the line-up, showcasing the latest fleet models available for business and last-mile delivery solutions.
Vmoto Soco Uk warmly invites visitors and journalists to Motorcycle Live to explore their extensive range, including the innovative Stash, the showcase TC Max, the top selling CPx, the new Wanderer and Hunter Pro models, and more. This event is a celebration of Vmoto's relentless pursuit of excellence in electric transportation and a glimpse into the future of urban mobility with the leading electric bike brand in the UK.
Checkout our dedicated Vmoto Soco UK News page
Or head to the official Super Soco website supersoco.co.uk/