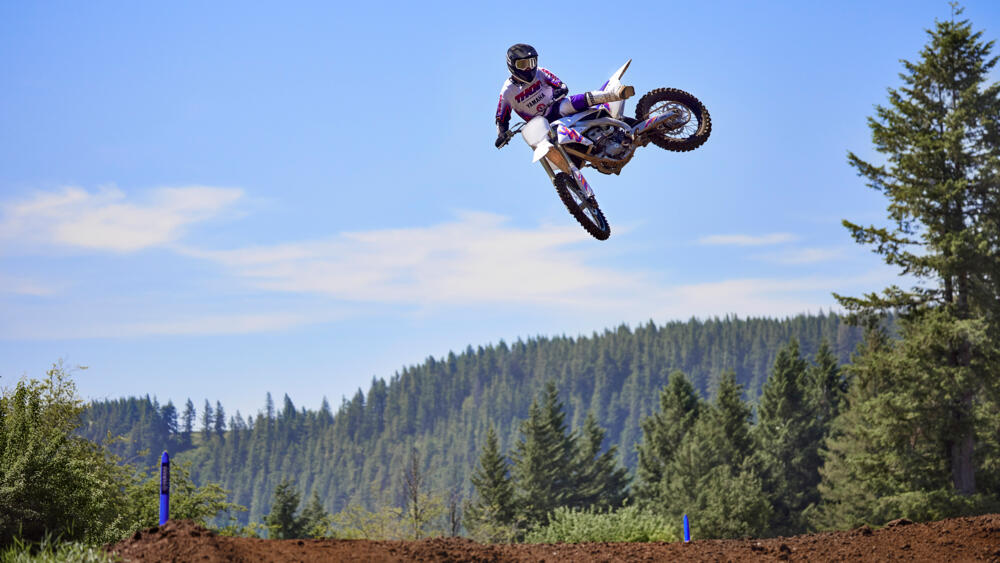 50 years of winning. 50 years of innovation. 50 years of YZ.
Yamaha was born to race. Right from day one Yamaha put competition at the heart of its operations. And 50 years ago, Yamaha launched its first YZ production motocross models – the same year that the company won its first ever Motocross World Championship with Hakan Andersson on a factory YZM250. It was the beginning of a new era for the sport, and over the last half century Yamaha has established itself as one of the most innovative and competitive brands in the 4-stroke and 2-stroke classes.
Yamaha are marking this significant moment in the company's history with an all new YZ250F that has been created with the immense knowledge gained during half a century of competition in every major GP category.
To commemorate 50 successful years since the first Yamaha YZ models made a lasting impact on the motocross racing world, the 2024 line-up will include exclusive YZ250F, YZ450F, YZ250 and YZ125 50th Anniversary Edition models. Featuring racing white bodywork, purple seats, black wheels and retro-styled purple/pink graphics, these 50th Anniversary Edition bikes offer every Yamaha rider the chance to be a part of this very special occasion.
The 50th Anniversary Edition colouring is inspired by the bold designs used on the YZ250 and YZ125 in the mid-1990s – a period of transition for Yamaha motocross machines which was soon to be followed by the arrival of the first YZ 4-stroke in 1998 and the beginning of a new era of 'Yamaha Blue' colours for the company's Off Road Competition models.
The introduction of the new YZ250F reinforces the range to make the 2024 Yamaha Off Road Competition line-up stronger than ever – with a diverse choice of 4-strokes, 2-strokes, motocross, enduro, youth and kids' bikes.
New generation YZ250F: Lighter, sharper and more advanced
The YZ250F has proved beyond doubt that it is one of the most competitive 250cc 4-stroke motocross bikes at every level. With a distinguished race winning record in Motocross Grand Prix and US Supercross – as well as three consecutive MX2 Manufacturer's World Championships – this bike is a born winner.
For the 2024 model year Yamaha introduce the new generation YZ250F that features an all-new YZ450F-based frame, ultra-compact bodywork, increased mid to high speed power and improved tuning functionalities with the new Power Tuner App. By retaining the highly acclaimed strengths of the existing model, the 2024 YZ250F is designed to give an easier, smoother and faster ride.
All-new YZ450F-based aluminium frame
The new generation YZ250F is equipped with an all-new aluminium frame that has been proven on the latest YZ450F. This new frame provides lighter and easier handling and gives more feedback – enabling the rider to push harder and exploit more fully the YZ250F's powerful low to mid rpm torque.
The key improvement on the new lightweight frame is the relocation of the head pipe which is now 15mm lower – a significant change which centralizes the bike's mass for increased handling agility and quicker directional changes. The new head pipe is also thinner and lighter and contributes towards the reduced weight of the new YZ250F.
To match the new head pipe the tank rails are also mounted much lower for 2024 and incorporate a new U-shaped profile at the rear that changes the frame's balance of rigidity in order to achieve an idealized degree of controlled flex. With its revised layout giving a lower centre of gravity – combined with improved shock absorption – the all-new chassis promotes the sense of rider/machine unity and delivers faster and more agile cornering.
Completely new slimline bodywork with flatter seat
All-new bodywork gives the new YZ250F a much tighter, lighter and slimmer look and feel, and this contributes towards making the bike easier, smoother and faster. The complete bodywork is new for 2024, and like the new frame, is based on the successful design used on the latest YZ450F.
The shroud width is 50mm narrower, making it easier for the rider to shift bodyweight forwards. Rider mobility is also enhanced by the new seamless seat which is 6mm narrower and also much flatter, with the height difference between the front and rear reduced by 15mm for the 2024 model.
The compact, newly designed front fender promotes better airflow to the radiators for improved cooling efficiency – and the short and flat rear fender and slim side panels further enhance the tighter and lighter look of this new generation 250cc 4-stroke.
Revised rider triangle
Subtle but significant improvements are made to the YZ250F's ergonomics with detail changes to the geometry of the rider triangle. The new flatter seat is 5mm higher, while footpegs are mounted 5mm lower, giving a total 10mm increase for a more flexible leg position. Handlebar position is relocated closer back towards the rider, and together with the new seat and footpeg positions this gives improved ergonomics and increased controllability, enabling the rider to optimize the increased agility of the new chassis.
Optimized KYB suspension settings
The KYB suspension is widely regarded as being one of the best in class, and for 2024 the new generation YZ250F's forks and rear shock internals are added to bring out the optimum performance of the new frame. Revised front and rear damping settings offer improved shock absorption and traction, and a new hand adjustable compression damping system on the front forks makes suspension set up quicker and easier.
For added protection against scratches and debris the fork shrouds wrap further around the sides of the inner tubes, and for increased durability the KYB forks are equipped with new long-lip seals that prevent dirt ingress.
Improved rear brake feel
The rear brake plays a key role in directional changes as well as effective corner entry and also when adjusting machine angle when in the air, and the degree of feel transmitted to the rider is crucial for maintaining control. For this reason, the YZ250F is equipped with a new rear hose with reduced rigidity that improves the balance of the brake input and gives the rider more accurate control.
Increased performance by efficient air management and FI setting
A new high efficiency air management system is used on the new YZ250F, with air now entering the airbox via a new rear duct system as featured on the MXGP and AMA SX race winning YZ450F. The compact new bodywork features ducts in the new side panels, frame and tank that channel fresh air into a new high capacity round profile air filter with a 30% increase in clean-side capacity – and the lower case is now made from rubber instead of plastic to promote air intake pulsation. The new rear duct air flow design contributes towards the increased mid to high speed performance and over rev characteristics of the 250cc 4-stroke reverse-head engine.
A new ECU features updated fuel and ignition mapping that is designed to optimize the performance gains achieved by the various engine changes. Riders familiar with the current model will feel the increased mid to high range performance that, together with the bike's legendary low to mid-range torque, make the new YZ250F even more competitive in all conditions.
Low friction cam chain
The YZ250F engine is renowned for its strong low to mid-range torque and high levels of controllability in different conditions, and these strengths have made it one of the leading 250cc 4-strokes in motocross. Yamaha's engineers have concentrated on retaining all of the positive attributes of this winning engine for 2024, while also working hard to increase its high speed performance.
To accommodate the increased performance the YZ250F is equipped with a new low friction cam chain that is wider and more durable. The DOHC engine also features new camchain sprockets as well as new tensioner settings that optimize the efficiency of the uprated engine.
New adjustable Traction Control System
The 2024 YZ250F is equipped with a new Traction Control System that offers two levels of assistance as well as an OFF function. Operated by the latest Power Tuner App, this system is designed to give the rider increased controllability on wet or loose surfaces – and by preventing the machine losing traction entirely it enables the rider to fully concentrate on the track ahead.
Launch Control System
The YZ250F benefits from a new Launch Control System with 'Rev limit' function that gives the rider the option to set with maximum launch rpm between 6.000 rpm and 11.000 rpm in 500 rpm increments. This launch Control allows the rider to power off the line at full throttle and concentrate fully on getting the holeshot.
When the launch control system recognizes that the start has been completed the Rev limit function automatically turns off and when 3rd gear is reached the Launch Control system is deactivated.
Next generation simplified Power Tuner App
Yamaha's Power Tuner App is one of the most significant developments in recent years. The company was an early pioneer of wireless engine tuning, and the latest generation system is designed to be even easier to use. The 2024 YZ250F Power Tuner App now features a "Quick Tuning" option with a scrollbar that runs from 'Smooth' to 'Aggressive'. It's the easiest and most intuitive system ever used on the bike, and it is designed for superfast trackside tuning.
And the latest Power Tuner retains the 4×4 matrix that allows detailed mapping changes designed for professional teams that want to achieve the ultimate performance – and there's a new multifunction switch that enables the YZ250F rider to switch between two uploaded mappings during a session.
The Power Tuner App can also be used to set the YZ250F's traction control and launch control parameters, and the system can also record lap by lap data, allowing the team and rider to evaluate the effectiveness of various different mapping settings. Furthermore, the App features a suspension set up section that offers advice and suggested settings to suit different riding situations.
YZ250F 50th Anniversary Edition
It is 50 years since the Yamaha brand entered the motocross scene with its first production bikes, and during this half century the company's YZ models have established themselves as some of the most competitive and innovative machines in every major category.
The new YZ250F 50th Anniversary Edition celebrates this significant chapter in the YZ's history, and also highlights Yamaha's first ever Motocross World Championship title. Featuring an exclusive 1990's inspired historic colour scheme together with all of the sophisticated technology found on the latest generation YZ250F, this 50th Anniversary Edition gives riders the chance to own an exclusive machine. The pure white bodywork features retro-styled purple/pink graphics, and the purple seat and black wheels complete the package to create a very special looking anniversary bike.
Technical highlights
All-new YZ450F-based bilateral aluminium beam frame with revised rigidity balance
Slimmer and more compact bodywork dimensions for increased rider agility
Flatter and narrower seat for greater freedom of movement
Optimized KYB suspension settings
New hand adjustable front fork compression damping adjuster
Improved rear brake feel
Stronger mid to high rpm performance
New rear duct air cleaner
New ECU with optimized FI settings
Newly designed low friction cam chain
New 2-mode adjustable Traction Control System
Updated Launch Control System
New more intuitive Power Tuner App
New lap timer feature and more
FAQ-style engine and suspension set up guidance
Availability and colour options
The YZ250F is available from October 2023 and will be offered in Icon Blue with new graphics. The YZ250F 50th Anniversary Edition is available from October 2023 and will be offered in Anniversary White.
YZ450F: Yamaha's lightest, slimmest and fastest 450
The YZ450F was completely redesigned for the 2023 model year, and the latest generation bike's race results immediately showed that this unique reverse-head 450cc 4-stroke has the engine and chassis performance to take on and beat the world's leading riders and brands.
Also in racing, the YZ450F has been a consistent contender, with Jeremy Seewer and Maxime Renaux taking their Monster Energy Yamaha Factory bikes to overall MXGP victories and podiums. Supported by Glenn Coldenhoff's strong performances, the Monster Energy Yamaha Factory team is in contention for the 2023 MXGP Manufacturer's Title. And in the USA, Eli Tomac's winning record on his Monster Energy Yamaha Star Racing YZ450F was only ended by an unfortunate injury after dominating the series.
The 2024 model continues with graphic updates and is joined by the exclusive celebratory YZ450F 50th Anniversary Edition. Featuring historic colours to commemorate 50 years of the YZ, this exclusive model features fresh white bodywork with a purple seat, as well as 1990s inspired purple/pink graphics and black wheels.
Technical Highlights
Light, slim and compact reverse-head 450cc engine
Strong and linear power
5-speed transmission and lightweight clutch
Dry sump lubrication system
Bilateral aluminium beam frame with model-specific rigidity balance
109 Kg wet with full tank of fuel
Best-in-class KYB suspension
Hand-adjustable front fork compression damping adjuster
Slim and compact bodywork for easy rider agility
Flat and narrow seat for rapid body weight shifting
3-mode adjustable Traction Control System
Launch Control System
Power Tuner App with Quick Tuning and set-up guide
Lap timer
Availability and colour options
The YZ450F is available from July 2023 and will be offered in Icon Blue with new graphics. The YZ450F 50th Anniversary Edition is available from August 2023 and will be offered in Anniversary White.
YZ250 2-stroke: 50 years of winning
When Yamaha won its first Motocross World Championship in 1973 it marked the beginning of the YZ250 2-stroke, one of the most legendary machines in the dirt bike scene.
With an astonishing race record that includes numerous wins in motocross and supercross – as well as becoming a favourite with freestyle MX riders – the YZ250 symbolizes the Yamaha spirit of Kando – a philosophy in which the design and performance of every product should inspire joy and pleasure.
Equipped with an agile chassis and potent 250cc 2-stroke YPVS engine, the YZ250 is the ultimate race machine in the eyes of many thousands of riders all over the world. The 2024 YZ250 comes in Icon Blue with revised graphics and is joined by the new YZ250 50th Anniversary Edition model that commemorates 50 years since the first production YZ was introduced. With 1990's inspired white anniversary bodywork, purple/pink graphics, purple seat and black wheels, this exclusive 2-stroke pays tribute to half a century of YZ motocross bike history.
YZ125: First choice for tomorrow's champions
The YZ125's distinguished history goes right back to the beginning of Yamaha's involvement in motocross, half a century ago, and the latest version of this iconic lightweight 2-stroke is one of the most popular choices for tomorrow's champions. Powered by a compact 125cc YPVS engine housed in a super agile aluminium chassis, this machine gives every aspiring factory rider the performance and reliability needed to win.
This model underwent a major upgrade for 2022 and has been showing its competitiveness in the EMX125 Championship as well as in youth races all over the world.
The 2024 YZ125 features Icon Blue bodywork with new graphics, and it will be joined in the 2-stroke line up by the YZ125 50th Anniversary Edition model that is fitted with white bodywork, purple seat, retro-styled purple/pink graphics and black wheels in tribute to 50 years of YZ motocross bike production.
The YZ 2-stroke range is completed with the YZ85 and YZ65, two youth racing machines that have been built using technology developed from the adult machinery. Manufactured to the same high quality standards as every Yamaha, the smaller capacity YZ models feature updated graphics for 2024.
Availability and colour options
The YZ250, YZ125, YZ85 and YZ65 are available from July 2023 and feature Icon Blue bodywork with new graphics. The YZ250 50th Anniversary Edition and YZ125 50th Anniversary Edition are available from July 2023 and feature the Anniversary White colour.
Yamaha TT-R and PW kids' bikes
Yamaha has always been totally committed to the whole market and was one of the first manufacturers to produce a range of bikes aimed at kids and youth riders. The TT-R youth bike range includes several models to suit riders of all ages. Incorporating many user-friendly features including automatic clutches, low seat heights and simple technology, these bikes are the ideal way for young riders to gain confidence and experience on two wheels.
Powered by reliable and easy-to-maintain 4-stroke air-cooled engines, the TT-R50, TT-R110 and TT-R125 provide years of simple outdoors family fun for riders from the age of 4 years right through to teenagers and adults. And without a doubt the most famous and successful kids' bike of all time is the legendary PW50. With fully automatic transmission, shaft drive and handlebar mounted brake levers, this lightweight 2-stroke is the ultimate beginner's bike. With sales of more than 400,000 units, it's been the number one choice for kids for 40 years and counting!
Availability and colour options
The TT-R50, TT-R110, TT-R125 and PW50 are available from July 2023 and will be offered in Icon Blue with new graphics.

Yamaha Genuine Accessories
Yamaha Genuine Accessories features premium off road riding gear and a wide selection of leisure clothing for adults and kids. There is also a range of high quality GYTR® Performance Parts and kits for increased race performance – and customers can also purchase individual GYTR® items.
Yamaha also offers a full range of Yamalube lubricants and machine care products that have been developed and blended in-house to ensure consistently high standards, and customers can be sure that every item in the Yamaha Genuine Accessories line has been designed to offer the best performance with premium quality and the perfect fit.
Privateer riders and teams can also be confident that every GYTR® Performance Part has been thoroughly tested and evaluated by Yamaha factory riders before being made available to the public.
MX riding gear
Developed by Yamaha in collaboration with Alpinestars, the latest MX riding gear collection includes a range of jerseys, pants and gloves – as well as off road body armour and enduro riding trousers and jacket. Manufactured from premium materials and featuring exclusive factory designs, the range is available from official Yamaha dealers and also the Yamaha Motor webshop.