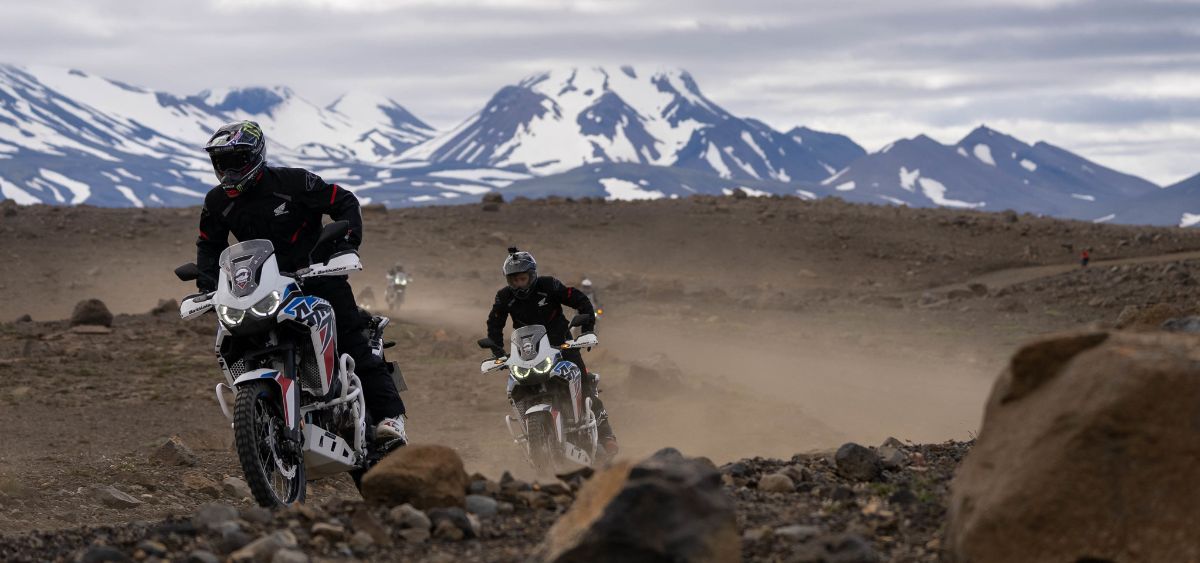 Embrace the exhilarating sensation of the open road with the Spring 2023 Alpinestars Honda Collection. Inspired by top-flight racing, this collection boasts a range of touring, urban, racing sports apparel, footwear, and gloves designed to provide Honda enthusiasts with comfort, protection, and style, no matter the terrain.
Crafted with Alpinestars' typical precision, the Spring 2023 Honda Collection merges its performance-proven designs with everyday functionality and comfort, offering a truly elevated experience.  From adventure trails to bustling city streets to the open road, the collection delivers high levels of safety and performance, embodying our unwavering commitment to protect and enhance the joy of riding.
The highlights of the new Spring 2023 Collection include:
TOURING
HONDA BOGOTA PRO DRYSTAR® JACKET AND PANTS
HONDA STELLA ANDES JACKET AND PANTS
URBAN
HONDA CHROME STREET HOODIE
HONDA LUC V2 AIR JACKET
HONDA COPPER GLOVES
RACING 
HONDA GP FORCE SUIT
HONDA SUPERTECH R BOOTS
HONDA GP PRO R3 GLOVES
HONDA SP-8 V3 GLOVES
RACING SPORT
HONDA SMX WATERPROOF JACKET
Each item in the Honda Collection delivers safety, performance, comfort, and functionality, offering Honda enthusiasts the confidence to enjoy the ride while showing their support for the brand.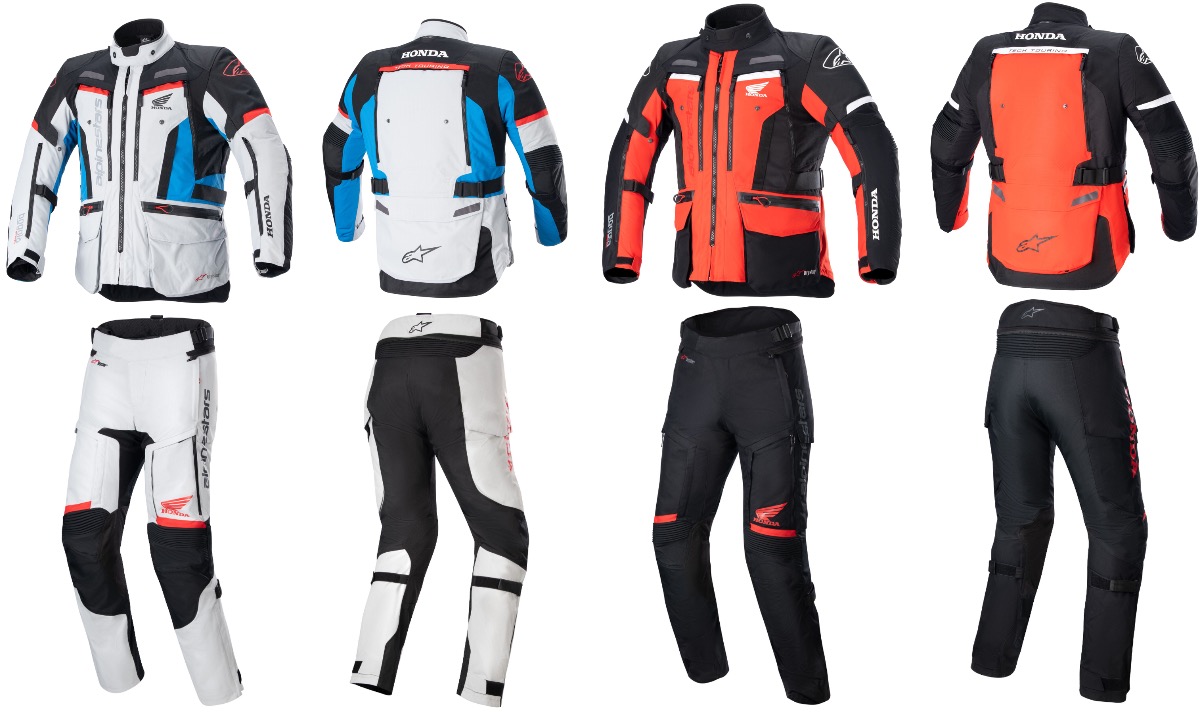 TOURING
HONDA BOGOTÁ PRO DRYSTAR® JACKET AND PANTS: BEAT THE ELEMENTS
The all-season Honda Bogotá Pro Drystar® Jacket and Pants are your all-weather, all-season gear. Designed with Alpinestars' Drystar® membrane, they offer superior breathability and comfort, come rain or shine. With a 3-layer 'liner to drop' system and highly protective armor, you can quickly configure the jacket to any condition. Made from 100% GRS-certified, recycled Nylon 6 materials, the Tech-Air® Ready Honda Bogotá Pro offers effective climate control with extensive ventilation panels on the chest, full back, arms, and legs.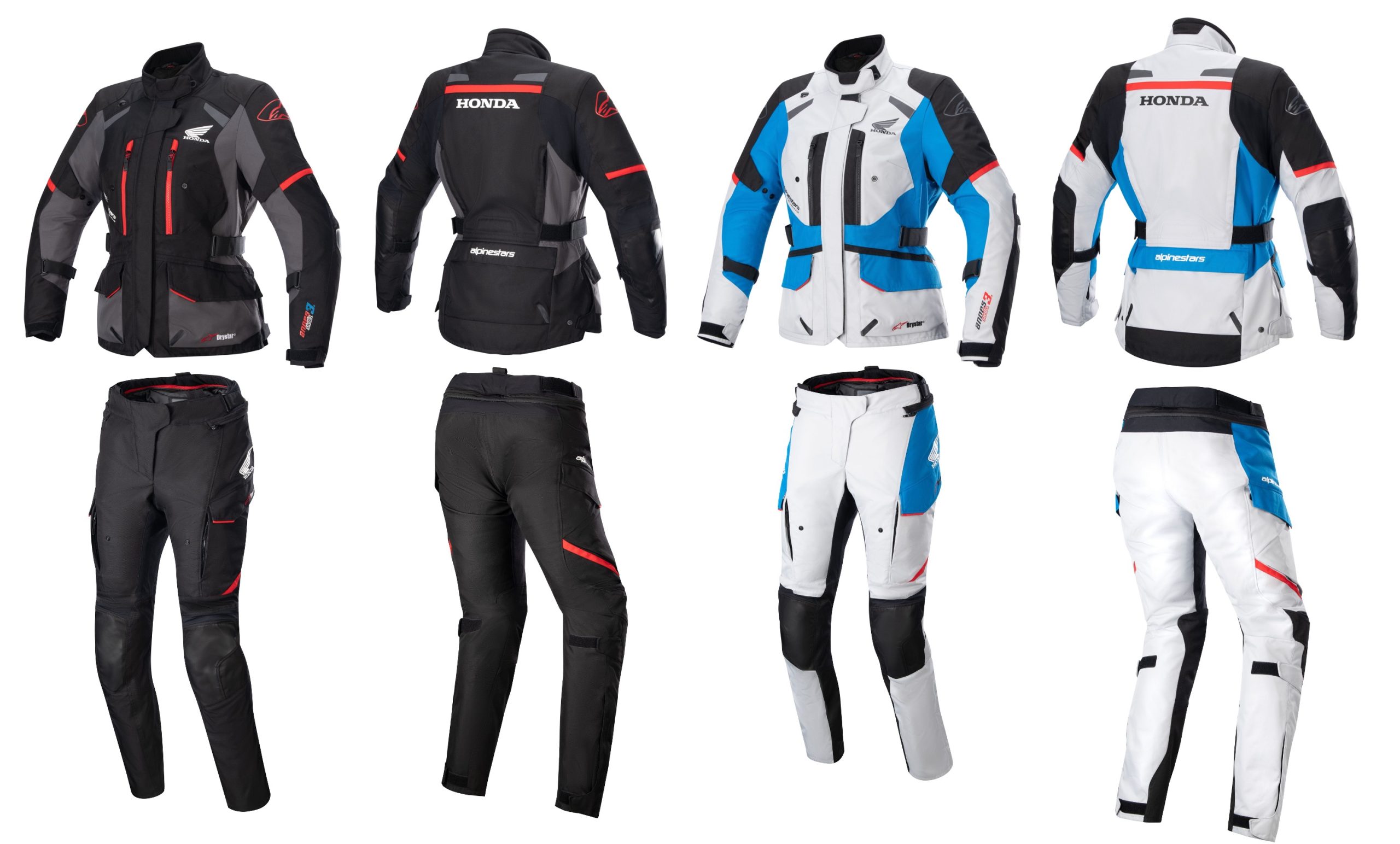 HONDA STELLA ANDES DRYSTAR® JACKET AND PANTS: THE PERFECT ALL-WEATHER GEAR
Comfortable, durable, lightweight, and protective, the Honda Stella Andes v3 Drystar® Jacket and Pants are designed for the female physique, offering advanced functionality. The Honda Stella Andes v3 Drystar® gear features Alpinestars exclusive Drystar® construction for 100% waterproofing and high levels of breathability, even in difficult riding conditions.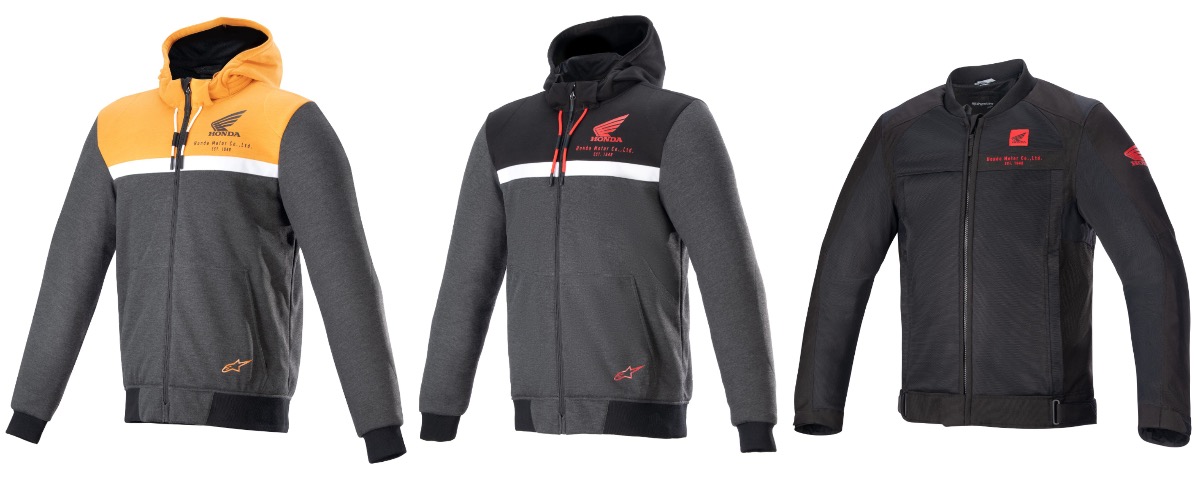 URBAN
HONDA CHROME STREET HOODIE: DESIGNED FOR THE URBAN COMMUTE 
Designed for urban riding and commuting, the lightweight, Honda Chrome Street Hoodie is a great option for riders looking for a casual-styled hoodie that offers a high standard of protection. The hoodie provides excellent abrasion resistance thanks to the aramidic fiber reinforcements on the shoulders, elbows, and back. The Tech-Air® Ready, Honda Chrome Street Hoodie comes with Nucleon Flex Plus protectors on the shoulders and elbows for superior impact protection.
HONDA LUC V2 AIR JACKET: FEEL THE VENTILATION
The Honda Luc v2 Air Jacket is a 'Bomber style' jacket that incorporates extensive strategically-positioned full-body air intakes for excellent cooling performance. The jacket features an elongated rear profile which offers coverage and comfort in a more upright position and utilizes a modern material mix for maximum performance. The Luc V2 Air Jacket has an engineered ergonomic fit and is Tech-Air® Ready.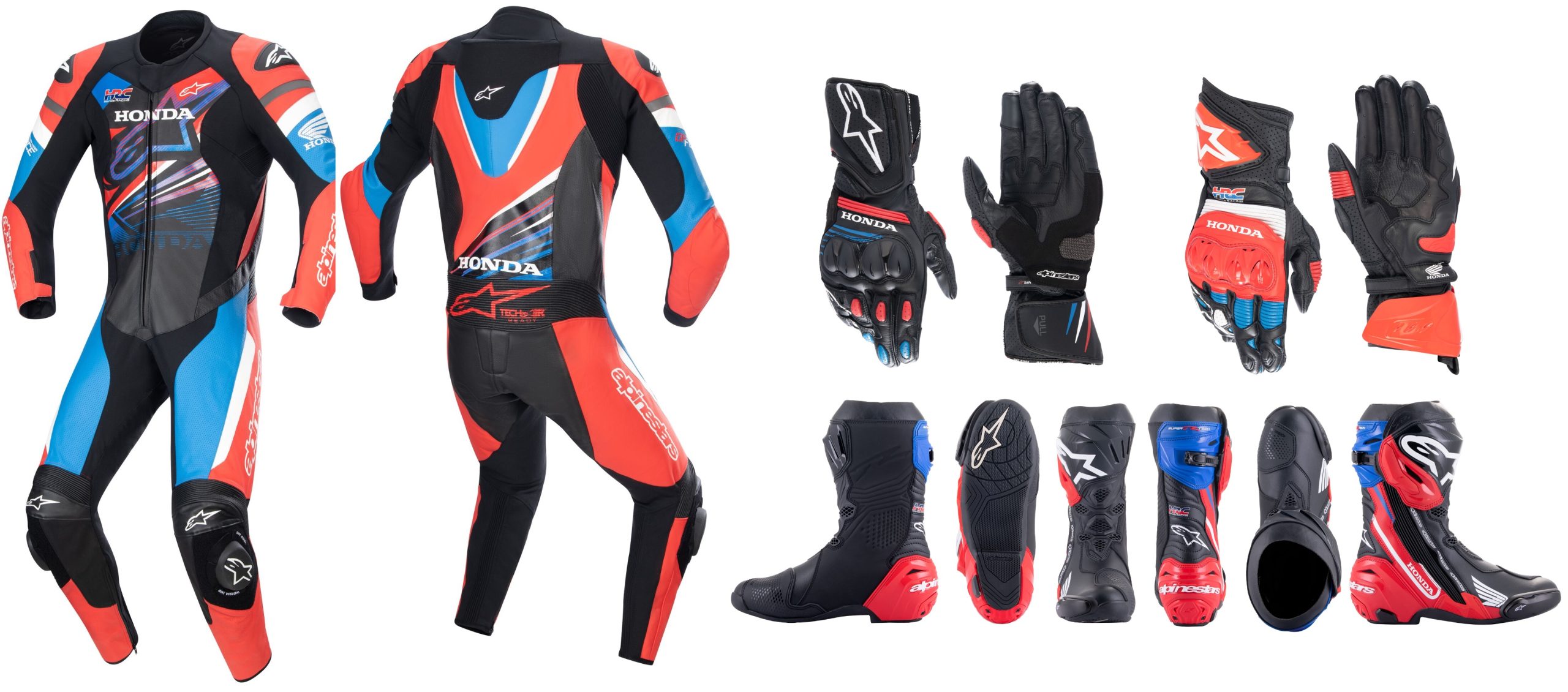 RACE
HONDA GP FORCE SUIT: OPTIMAL COMFORT AND PERFORMANCE
Developed for the racetrack, but just at home on the road, the Honda GP Force racing suit is designed to provide premium impact protection and extensive abrasion resistance that will keep riders safe on the street or circuit.  Incorporating a perforated leather construction in strategic areas, with extensive stretch panels on the abdomen, chest, arms, crotch, and backs of legs, the Tech-Air® Ready Honda GP Force provides optimal riding comfort and an enhanced fit.
HONDA SUPERTECH R: FOOTWEAR FOR CHAMPIONS
An evolution of the definitive racing boot worn by a roster of champions past and present, the Honda Supertech R has undergone a rigorous program of updates to sharpen its performance features even further, bringing the performance of the boot to a new class-leading high.  Featuring innovations derived from professional racers, key elements include a newly redesigned front flex area, a redesigned rear bellow, a redesigned top gaitor, a new shifter and shin plate, a new shin slider, and feature advancements ensuring that the Honda Supertech R delivers greater levels of protection, flexibility, and durability. A bio-mechanical inner bootie with an updated construction offers greater comfort and cushioning at the heel. The best just got better…
HONDA SP-8V3 LEATHER GLOVES: PROTECTED LIKE A CHAMPION
The Honda SP-8 v3 Leather Gloves utilize pure racing DNA for maximum performance.  Constructed from highly abrasion-resistant, full-grain goat leather and synthetic leather material, this glove delivers high levels of protection thanks to its advanced MotoGP-derived SP dual-density knuckle protection.

RACING SPORT
HONDA SMX WATERPROOF JACKET: DESIGNED FOR THE URBAN COMMUTE 
The Honda SMX Waterproof Jacket features a 3L stretch tech softshell main chassis, with a fixed waterproof membrane and removable thermal liner that comes with 100g insulation on the body and 80g on the sleeves. The jacket has DFS Lite external shoulder protectors and Nucleon Flex Plus CE Level 1-rated armor.
HONDA COPPER GLOVES: THE PERFECT GLOVES FOR HOT WEATHER RIDING
The Honda Copper Gloves are lightweight urban gloves incorporating sturdy hard knuckle protection and a full synthetic suede palm for high levels of durability. The short cuff, Honda Copper Gloves come equipped with a touchscreen-compatible fingertip, and padding on the fingers for enhanced rider comfort.  The stretch spandex, breathable mesh materials, and fourchettes provide high levels of breathability and flexibility.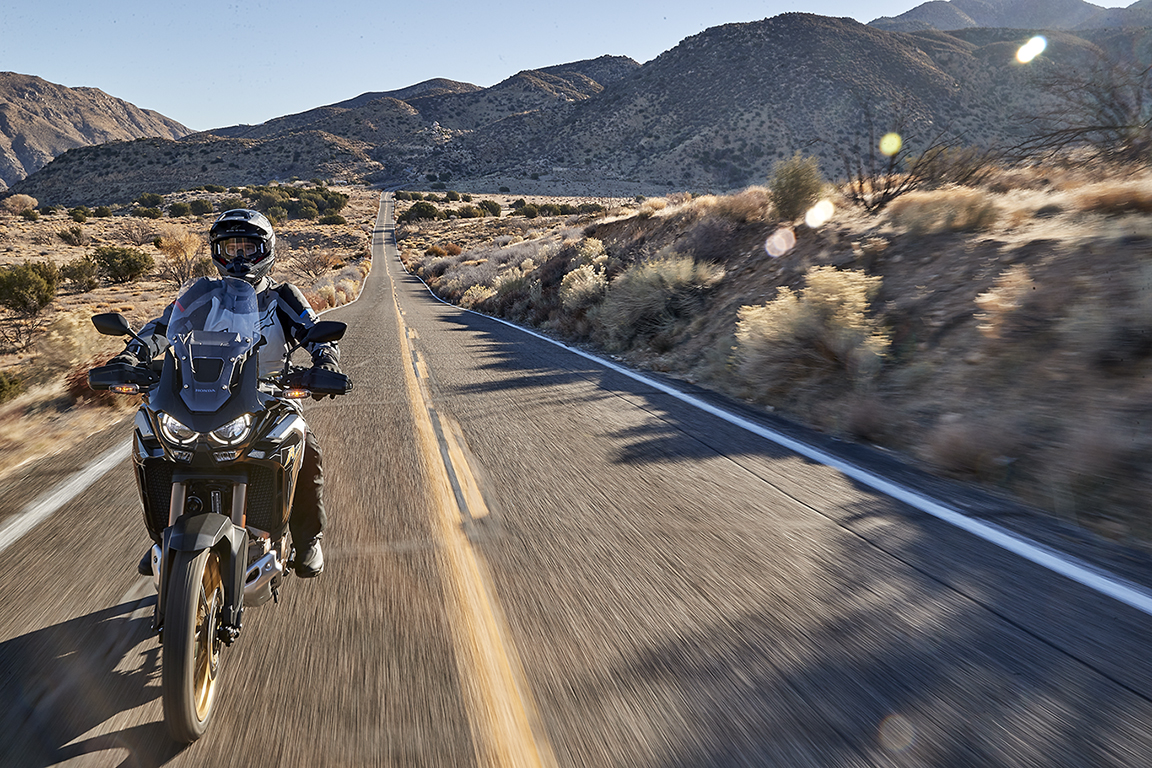 For more Alpinestars news check out our dedicated page Alpinestars News
You find out where to buy in the UK via Oxford Products website
or head to the official Alpinestars website alpinestars.com/