A nine year old boy's dream motorbike becomes reality in this exacting copy of stunt man legend Evel Knievel's Harley-Davidson jump bike – now for sale with iconic auctioneers on November 12th at the NEC, Birmingham.
Lifelong Evel Knievel fan, John Timoney, spared no expense in creating his utterly exact copy of Evel's bike that he describes as: "a lovingly-created, way-too-much-spent Knievel Jump bike…."
It comes to sale with Iconic Auctioneers for an estimate of £15,000 to £20,000 at the NEC on November 12th.
John says: "I'm a lifelong Knievel fan and am old enough to have actually been at Wembley on 26th May 1975 to see Evel jump. Evel and the bike made a huge impression on me, and I vowed that one day I would own a bike just like his. Many years ago, I did actually buy a genuine ex-Scott Pearson XR750, but didn't have the heart to chop up a genuine race bike, so ended up selling it on after a decade of it sitting in my office as an expensive ornament."
He says that it took a decade to create this masterpiece, the planning, collecting the parts and the building itself took many years of his life. "To put it mildly, it was a labour of love."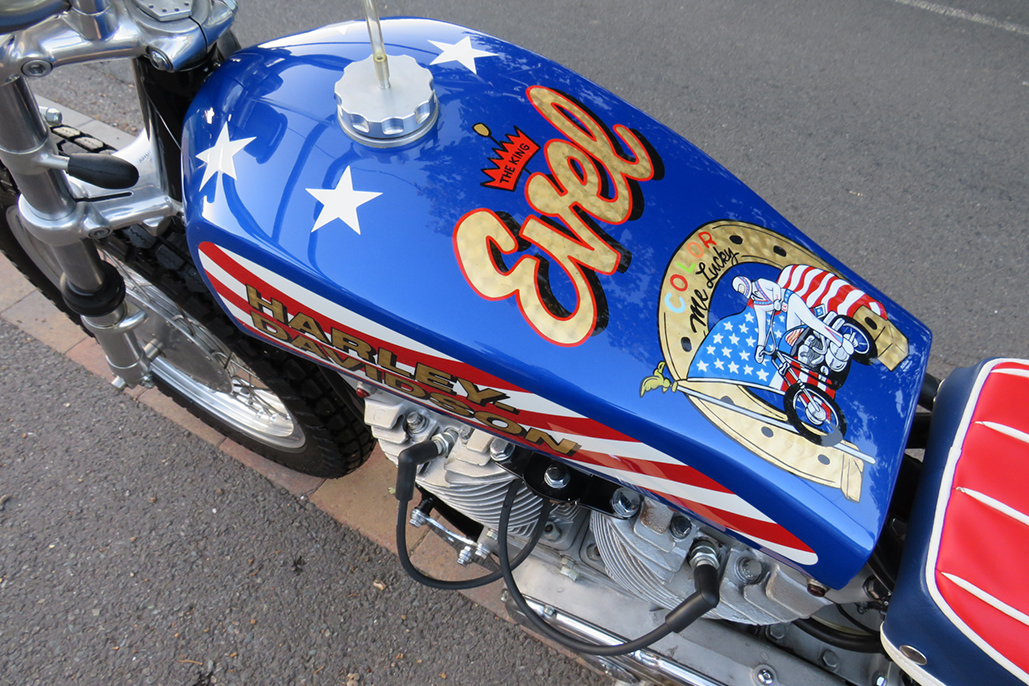 All his life, from his earliest memories, John was a passionate petrolhead, and when he found Evel Knievel this interest in cars and bikes was turbo charged. He speaks about Evel with great knowledge and compassion, and a fascination with the complexity of the man – huckster, swindler, safe cracker, and ultimately, a tortured soul who created a larger-than-life character, who repeatedly put his life on the line for the entertainment of an audience. He delivered even when he knew his jumps could easily cost him his life (like the famous Snake River Grand Canyon jump). Evel never went back on his word, and went ahead with increasingly risky stunts, despite the crippling pain of his broken and abused body.
It is this respect for the legend of Evel Knievel that has driven John Timoney to recreate in every detail this wonderful motorbike. One day there may well be a book on the man from this source as well, something that Hollywood may well take to in a big way.
"Many, many years of collecting parts and information went into this bike, as well as an insane amount of money to get it hand-built and worked on by the right people – Andy and Sav at Pacoima Motorcycles in Norfolk, and Baz Church, who did the engine. Help was also sought from Lathan Mackay at the Topeka Museum in Kansas, along with other noted experts, including John Steele in the USA, who met Knievel and did a deal to sell licensed replica Knievel XRs".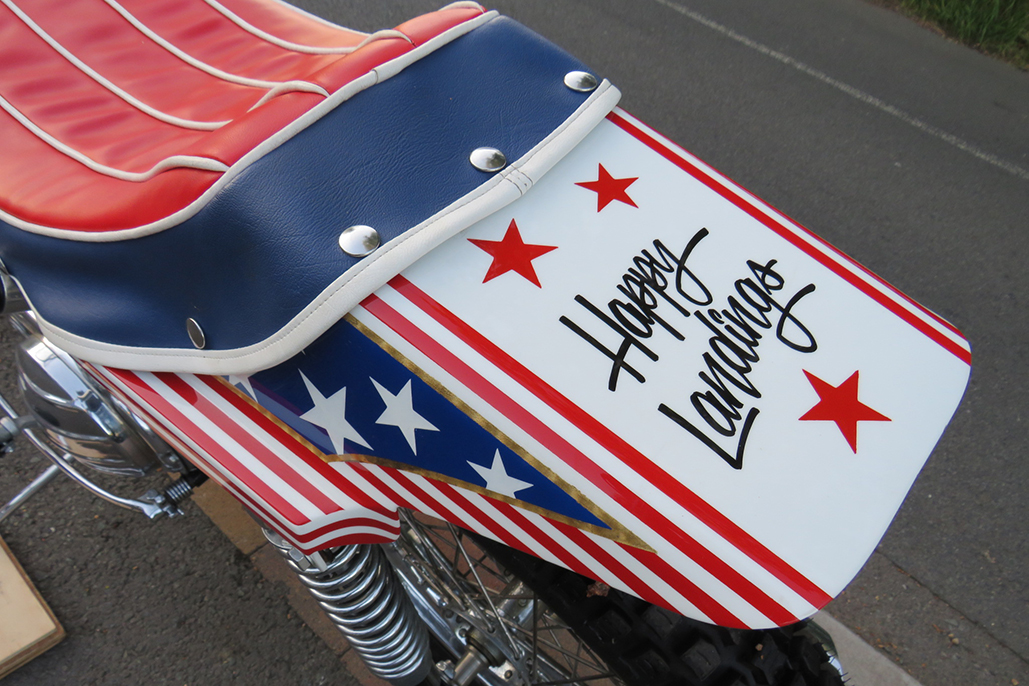 John continues "the bike is road registered and road legal, although during daylight hours only, as it has no lights or electrics. As a historic vehicle, it's also free from road tax, so you can legally avoid paying tax, unlike Knievel, who got caught for doing exactly that. It's registered correctly as a 1966 XLCH, and the original frame is included in the sale. The original XLCH donor bike was a basket case and has been rescued. It was a perfect base, as it already had numerous parts that weren't original, so I had no qualms about chopping up an original bike. The reason the frame wasn't used, and is supplied as a spare, is because I sourced a 1979 Sportster frame, because the rear geometry and castings on the rear of the frame for that year, are very close to the dimensions and look of an XR750 flat-tracker. The front end was then cut out and new parts fabricated, to the exact dimensions of an XR750 (using factory blueprints). Many people make XR-replicas and street trackers, but nobody goes to the trouble of copying the headstock and rake of the bikes… and I'm not surprised; it's a lot of work. But to me, that's one of the magical ingredients that gives the bike it's aggressive stance. Many original 1970's XR race parts were sourced and imported, including waffle grips, fork-stops, kill switch, and an ex-race XR750 oil tank".
Millimetre-perfect replicas of Knievel's self-designed double-brace handlebars were purchased from the Evel Knievel museum in Kansas. These were impossible to source for years, because they were originally made by House of Handlebars to Knievel's specifications, and that company ceased operating years ago. They're correctly finished in nickel, not chrome, and Evel wanted these extra-wide bars, as he believed they gave him better stability in mid-air.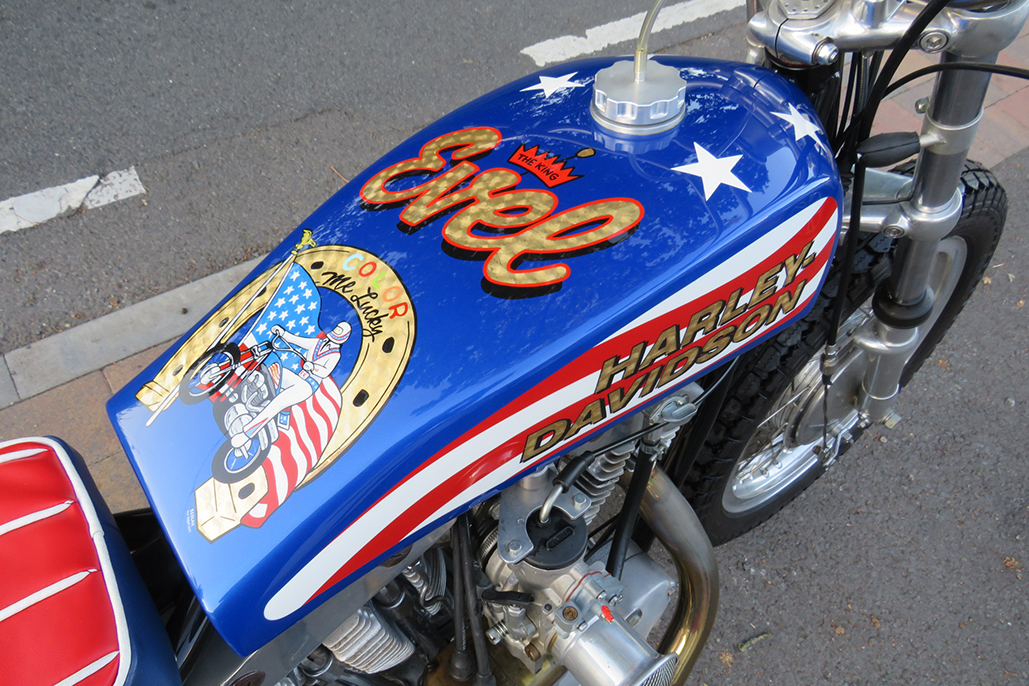 "The petrol tank and tail were completed by two artists that I persuaded to collaborate" continues John, "and believe me, it's a stunt in itself to get artists to collaborate without their egos clashing!" The base colours are airbrushed, and the graphics, lettering and gold leaf was all hand-painted by a guy known as Nefarious; an unbelievable talent who has now sadly passed away. There's no vinyl or stickers, and this has been done as faithfully as possible to George Sedlak's original design (Evel's painter throughout the 1970's, who was responsible for customising his bikes and helmets). There's a correct vinyl pinstripe seat which replicates the jump bike; Evel had is driver and mechanic, John Hood, brink three XR's to Wembley: A jump bike, a wheelie bike, and a spare. The wheelie bike had seat pinstripes which ran 90 degrees the other way, to give Evel better 'shoe-grip' for standing wheelies).
The bike also has correctly 'mis-matched' front and rear wheels and tyres. The front tyre was a 19" flat track racing tyre and the rear was a Pirelli DT knobbly, because that would give the rear tyre more grip in stadiums, and a little more cushion on landing. The front wheel is also an XR alloy (19" XR high wall/flanged rim), but the rear was always a standard Sportster rim, because it had a better chance of not buckling on landing. Correct and very hard to acquire 35mm Ceriani GP forks are used, as they were retained on Knievel's XR from the factory race bikes. John also tells us that "the open shotgun exhaust pipes now have baffles in… but are still loud! The baffles are easy to take out if you really want to hear the bike roar, but just know that you'll lose the friendship of your neighbours, and you'll kill any wildlife within a 500m range".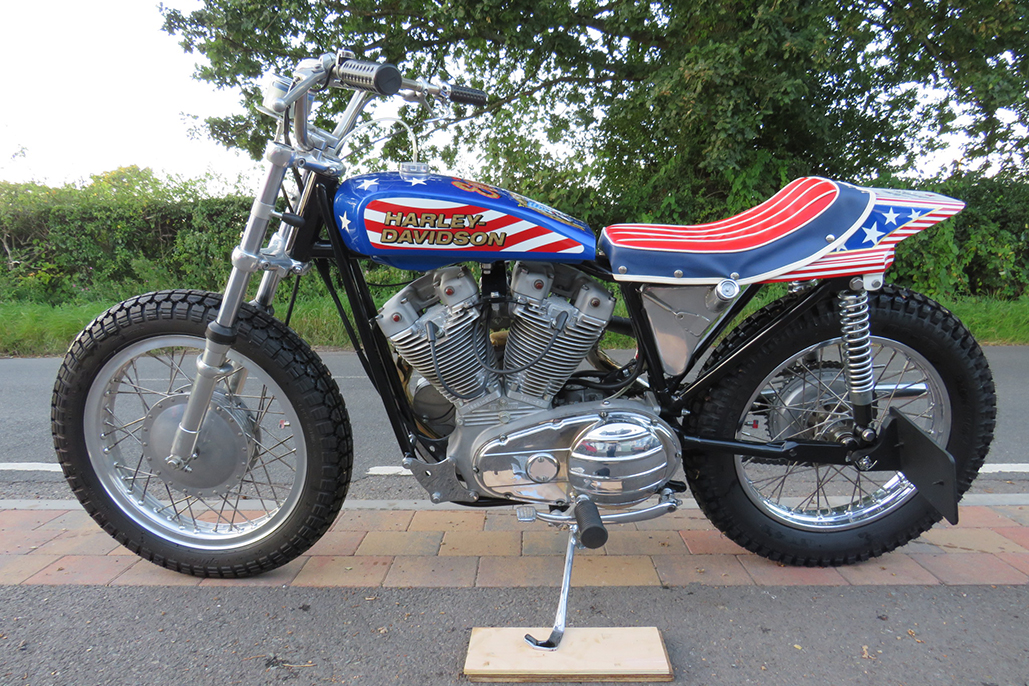 John Timoney says: "The tank artwork was taken from what I believe was the originally-intended jump bike; which Knievel switched before the jump, because he didn't like the gearing (Knievel was to blame for the gearing which came up short on the eventual jump). So I believe this tank design was supposed to be the jump bike, and for me, it was the 'luckier' paint scheme. In addition, the actual jump bike featured a coiled 'Snake River' Cobra which I didn't think as nice a design."
John Timoney has something of his hero's passion. His own background is in art and graphic design, having built up a number of marketing consultancies in this field.  He described Evel as "a sort of surrogate dad" and hopes that his passion project would meet with the great man's approval.
In some ways the two echo each other. When Evel said he would do something, however crazy, he would deliver, follow through, and be good to his word. In creating this bike, John Timoney has delivered on the vow he made as a nine-year old, and during that pilgrimage, has made a personal tribute to his hero, creating and delivering a remarkable project that deserves the best of homes (preferably with someone who has access to 13 London buses, and a hefty supply of Wild Turkey Kentucky Bourbon).
As Evel would sign his autographs: "Happy Landings" (and happy bidding).
For more information on this motorcycle or any of the others already entered for the Motorcycle Sale at the NEC Classic Motor Show on 12th November, please see www.iconicauctioneers.com.  If you have a motorcycle or collection that you are interested is selling, please contact our motorcycle specialist on +44 (0) 1926 691 141 or [email protected].