Jake Gagne Wraps Up Superbike Championship Number Three With Two Wins On Sunday at Pitt Race.
In case anyone had forgotten, Jake Gagne reaffirmed that he's the best Superbike racer in the country on Sunday at Pittsburgh International Race Complex with his two decisive victories earning him his third successive MotoAmerica Medallia Superbike Championship.
Gagne and his Fresh N Lean Progressive Yamaha Racing Superbike were perfect in both of today's races, holding back all of the challenges the top men threw at him. In the first of the two Superbike races held on a sunny Sunday at Pitt Race, Gagne was challenged to the bitter end and came up just .264 of a second ahead of Tytlers Cycle Racing's PJ Jacobsen. In the second Superbike race of the day, Gagne had it a bit easier as he topped Westby Racing's Mathew Scholtz by 1.868 of a second.
Not even Gagne would have predicted that he would come out of Pitt Race with his third title as most believed the title fight would at least go to round eight at Circuit of The Americas in a few weeks' time.
But, today was the day with Gagne's eighth and ninth wins of the season and the 37th and 38th wins of his AMA Superbike career clinching the title with two rounds and four races left on the 2023 schedule.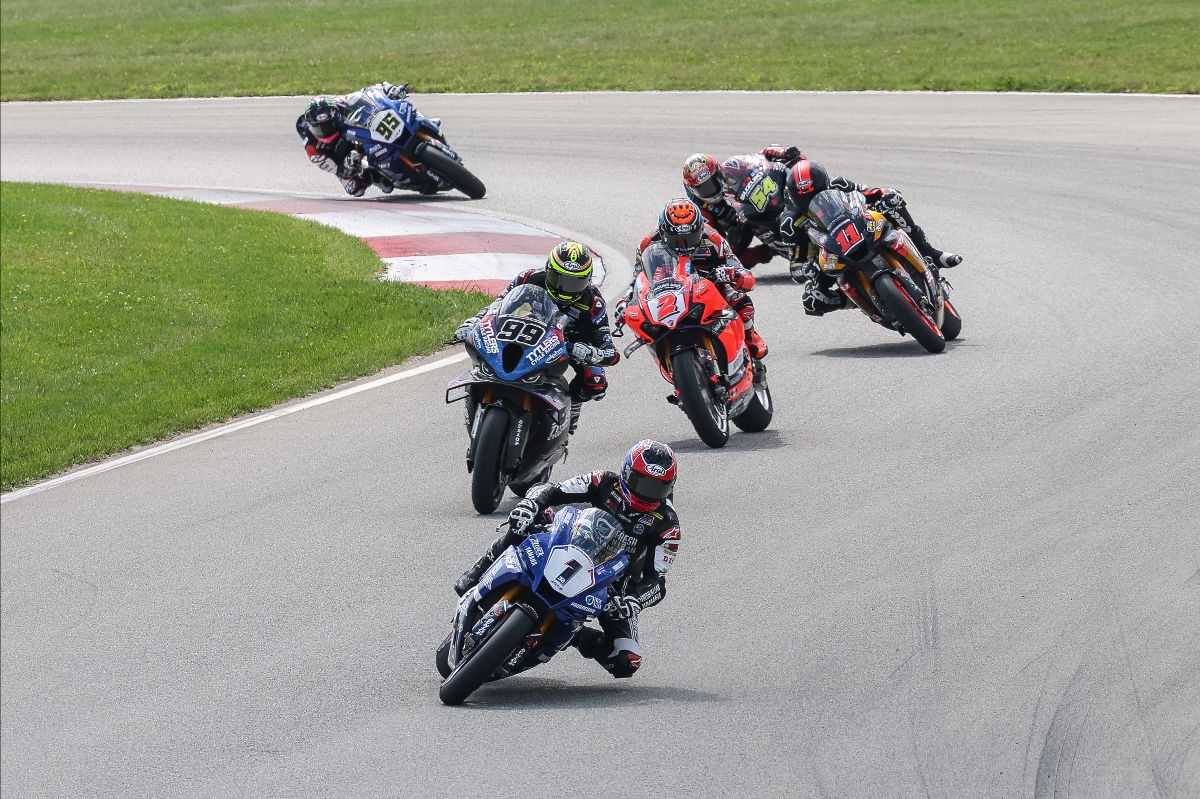 Superbike Race 2 – Gagne On The Verge
Race two was red-flagged early on when Tytlers Cycle Racing's Cameron Beaubier was involved in a scary crash when he ran into the back of Ashton Yates' Aftercare Scheibe Racing BMW. With the two in a battle and Beaubier looking to make up spots after an off-track excursion, Yates led him through the chicane but on the exit his BMW had a mechanical issue that caused him to slow suddenly. With nowhere to go, Beaubier ran into the back of Yates and crashed heavily. Beaubier was transported to the infield medical center and was treated for facial lacerations.
By this point, Wrench Motorcycles' Bobby Fong was already out of the race with the pole sitter crashing his Yamaha YZF-R1 in the opening laps.
Although he was pushed the entire way by Jacobsen, it was Gagne taking the victory, his eighth of the year, over the New Yorker.
Third in race two on Saturday went to Warhorse HSBK Racing Ducati NYC's Josh Herrin, 1.4 seconds behind Jacobsen and a second ahead of Westby Racing's Mathew Scholtz.
JD Beach was impressive in riding the injured Cameron Petersen's Fresh N Lean Progressive Racing Yamaha to fifth, well clear of Vision Wheel M4 ECSTAR Suzuki's Brandon Paasch. Disrupt Racing's Hayden Gillim was eighth, just a few tenths ahead of Tytlers Cycle Racing's Cory Alexander.
Benjamin Smith Racing's Benjamin Smith and Steel Commander's Gabriel Da Silva rounded out the top 10.
Vision Wheel M4 ECSTAR Suzuki's Richie Escalante crashed out of fourth place on the last lap.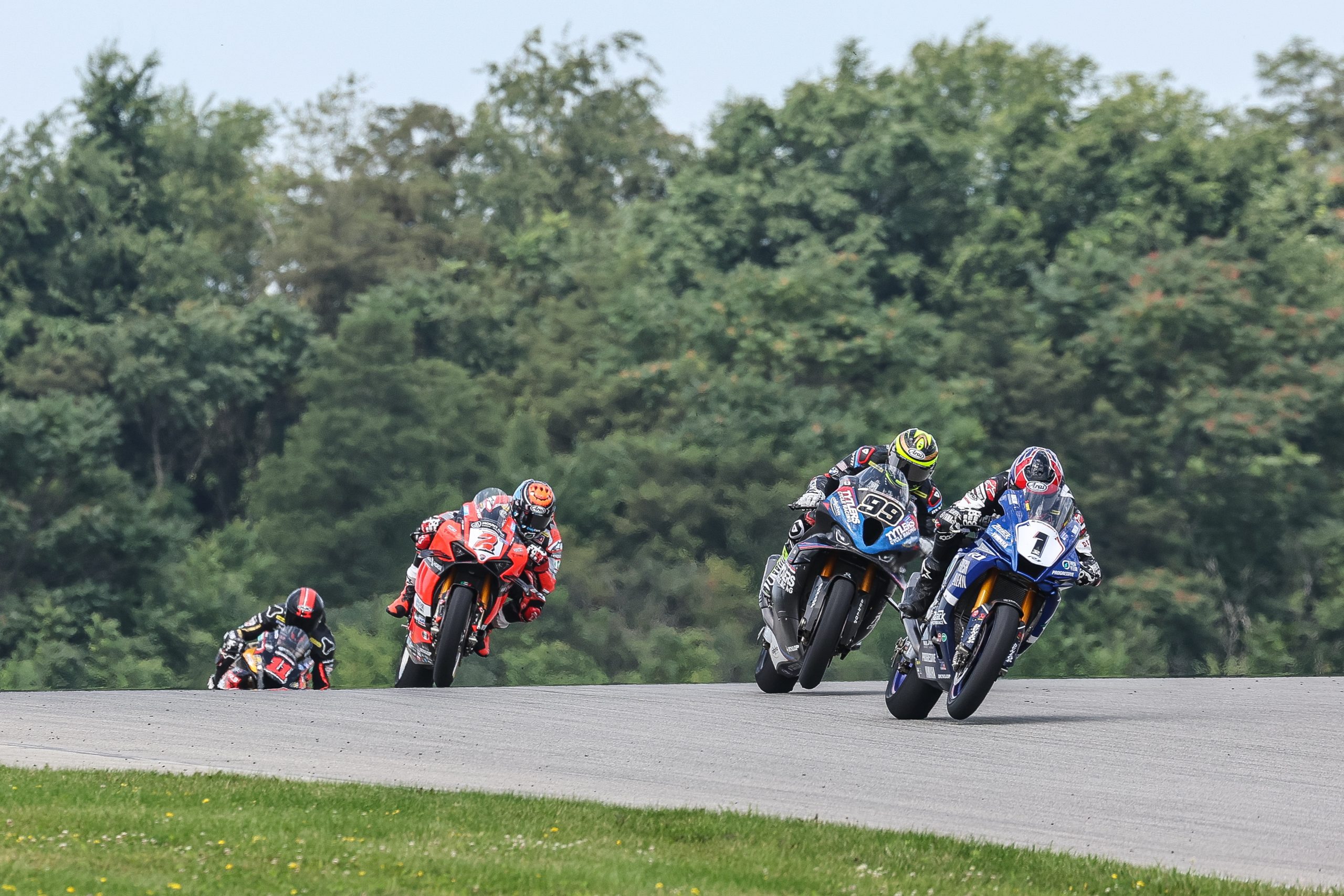 Race Two Quotes
Jake Gagne – Winner
"Yeah. Obviously that red flag, at first, I was bummed and then to go by and see Cam (Beaubier) down again… man, we were all just seeing what we saw on the track. It was gnarly there for a second. So, I hope he's okay. I knew it would be hot, greasy, gnarly. Restart, eight-lap sprint. I could feel these guys on me. I could hear those bikes every turn. Just tried to hit my marks because I knew if I was a little wide there, a little wide here, they would have got up in there. But it was a fun race because I could hear them the whole time. So having eight laps pushing and trying to be as consistent as possible is a good time. So, hats off to these guys. We've got to go throw down this afternoon, so it will be fun."
PJ Jacobsen – Second Place
"Yeah, people say that and I'm like, 'I'm upright as much as I can, and I'm still sliding everywhere.' Every time he was spinning up, I was spinning up as well, just trying to get the same drive grip as him. But both races were honestly going to be good for me, I thought. Even that first one before the restart, I think I was catching (Mathew) Scholtz and Richie (Escalante) when they started coming back to me. So, it was really good. I'm happy. We made some changes, and the bike was working really good."
Josh Herrin – Third Place
"The bike felt good all weekend. It's kind of like it was at Barber. I just feel super good on the bike, but we're not able to drive forward on the track. Everybody is having the problem, but it seems like we're having it pretty bad. Today I said just take the TC (traction control) out. Not all the way, but just let the thing hang. The warmup lap we ran shag tires on the parade lap, and that thing was like flat track sideways. I was like, 'Is this thing okay? It's sideways.' They're like, 'That's what you asked for.' The thing obviously worked way better than it did yesterday. It was just a handful. I felt like I was riding a bike with 50 more horsepower today. But it worked, so that's the important thing. I'm just wore out because it was tough. This third race, I'm not going to lie, it's going to be hard on everyone but it's going to be a tough one. It's getting hotter. I'm really happy with how today went. I just didn't have it for them at the end. I felt good. I just made one little mistake and then the mental focus kind of lost me for two turns and they were gone. I just couldn't make it back up. I've been struggling really hard in the chicane."
Superbike Race 3 – Title Time
Gagne got his normal fast start and led every lap of race three. Scholtz kept him honest, finishing 1.8 seconds behind the factory Yamaha.
The win, Gagne's ninth on the year, gave him an insurmountable 337 points after 16 races – 101 points ahead of Herrin, who finished third. If Herrin would have finished second with Gagne winning, the title fight would have gone to the next round in Austin, Texas. Any chance of that was thwarted when Herrin, who was right on Gagne's tail, blew the chicane and then waited for at least three riders to go by so that he wouldn't be penalized.
Herrin fought back, but ultimately lost out to Scholtz with the South African pulling away to beat the Ducati rider by 3.6 seconds. Herrin, meanwhile, had his hands full with Escalante who was trying to land his first Superbike podium. He would come up .6 of a second short at the finish.
Jacobsen was fifth and just another few tenths behind Escalante with Beach sixth again and less than a second behind Jacobsen, who moved to third in the championship by one point over Beaubier with his teammate's failure to score points on Sunday.
Gillim was seventh for the second time on the day with pole-sitter Bobby Fong eighth. Smith was ninth again with Tom Wood Powersports' Nolan Lamkin rounding out the top 10.
Race 3 Quotes
Jake Gagne – Winner
"To do it with a couple wins here at a place this Yamaha loves is awesome. I just didn't expect it. We didn't really do any math. The team didn't talk about it. Nobody talked about it. I just had a feeling if I won and I didn't exactly know what Josh (Herrin) had to do, but I knew sure as hell Josh was going to put up a fight to bring it down to one more round, and I knew he was right there. Congrats to Matty (Scholtz). Doing Yamaha a favor, doing me a favor today. It's cool to get it done early. Again, kind of unexpected. I haven't been the fastest guy all year, but I guess kind of luck has been on my side. We finished almost every race, besides one. It's going to be a hell of a fight for that championship run with a lot of guys in it next year. I'm looking forward to going to the last couple rounds and just duking it out with these guys with nothing else to worry about."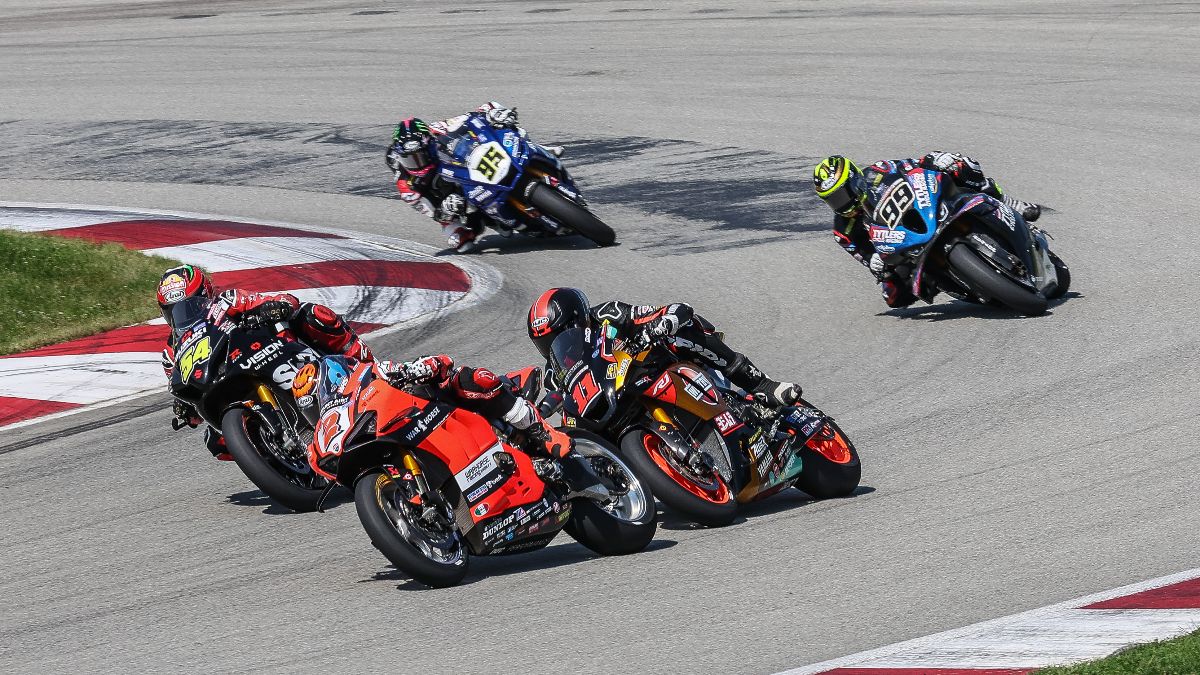 Mathew Scholtz – Second Place
"We made a pretty decent change on the traction control just to kind of help when I first crack the gas so that the bike doesn't just want to spin as you first start to wind it on. I was definitely pushing the front more on the gas, but it definitely helped me to kind of roll through the middle of the corner to kind of keep up with the Ducati a little bit better, once you have it picked up. Overall, the race early on I was struggling. I was on the absolute limit. This race I felt confident and I managed to get past Josh (Herrin) with a couple laps to go and open up a small gap. Kept it pretty similar to (Jake) Gagne out front. So, I'm really happy with that. I'm happy with the changes that we made to the bike. I think it's going to work well at the next two tracks for us."
Josh Herrin – Third Place
"Yeah, we left it. It worked. We didn't change anything from the first race. We looked at stuff. I talked about maybe going one or two taller in the gearing because it seemed like I was struggling a little bit in the corners that I was using first gear – just trying to get that initial squirt. But second didn't feel comfortable to me. But we ended up not going with it. We decided to just play it safe and stick with what was working because it would have lengthened the bike a little bit. Whenever I missed the chicane and I fought to catch up to Jake (Gagne), got right there. I actually felt like I did at Brainerd where I was like, 'Okay, I might get a little bit heated at the end but at least I'm here and I can kind of plan something out a little bit.' Then I don't know what I did and ran off in the chicane. Then, unfortunately, you have to give up a second whenever you do that, so I let two guys go by. Then kind of just waited as long as I could before PJ (Jacobsen) got on my butt and then went. Then I think I charged back up to second. Then I switched the engine brake map to a different map and it was just free-wheeling a little bit too much. Started to get some slides on the front on the right side. I put it back to the mode that I was in originally, but I just never got that confidence back and unfortunately just didn't have the pace. Congrats to these guys. Congrats to Jake on wrapping that championship up this fast. I didn't think that was even possible to happen that quick. It just came out of nowhere. I saw it on Instagram right before the race started, and it kind of helped me get a little motivated to try to get up there at the beginning of this race. It just seems like there's a trend all year where if Friday and Saturday are pretty rough for me, then Sunday is there. So, I'm really hoping that these guys give me one more shot next year. It would be the first year that I've had the same bike in Superbike in 10 years, for two years in a row. So, I'm really hoping that I get it again because I just love everything about this team and I'm having fun. Looking forward to COTA."
For more news check out our dedicated MotoAmerica News page MotoAmerica News
Or visit the official MotoAmerica website motoamerica.com/