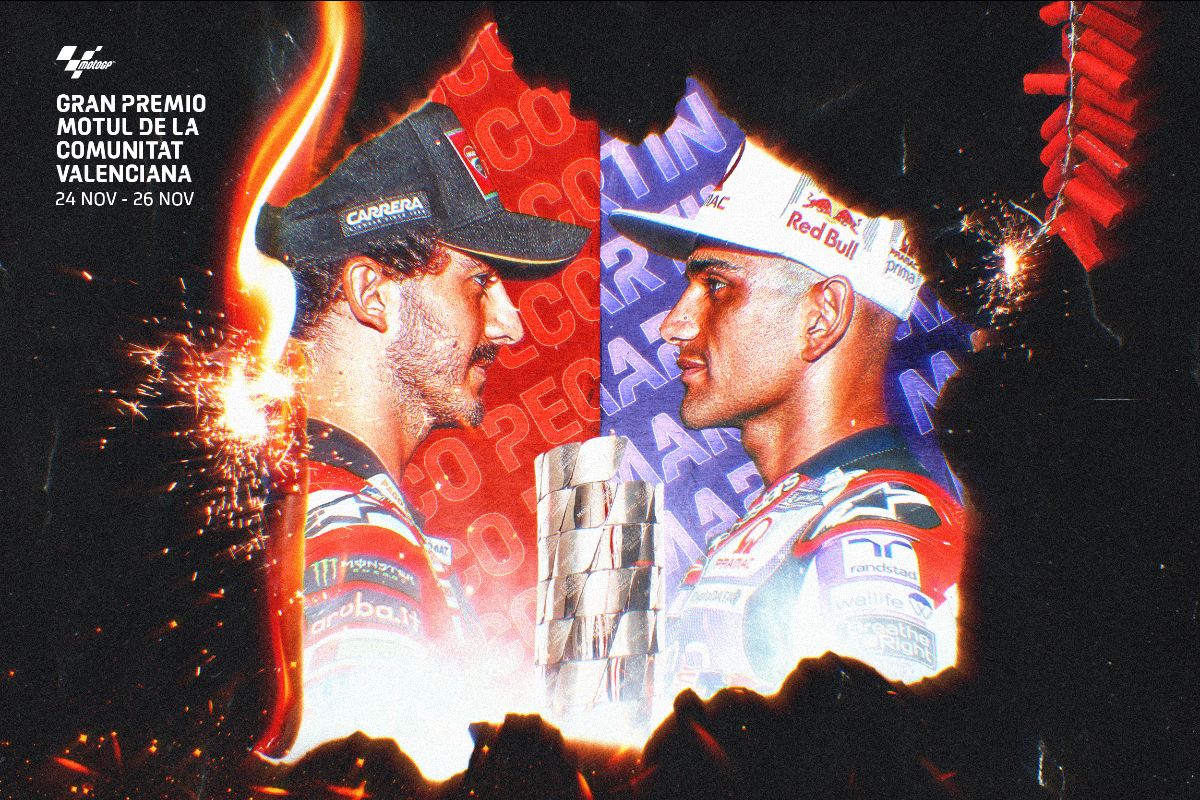 It all comes down to this: two contenders, 21 points, and one single Grand Prix.
And so the time has come. After 19 Grands Prix across five continents, there's one final date with destiny for the 2023 title fight. We know it's #PECCOvsMARTIN, we know Valencia has the fireworks ready, and we know the gap is now 21 points in favour of the reigning Champion, with 37 more on the table. If the season has taught us anything, however, it's that the tale can twist in an instant… so buckle up, because it's now truly all or nothing. There's only room for one name on the Tower of Champions.
On Saturday evening in Qatar, it seemed that it was Francesco Bagnaia (Ducati Lenovo Team) on the back foot after a tough Tissot Sprint, and a tough Sprint won by rival Jorge Martin (Prima Pramac Racing). The gap was down to just seven points. And then the lights went out on Sunday and Bagnaia shot forward to grab the lead as Martin dropped to eighth. The ensuing race almost saw Pecco gain even more as Martin ultimately came home tenth and the #1 fought for the lead… but it also proved that nothing is guaranteed. In his own words, that Turn 1 moment for Bagnaia was very, very close to disaster.
But it wasn't, and he soaked up the pressure before it and gathered it back up after it. Martin also kept a cool head in a tough situation, unable to move forward and switching to defence mode. But now, there's no defence mode left for either. Bagnaia can't play it safe in a field of the fastest riders in the world, because there's no real gap to seek out to ensure he takes the requisite points. And Martin? The number 89 has to now come out swinging in absolute full attack mode. From what we already saw in the Sprint at Lusail, there's no doubt he will.
As ever, it's not a two-rider race though. But there are two riders who may be particularly interesting, based on where and who they are, as well as what we've seen in the last couple of weekends. Enea Bastianini (Ducati Lenovo Team) had a tougher Qatar despite scorching up the order on Sunday, but Sepang showed what he's got, and the risk he's willing to take – or not – in attacking his teammate. The other is Johann Zarco (Prima Pramac Racing), and based on his pitboard messages in Qatar, and more, the plan from the Pramac side may well involve him if they need him. So what will they do? And how much will all the moving parts in this battle argue it out on-track or off?
It's not even a four-rider conundrum either, taking away the natural conversation around loyalties, teams and factories. Looking at the duel for the crown and wondering who can complicate that is a big question, and the short answer is: pretty much everyone. But on the way in it's most definitely Fabio Di Giannantonio (Gresini Racing MotoGP™) arriving on the biggest high after that stunning maiden win. With that victory, it also assured there have been no back-to-back Grand Prix winners in MotoGP™ this year… no pressure on Valencia to complete the history-making stat. 2023 would join only 1949 as a complete season with no back-to-back winners. The Diggia fan club, now with bolstered ranks we're sure, will most definitely stand against that though.
Luca Marini (Mooney VR46 Racing Team) arrives from a second premier class podium too, as talk about his future also continues to swirl, and Alex Marquez (Gresini Racing MotoGP™) was a key player at Lusail. Brad Binder (Red Bull KTM Factory Racing) was once again an elbows-out show in the front group too. With Sprint wins and podiums, it's been a good year for the South African and KTM… but it's missing that GP win. Can he do it on final chance of asking in 2023? Marco Bezzecchi (Mooney VR46 Racing Team) is now out of reach in third place overall, but there are still 37 points up for grabs, of which Binder will be aiming to take home 37.
Bezzecchi, for his part, will want to find that pace that has seen him fight for the crown this season and disappear in races like India, on Sunday at least. After that early drama it also made the Sprint at Buddh seem like a videogame he was playing on an easier mode than everyone else. It's been a tougher time since his collarbone injury, but there's one more weekend to make some magic before it starts all over again.
Meanwhile, some who charged up the order in Qatar will want to do so again, as well as try and make it both through to Q2 and better paying if they do: Maverick Viñales (Aprilia Racing) and Fabio Quartararo (Monster Energy Yamaha MotoGP™). Quartararo was also very far from shy about it, and the tight and twisty venue in Valencia could be a good one for him and Yamaha.
At Aprilia, it was an eventful flyaways in many ways, some of which they'll be wanting to turn around in the final showdown of the season. Aleix Espargaro (Aprilia Racing) is now only six points off Zarco, who sits fifth overall, and Viñales is exactly the same distance behind the Frechman, as well as two behind Marini. But that's likely more a bonus rather than an aim, with the Noale factory sure to be aiming for the podium as a minimum. Raul Fernandez (CryptoDATA RNF MotoGP™ Team), meanwhile, will be aiming for more points after a tougher run, despite some highlights like his lap to go fastest on Friday in Qatar. We also know we won't have his teammate Miguel Oliveira on track, with test rider Lorenzo Savadori stepping in.
Jack Miller (Red Bull KTM Factory Racing) will still very much want more in the fight at the front, and Augusto Fernandez (GASGAS Factory Racing Tech3) will be aiming high in a final home round of the season, although he scored in the Qatar Sprint for only the second time in his rookie season, and from a directl ticket to Q2. He also took a point on Sunday. Joan Mir (Repsol Honda Team) took two but will be hungry for many more, and Takaaki Nakagami (LCR Honda Idemitsu) hasn't scored since Buriram so that'll be a goal.
For many others on the grid, it's the end of one era before the start of another. Zarco bids farewell to Pramac as the two celebrate the teams' title won last time out, and Alex Rins (LCR Honda Castrol) returns for a final appearance with Honda. Franco Morbidelli (Monster Energy Yamaha MotoGP™) concludes his chapter with Yamaha, and GASGAS Factory Racing Tech3's Pol Espargaro prepares for a new chapter with the Austrian factory next year, or to use the colloquial term, PIERER Mobility Group AG.
The weekend will also mark not just the end of an era for a rider, team or factory, but arguably one for the sport as one of the most successful combinations of all time go their separate ways: Marc Marquez and Honda. It will be an emotional one for all, but the swan song of that longstanding collaboration before Marquez' seismic shift in direction – and debut with Gresini and Ducati in the test on Tuesday – will be something that lives long in the memory. What can he do in his final appearance in Repsol Honda colours? We're about to find out as a season of storylines comes to a final crescendo. You don't want to miss this.
SHOWTIME IN VALENCIA
After it went to the wire last season, 2023 doing the same means it's the first time in the MotoGP™ era that the World Championship will be decided at the finale two seasons in a row. So tune in! We're underway at 15:00 local time on Saturday for the Sprint, before the GP race on Sunday fires up at the very same 15:00.
Tissot Sprint: Saturday 15:00 (GMT +1)
Grand Prix Race: Sunday 15:00 (GMT +1)
For more MotoGP info checkout our dedicated MotoGP News page
Or visit the official MotoGP website www.motogp.com