The FIM Motocross World Championship is coming to Spain for the sixth Grand Prix of the 2023 season. The circuit of intu-Xanadú Arroyomolinos will be hosting the MXGP of Spain on the 6th and 7th May.
Near the capital Madrid, the circuit have seen many exciting races over the past four years. Monster Energy Yamaha Factory MXGP Team's Maxime Renaux, won consecutively in MX2 in 2021 and MXGP in 2022. The other riders who managed to win in MXGP on this circuit were home hero Red Bull GASGAS Factory Racing's Jorge Prado in 2020 and Red Bull KTM Factory Racing's Jeffrey Herlings in 2021 which might give them an edge over their rivals for what could be a very important Grand Prix for the Championship. There will be few changes made to the central sectors of the circuit of intu-Xanadù Arroyomolinos which will make it even more competitive.
The MXGP of Spain will also host the 4th round of the EMX250 and 3rd round of WMX with Hutten Metaal Yamaha Racing Team's Andrea Bonacorsi still solid leader in EMX250 and young talent Lotte Van Drunen leading the Women's Motocross Championship. Winner of the first WMX round in Sardinia, the Spanish rider RFME GasGas WMX Team's Daniela Guillen is tied for second in the Championship and will be riding at home in front of her fans. It will also be the first round of the European Junior e-Motocross Series which will see young riders competing on the same circuit of the MXGP Champions.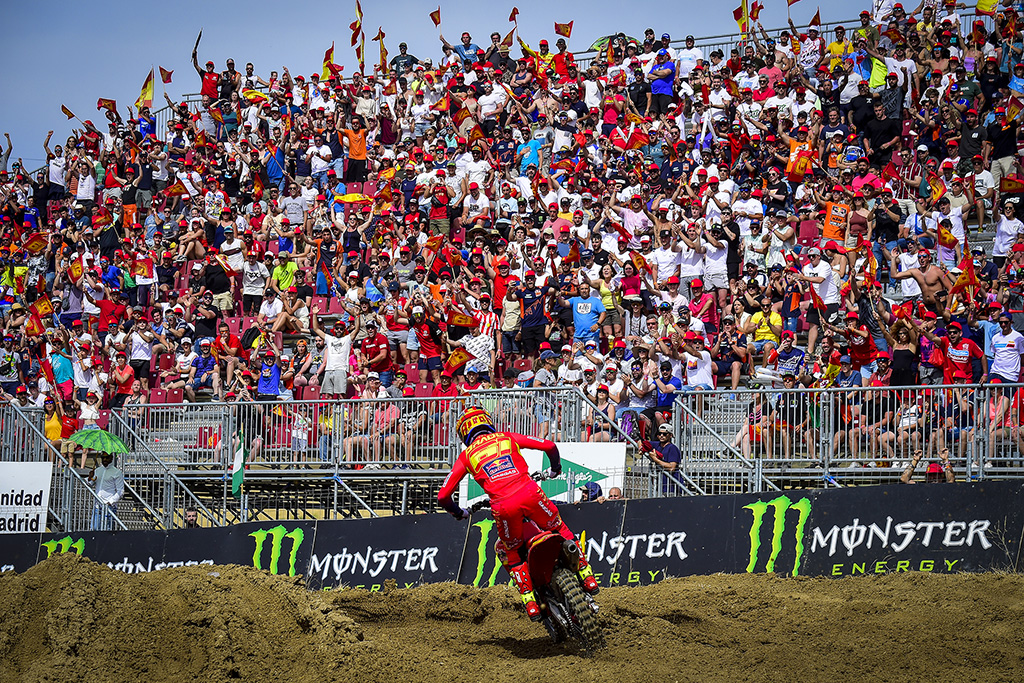 The MXGP of Spain marked the 9th stop of the season in 2022 and it was Maxime Renaux who won his first Grand Prix in the MXGP class and showed his speed and control in Spain as he won the GP with a perfect 1-1.
In 2023, Jorge Prado arrives at his home Grand Prix as leader of the Championship and having made the podium in every GPs so far in the season. The consistency shown by Prado has been incredible given the number of challengers who have the potential to get podiums on every outing. Having won in Spain in 2020, Prado looks determined to win on home soil once again, and this time to consolidate his Red Plate. As a race winner in Portugal, the Spanish rider keeps his 50% race win for the 2023 campaign.
Just behind in the Championship standings is Jeffrey Herlings who comes in Spain on the back of his 101th GP win in Portugal. The 'bullet' is getting faster round after round. He set the fastest time in the last two Grand Prix which shows his positive dynamic at the moment. He is also the only rider of the pack with 2 GP wins. With his starts improving, he is becoming even more of a threat and is 17 points adrift off Prado. On top of all that, Herlings could break Stefan Everts' ultimate record if he wins and get him to 102 GP wins.
Kawasaki Racing Team's Romain Febvre who moved up to third in the Championship is showing that we can count on him this season and he has been battling at the top over nearly all races. The Kawasaki rider got a second podium of the season in Portugal making it two in the last three GPs which shows the dynamic he is on. Febvre looks comfortable with riding and showed the competitor in him as he frequently battles with Prado and Herlings. He still misses that GP win this season but he is making sure to do everything to get there.
The 2-time Grand Prix winner in Spain, Maxime Renaux is fourth in the standing and lost his second place to Herlings and Febvre after Portugal. Renaux did not have the results expected as he went 13-11 for 11th overall in Portugal and had to retire in the RAM Qualifying Race on the Saturday. This was a round to forget but the Frenchman could use one of his favourite circuits this weekend to bounce back and put pressure on Prado and Herlings.
Another rider who will be riding on home soil is Team HRC's Ruben Fernandez who got a very good 4th overall in Portugal and stays consistent this season. He also won the RAM Qualifying Race in Agueda last week in incredible fashion as he passed Herlings along the way. He collected 10 important points for the Championship and demonstrated that he can keep winning race after his win in Argentina. Being at home this weekend and getting the support from the amazing public in Spain will definitely help him.
Team Gebben Van Venroy Yamaha Racing's Calvin Vlaanderen, 6th in the Championship is impressing since the beginning of the season as he rides consistently within the top 10 and competing with the top riders week in week out and confirming his potential. Behind him in the standings is Monster Energy Yamaha Factory MXGP Team's Glenn Coldenhoff who got a good result last weekend with a 4-7 for 6th overall is one rider that has improved over the last couple of GPs to stay more constant.
Monster Energy Yamaha Factory MXGP Team's Jeremy Seewer got used to show incredible speed but he also alternated with few lows because of crashes. He showed more positive racing in Portugal with an encouraging 5-4 and 5th overall for a performance more in-line with his talent. Now 8th in the Championship the MXGP of Spain could be a great opportunity for the Swiss to collect precious points.
The two Italian riders Red Bull GASGAS Factory Racing's Mattia Guadagnini and SM Action Racing Team Yuasa Battery MXGP's Alberto Forato are 9th and 10th in the Championship. Guadagnini looked like he picked up his rhythm as he has been more regular and quicker recently. With a 6-8 and 8th overall, the GASGAS rider is on his way up and it will be interesting to see if he can go even higher in Spain. Forato has kept his level as he oscillates around the 10th place in pretty much all GPs so far and is really reliable. He is gaining a lot of experience that can help him to reach new levels
Ship to Cycle Honda SR Motoblouz's Valentin Guillod and JM Honda Racing's Brent Van doninck who are 11th and 13th are two riders to watch as they have made amazing moves in Portugal and over the last GPs in general while riding many times within the top 10. They have been consistent and this is key to build on that to catch good points along the way.
Championship Standings Top 10
1. Jorge Prado (ESP, GAS), 246 points;
2. Jeffrey Herlings (NED, KTM), 229 p.;
3. Romain Febvre (FRA, KAW), 214 p.;
4. Maxime Renaux (FRA, YAM), 202 p.;
5. Ruben Fernandez (ESP, HON), 182 p.;
6. Calvin Vlaanderen (NED, YAM), 162 p.;
7. Glenn Coldenhoff (NED, YAM), 152 p.;
8. Jeremy Seewer (SUI, YAM), 148 p.;
9. Mattia Guadagnini (ITA, GAS), 139 p.;
10. Alberto Forato (ITA, KTM), 116 p.;
2022 MXGP of Spain – MXGP Top 3:
Maxime Renaux
Glenn Coldenhoff
Brian Bogers
In MX2 last year, Tom Vialle came out victorious in Spain in front of Red Bull GASGAS Factory Racing's Simon Laengenfelder second and Monster Energy Yamaha Factory MX2 Team's Jago Geerts third.
Jago Geerts is a man full of confidence as he completed a dominant hat-trick last weekend with a perfect 1-1-1, counting his RAM Qualifying Race win and win his 3rd GP of the season. He increased his lead in the Championship and is now 36 points ahead. He has been a solid Red Plate holder since the first GP in Argentina and responded very well in front of adversity so far. The MXGP of Spain could be a good opportunity to assert even more his domination in MX2, on a track he has not won yet.
Red Bull KTM Factory Racing Andrea Adamo is 2nd in the Championship and missed the podium for few points in Portugal, 4th overall, with again a strong performance. Adamo is really consistent and quick this season. He was the only rider other than Geerts to lead some laps last weekend showing that he has everything to compete for the Championship win. The MXGP of Spain will be another change for him to get closer to the leader.
Nestaan Husqvarna Factory Racing's Kay de Wolf and Monster Energy Yamaha Factory MX2 Team's Thibault Benistant who are 3rd and 4th in the Championship have experienced very different races in Portugal. While de Wolf clinched his third podium of the season and kept on his impressive form with a solid 2-2 for 2nd overall, Benistant was far from his standards in Portugal as he settled for 12-8 for a 10th overall. He lost precious points for the Championship and is now 59 points behind Geerts.
Simon Laengenfelder is right behind Benistant in the Series and comes in Spain on the back of a good performance and a 5th overall. However, the German rider is yet to go up on a podium this season even if he was close few times. This is a done thing for Nestaan Husqvarna Factory Racing's Roan Van de Moosdijk who got his first podium in Portugal, behind his teammates de Wolf for 3rd. The 6th in the championship is on the ascent with strong performances recently. A race win in Switzerland and the podium in Portugal were the rewards he was waiting for. It will be interesting to see if he can now keep his dynamic going.
Other riders like Red Bull KTM Factory Racing's Liam Everts and Nestaan Husqvarna Factory Racing's Lucas Coenen, 7th and 9th respectively are two riders who had not an easy GP in Portugal with some crash but recovered very well and showed they never give up. L.Coenen got 6th overall as he displayed a good determination and speed to get good points. Everts will want to bounce back after his 11th place.
F&H Kawasaki Racing Team's Kevin Horgmo is still solid as he got a 9th overall to get to 9th in the Championship while Jan Pancar 10th in the Championship keeps his top 10s record with another 8th overall after a good 6-10 in Portugal. It will be a special GP for his Spanish teammate, F&H Kawasaki Racing Team's David Braceras who made his debut MX2 racing last year in Spain while he was competing for the EMX250 Championship. This time he comes to home GP, being a full MX2 rider and will want to take that occasion to score good points with the support of the Spanish crowd. He is 14th in the Championship and the MXGP of Spain could be a good way to go up in the standings.
This weekend will be another chance for TEM JP253 KTM Racing Team's Jan Pancar to continue to impress on his good form as he was 8th overall in Portugal and keeps on getting top 10s. He is 10th in the Standings. For Red Bull KTM Factory Racing's Sacha Coenen, the MXGP of Portugal was another racing weekend to get back on form as he went 16-15 for 14th overall. This weekend in Spain gives him a good back to back GP to improve even more.
The other riders who will compete at home this weekend will be Racestore KTM Racing Team's Yago Martinez as well as WZ Racing Team's Oliver Oriol who are 16th and 15th respectively in the Championship and will be supported by the home fans. Both will use that added support to try to ride at the top over the weekend.
Championship Standings Top 10
1. Jago Geerts (BEL, YAM), 265 points;
2. Andrea Adamo (ITA, KTM), 229 p.;
3. Kay de Wolf (NED, HUS), 220 p.;
4. Thibault Benistant (FRA, YAM), 206 p.;
5. Simon Laengenfelder (GER, GAS), 201 p.;
6. Roan Van De Moosdijk (NED, HUS), 191 p.;
7. Liam Everts (BEL, KTM), 157 p.;
8. Kevin Horgmo (NOR, KAW), 143 p.;
9. Lucas Coenen (BEL, HUS), 130 p.;
10. Jan Pancar (SLO, KTM), 115 p.;
2022 MXGP of Spain – MX2 Top 3:
Tom Vialle
Simon Laengenfelder
Jago Geerts
TIMETABLE
SATURDAY: 09:15 WMX Free Practice, 09:40 EMX250 Free Practice, 10:10 MXE Time Practice, 10:30 MX2 Free Practice, 11:00 MXGP Free Practice, 11:55 WMX Qualifying practice, 12:30 EMX250 Qualifying practice, 13:10 MXE Race 1, 13:45 MX2 Time Practice, 14:20 MXGP Time Practice, 15:05 WMX Race 1, 15:45 EMX250 Race 1, 16:35 MX2 RAM Qualifying Race, 17:20 MXGP RAM Qualifying Race.
SUNDAY: 09:40 EMX250 Race 2, 10:25 MX2 Warm-up, 10:45 MXGP Warm-up, 11:05 MXE Race 2, 11:55 WMX Race 2, 13:15 MX2 Race 1, 14:15 MXGP Race 1, 16:10 MX2 Race 2, 17:10 MXGP Race 2.
For more news check out our dedicated MXGP/MX2 News page
Or visit the official MXGP website mxgp.com