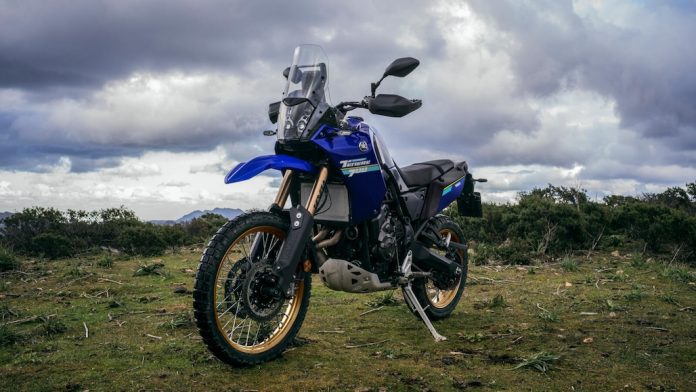 Yamaha strengthens its class leading Adventure line-up
Since its launch in 2019, the Ténéré 700 has become one of Yamaha's best-selling models. Powered by Yamaha's outstanding 690cc high torque CP2 engine and equipped with a versatile chassis with premium suspension systems, the Ténéré is the most successful bike in its category.
Yamaha is always looking to offer customers a diverse choice to match their different lifestyles and needs. So for 2024, the brand's class-leading Adventure range will be further strengthened and diversified with the introduction of the Ténéré 700 Extreme.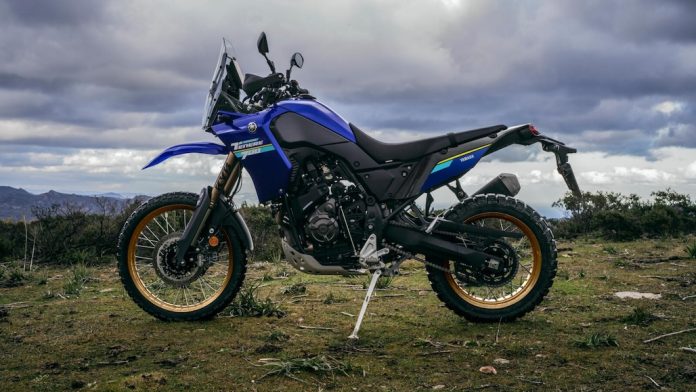 Ténéré 700 Extreme– Hardcore off road performer
The bike's name says it all – this is a hardcore off road performer with extended long travel suspension and a wide range of special chassis components designed to further enhance its go-anywhere essence.
For class-leading off-road handling with lightweight agility on rough terrain, the Ténéré 700 Extreme features premium fully adjustable KYB suspension systems with 20mm extra travel at the front and rear (compared to the Ténéré 700). For super-smooth front suspension action, the forks are treated with a durable Kashima coating that helps to eliminate stiction at lower speeds – and the gold coloured fork inner tube finish also underlines the bike's overall feeling of quality.
The fully adjustable KYB suspension can be set up to work effectively with a variety of rider physiques and different riding styles, making the Ténéré 700 Extreme a serious hardcore performer. Aimed at riders with motocross or enduro experience who want added performance for the most challenging off-road terrain, this latest Ténéré adds an exciting new dimension to the Adventure category.
Factory-equipped with lightweight titanium footrests, as well as an aluminium radiator protector and chain guide, this high specification Adventure bike is ready to prove itself in a wide range of extreme conditions. Its two-piece front fender assembly consists of a colour matched high level enduro-style fender and a separate lower section to protect from dirt and debris – while a flatter one-piece rally seat enables quick and easy bodyweight shifting.
Its vertical 5-inch TFT meter features 3 separate themes, including a Rally Raid roadbook-style display for effective navigation in the back of beyond. Other exclusive features on this exciting new addition to the Ténéré family include lightweight competition type titanium footrests with 35% greater surface area for reduced pressure on boot soles – and to handle the most inhospitable surfaces the bike's ground clearance is increased to 260mm.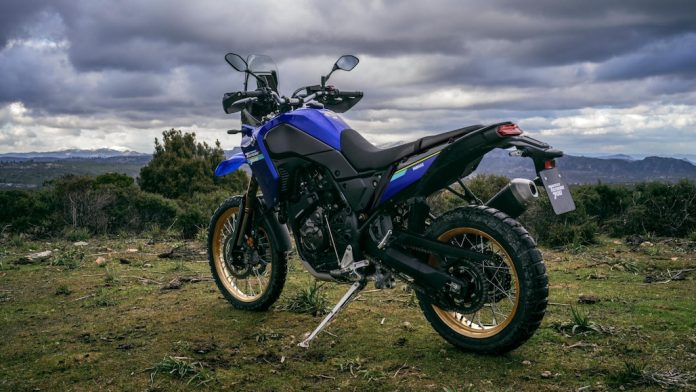 Race-proven performance and class-leading durability
The Ténéré's outstanding off road performance has been highlighted by Yamaha factory riders Alessandro Botturi and Pol Tarrés who have victoriously ridden their bikes in the world's toughest Rally Races.
After creating history at the TransAnatolia rally raid with an epic 1-2 podium, Tarrés and Botturi will debut the 2024 Ténéré 700 Extreme at the last stage of the Italian Motorally Raid TT championship taking place in Olbia from 20th October.
With its premium long travel KYB suspension, high quality chassis components and upgraded TFT meter, the Ténéré 700 Extreme is a remarkably capable machine that can take adventurous riders into the wilderness and further to the Next Horizon.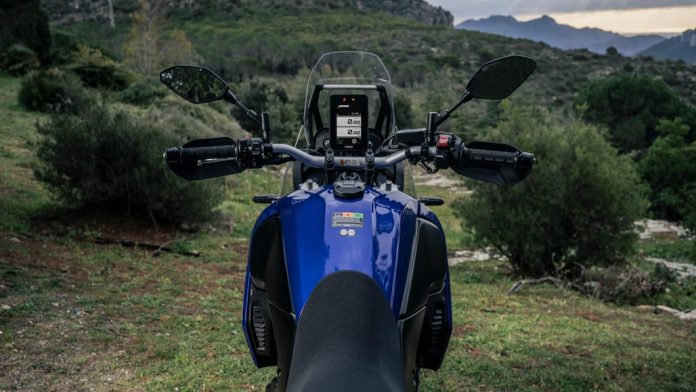 Ténéré 700 Extreme: Key features
Fully adjustable 43mm KYB Kashima coated front forks, 230mm wheel travel (20mm more than Ténéré 700)
Fully adjustable KYB piggyback rear shock absorber, 220mm wheel travel (20mm more than Ténéré 700)
260mm ground clearance (20mm more than Ténéré 700)
3-theme connected 5-inch vertical TFT meter with Rally Raid roadbook-style screen option
Left side switch cluster with trip switch
Lightweight high-grip titanium footrests with 35% greater surface area
Flat one-piece seat with 20mm additional padding giving higher 910mm seat height
High level colour matched front fender
Aluminium mesh radiator protector
Chain guide
Gold anodized aluminium spoke wheels
Price and availability
The Ténéré 700 Extreme will be available throughout Europe for the 2024 model year. Please contact your national Yamaha distributor for more detailed information on availability and the local price.
Colours
The Ténéré 700 Extreme will be available in Icon Blue with dedicated graphics.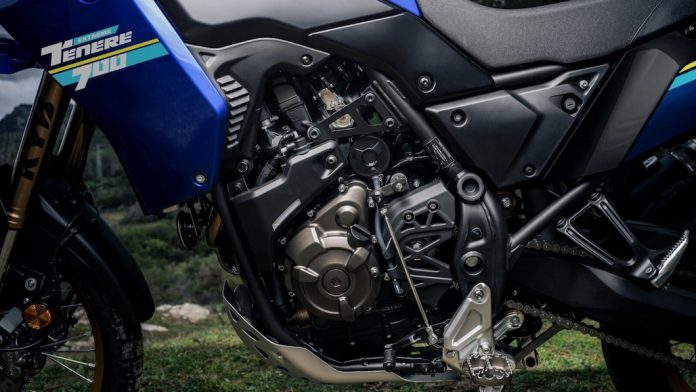 Ténéré Spirit Experience
Yamaha is totally committed to ensuring that every rider is given the chance to enjoy their Ténéré to the full in a diverse range of riding situations. With the exclusive Ténéré Spirit Experience, Ténéré owners can join some of the world's most famous Rally Raid events, with the official Yamaha rally team.
Run by Ténéré World Raid Team manager, Marc Bourgeois, through his company MBSM on behalf of Yamaha, the Ténéré Spirit Experience is open to Ténéré owners who want to take their adventure riding to another level and get a real taste of Rally Raid but without the intense pressure of competition, while also being able to experience the beauty the landscapes provide.
Ténéré Spirit Experience is a total 360 degrees package that is designed to cover the preparation, flights, bike transportation and every aspect of participation in the customer's chosen Rally Raid. Before the event each rider can choose to attend a Ténéré Centre if they want to get tuition on their riding or navigation skills and MBSM will take care of everything else from start to finish – including daily pre-event briefings, logistics, technical assistance, GPS tracker fitment, breakfast, dinner and camping.
The 2024 Ténéré Spirit Experience includes some of the most famous Rally Raid events, starting with the Africa Eco Race in December, followed by the Morocco Desert Challenge in April, Hellas Rally in May and TransAnatolia.
More rallies will be announced throughout the year so for more information visit: https://tenere-spirit-experience.com/en/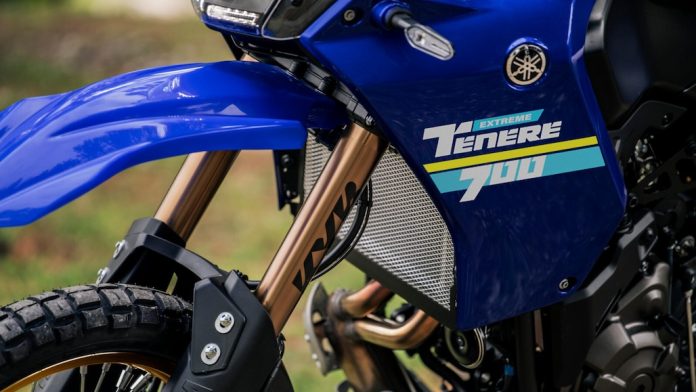 Yamaha Genuine Accessories, Adventure apparel and riding gear
Yamaha has developed a range of packs and individual Genuine Accessories that enable the Ténéré 700 Extreme owner to easily personalize their motorcycle.
Customers can order the packs and accessories before collecting their new motorcycle and have them fitted by their Yamaha dealer. All the items in the packs can also be purchased individually.
Developed to complement the Adventure range of motorcycles, Yamaha's riding gear line includes textile multi-season riding jackets and pants. In addition, the Adventure apparel line offers a selection of hoodies and T-shirts for the true Ténéré lovers.
MyGarage app
Yamaha's MyGarage app is the quick and easy way for customers to build a virtual Ténéré 700 Extreme with a range of Genuine Accessories while sitting at home through their smartphone or laptop. The free app allows users to add and remove accessories to create their ideal motorcycle, and the finished result can be viewed in 3D from every angle.
MyGarage takes the guesswork out of choosing which accessories to fit, and to make things even easier the customer's final selection can be emailed to their chosen Yamaha dealer who will fit the selected Genuine Accessories to the new Ténéré 700 Extreme.
For full information on Yamaha Genuine Accessories and Apparel or MyGarage please visit www.yamaha-motor.eu 
MyRide
Yamaha's free MyRide app gives Ténéré 700 Extreme riders the chance to get more enjoyment and information out of every ride. Available for iOS and Android devices, it tracks and stores every route covered, and enables users to create their own story and add pictures which can be shared on social media. MyRide also allows users to review all riding statistics including total distance, elevation, top speed, average speed, acceleration and lean angle to compare with fellow riders.
For Ténéré 700 Extreme, MyRide is also the app that enables connectivity so riders can view incoming call and message notifications on the dashboard.