Still family-owned and family-run, the company has developed from the humblest of beginnings into the UK's largest distributor of two-wheel aftermarket products and created an international brand to be reckoned with in all corners of the globe.
Now into its 51st year, the Oxfordshire-based brand packs an impressive punch, boasting a range of around 12,000 motorcycle and bicycle products, each one designed, developed and tested in-house at the firm's R&D centre, part of their 150,000 sq ft empire in Oxfordshire. In the UK, the company also distributes several thousand product lines from some key global brands. And it all started in 1973 with the humble top box…
"Motorcycling was somewhat different in those days," begins Oxford founder and Chairman, Alec Hammond, who back in 1973 was a 28-year-old sales manager working in the pharmaceutical industry. "There were massive numbers of folk riding to work and luggage hardly existed."
Around that time, Alec was introduced to a Nottinghamshire-based innovator who had created a range of high-quality top boxes but had no idea how to get them to market.
"I agreed to show some samples to a few motorcycle dealers whilst travelling in the course of my job," continues Alec. "The top boxes got a massive thumbs up from several dealers who clamoured to buy them. I became convinced that I could build a business in the motorcycle world, so I left my comfortable, secure job and pushed David to go into full-time production of the boxes."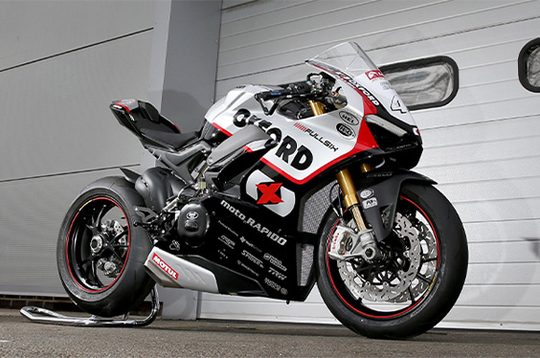 From fibreglass top boxes, Alec quickly branched out into bodywork, and it wasn't long before the fledgling Oxford Fairings got into the sportier side of motorcycling.
"We got involved with racing fairly early on," says Alec, "sponsoring several riders with our fairings on Peckett-McNab Kawasakis. This evolved over time until I was running our own team in the equivalent of BSB and at the Isle of Man."
Although still very much involved with racing through the title sponsorship of the Moto Rapido Ducati BSB team, the Oxford of today is a far cry from those early days marketing fibreglass fairings and top boxes. In the early 1980s, Alec started manufacturing motorcycle locks, then came accessories – including the now legendary HotGrips, which were born in 1983 and have remained a constantly evolving product in Oxford's line-up ever since.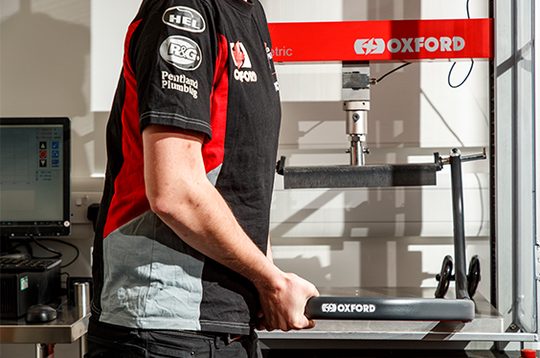 Oxford's huge range of products encompasses everything which makes life on bikes better: from clothing and helmets to accessories, hard parts, locks, luggage and more! Following unprecedented investment in staff, product development and infrastructure, the company now employs around 170 people.
Having established an impressive growth curve, which has seen turnover doubling every 5 years, the company has further ambitious expansion plans both at home and abroad.
Timeline
1973
Present owner and chairman Alec Hammond starts selling GRP motorcycle top boxes out of the back of his car.
1974
Oxford Fairings expand the product range and Alec starts recruiting staff to cope with
business growth.
1975
Launch of complete seat & tank unit for FS1E.
1976
Track involvement begins with own race team: Les Burgan, Asa Moyce, Mike Hunt, Geoff Johnson all ride for Team Oxford.
1977
Based in Botley, on the edge of Oxford, now with warehouse and office complex.
The company's expands it's range and introduces first security device: Bike Guard.
1978
Oxford produces carbon fibre bodywork for Mike Hailwood to use at the TT.
1981
Botley HQ wiped out by a fire.
Phil Read rides the Oxford Yoshimura Suzuki at the TT.
1982
Relocation to Abingdon, business starts again almost from scratch.
1983
Oxford "HotGrips" are born, the start of a legend!
1984
Re-built business moves to new premises in Kidlington and sponsors Trevor Nation's first ever
TT win.
1985
International sourcing begins and range expands quickly. Over the next period, lock development moves on apace and Oxford quickly becomes market leader in bicycle security with the "Sentinel" range of U-locks.
1990s
Business continues to grow strongly, acquiring more premises in the same industrial estate and expanding its quality team of staff.
1994
Oxford launches its first Disc Lock, the "Quartz" and sales spiral internationally.
1997
Launch of revolutionary "Oxford Lifetime Luggage" enables company to become UK market leader in soft luggage almost overnight and globally recognised within two years.
1998
Oxford is appointed exclusive UK distributor for HJC helmets, First track signings Steve Plater on the Sanyo Honda and HJC's race involvement increases every year thereafter.
2004
Company moves to large, purpose-built premises in Witney, Oxfordshire. Local schoolboy Bradley Smith is sponsored to ride in HJC helmets.
2005
Launch of a specific cycle products division.
2006
Oxford creates new helmet brand: BOX helmets.
2009
Oxford sponsors 125cc GP race winner Bradley Smith.
2010
Company purchases cycle parts distributor Sprint CPA. Appointed UK distributor for global brand Alpinestars.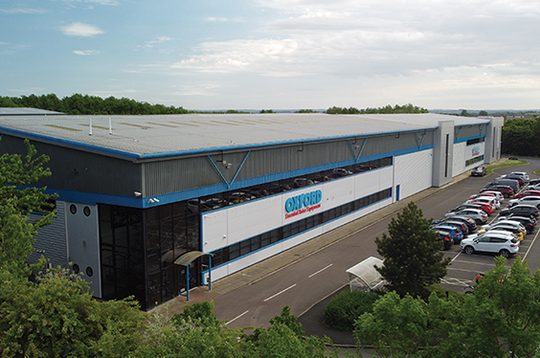 2011
Title sponsorship of Oxford TAG Triumph British Supersport race team, to add to sponsorship of the Buildbase BMW BSB team, Bradley Smith in Moto 2 and many more.
2012
Company wins exclusive distribution for Muc-Off in the motorcycle market.
Oxford Products USA opens its doors.
Launch of B2B website.
Voted "BDN Wholesaler of the Year" and "MCN Wholesaler of the Year".
Oxford-sponsored Bradley Smith finishes stint in Moto 2 and takes first steps into the Moto GP paddock.
2013
The company's 40th Anniversary is celebrated with its biggest ever line-up of new products
and brands.
Oxford Essential Rider Wear is launched.
Oxford wins "Large Business of the Year" in the Oxfordshire Business Awards.
2014
Prime Minister David Cameron officially opens the company's 100,000 sq ft expanded warehouse and office complex.
Company wins Oxfordshire Business of the Year award. Andrew Hammond wins
Businessman of the Year award!
2015
Voted as Distributor of the Year in British Dealer News and Motorcycle Trader, and second successive Motorcycle News Distributor of the Year award.
Major race sponsorship deals with TYCO BMW, Buildbase BMW and Quattro Plant Kawasaki.
2016
Oxford passes the 100 staff milestone and a new sales team hits the road.
Signs a 16-country distribution deal with Shimano Europe.
2017
Oxford celebrates 40 years of involvement in racing. In-house design capability increases with development of a Product Test Laboratory.
25th Anniversary of Oxford Team Ducati's last appearance at the Isle of Man TT, celebrated by recreating the team for the 2017 Classic TT with rider James Hillier.
2018
Launch of 'Advanced Accessories' range
Oxford launches its first range of cleaning and maintenance products under the name 'MINT',
2019
Launch of the Advanced Rider Series.
Establishment of a number of exclusive Oxford Group stores.
Oxford's bicycle division enjoys significant growth, as continued product development is capitalised through a rapidly growing customer base. IBDs begin to catch onto Oxford's displays systems as a way of increasing sales in-store.
Oxford Racing Ducati (and sponsored rider Tommy Bridewell) finishes the season in an amazing third place in the British Superbike Championship.
2020
As the UK and global economies are hit by intermittent lockdowns, Oxford keeps its doors open at all times and swivels its focus to support on-line, export and cycle business.
Oxford's cycle business doubles almost overnight, as lockdown reminds the UK of the merits of pedal power!
On-line sales boom and export sales defy Brexit.
The company breaks sales records.
In-house design capability increases with development of a Product Test Laboratory.
2021
Company records its biggest ever annual growth.
Race sponsorship continues at the highest level of BSB, with Tommy Bridewell finally bringing home Oxford Products Racing Ducati in second position and HJC rider Christian Iddon in fourth.
2022
Oxford purchases a new building a short walk from its existing HQ and opens a new Design, Research & Development Centre equipped with new 3D printers, test laboratory and an expanded product team.
An additional warehouse is built on the existing site, providing a further 3,500 pallet spaces to accommodate further significant expansion.
For more Oxford Products news check out our new dedicated page
or head to the official Oxford Products website oxfordproducts.com/